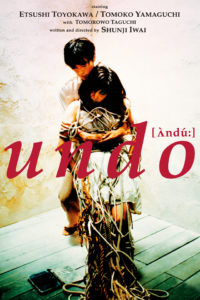 There's never been a love story quite like this 47 minute Japanese drama about insanity and obsessive knot-tying. It was an early effort by the multi-award winning writer-director Shunji Iwai, and while it doesn't approach his later accomplishments, UNDO is visually impressive, impacting and worth a look.
UNDO, from 1994, was the first real film directed by Iwai, following several years' worth of television dramas and music videos. Iwai would go on to make impressive features like 1996's SWALLOWTAIL BUTTERFLY, 2001's ALL ABOUT LILY CHOU-CHOU and 2011's VAMPIRE, none of which are as dark or aberrant as UNDO.
The writer Yukio lives with his wife Moemi in a small apartment in Tokyo. Moemi wants a dog but their apartment manager has a strict no-pets policy. Yukio compromises by bringing home some turtles, to one of which he attaches a chain so it can be walked like a dog. Moemi is initially repelled by the turtles but gradually comes to enjoy them.
Yukio and Moemi's relationship, it seems, has deteriorated mightily. Moemi wears braces, and is quite excited to get them removed. This she does, and it revives their love life—for a brief period.
Moemi grows increasingly obsessed with string, which she ties around the turtles' shells, and also books, furniture, household appliances and her own hands. A psychiatrist diagnoses her with "Obsessive Knot-Binding Syndrome," brought about, apparently, by a conviction that she's "tied down." Yukio, however, steadfastly denies there's a problem, insisting the shrink is a quack.
This does nothing to halt Moemi's compulsive knot-tying, and before long she has much of their apartment covered with web-like knots of rope. She also makes knot-drawings around a photograph of her and Yukio, apparently an attempt at "tying up our love," and reattaches her braces.
Yukio pays another visit to the hated shrink, who advises him to tie Moemi up with rope, which will apparently make her feel "more secure." This he does, but Moemi demands he wrap her up tighter. This only aggravates him, to the point that he starts to become every bit as obsessive as she…
I'm not sure if the psychological affliction that powers UNDO is based in fact. It is in any event an impressively focused and unashamedly dark piece of filmmaking, with impeccably composed visuals and art direction that's quite evocative, particularly in the later scenes. Shunji Iwai's considerable skills as a filmmaker, it must be said, are fully in evidence in this early work.
Narratively, however, UNDO may actually be a bit too focused, with protagonists who are never properly introduced or developed. As Moemi, actress Tomoko Yamaguchi never succeeds in fully fleshing out her character, and nor do we ever learn much about the deteriorating relationship that apparently triggers her madness. The problem may be, simply, that at 47 minutes the film is just too short for its own good.
Another problem is the inappropriately new agey score by Remedios, which does nothing to help along a technically impressive but ultimately unsatisfying piece of work.
Vital Statistics
UNDO
Fuji Television Network/Pony Canyon Inc.
Director: Shunji Iwai
Producers: Masahiro Ushikubo, Isao Umakoshi, Mirofumi Ogoshi
Screenplay: Shunji Iwai
Cinematography: Noboru Shinoda
Editing: Toshihiko Kojima
Cast: Etsushi Tokokawa, Tomoko Yamaguchi, Tomorowo Taguchi