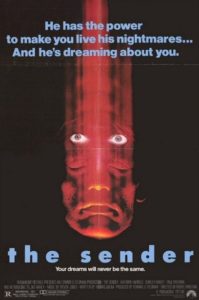 This was the first feature directed by former art director/set decorator (of STAR WARS and ALIEN) and future BATTLEFIELD EARTH helmer Roger Christian, and it's not bad. In fact, I'd say THE SENDER is a prime example of B-movie material given grade-A treatment, from which only the lackluster climax detracts.
This 1982 feature followed the Roger Christian directed shorts BLACK ANGEL (which played before THE EMPIRE STRIKES BACK in the UK and Australia) and the Academy Award winning DOLLAR BOTTOM (which played before RAIDERS OF THE LOST ARK). THE SENDER shared much of the same crew of those films, including cinematographer Roger Pratt and scorer Trevor Jones. This explains why the film has such a classy, good-looking veneer, which sets it apart from most early-eighties horror films. Alas, it wasn't much of a success box office-wise, and Roger Christian has only returned to the genre sporadically in his subsequent films (such as NOSTRADAMUS and STRANDED).
In THE SENDER a nondescript young man awakens near the side of a rural road. Heading to a nearby lake, he fills his pockets with rocks and immerses himself in the water.
The young man survives, and is admitted to a psychiatric hospital. There he's attended to by Gail Farmer, an attractive shrink who favors tight sweaters. She christens the guy, who can't remember his name, John Doe.
One night, shortly after John Doe's admittance, Gail sees him break into her house—only to discover the break-in was a hallucination. The following day she suffers another vision, this time of cockroaches swarming inside a refrigerator. Later on she meets a woman claiming to be John Doe's mother, who turns up in the hospital and warns Gail that John communicates with people by telepathically sharing his dreams.
Another, much more elaborate hallucination follows, involving John Doe, a driverless pickup truck and the date 1963. John again attempts to commit suicide, after which he's given electro-shock therapy. This has the effect of causing horrific dream-visons to be transmitted throughout the hospital.
Gail urges John Doe to delve into his past and discover the source of the horrific visions. The hospital's doctors, however, have other ideas, deciding to perform brain surgery on him. This, as you might guess, goes horribly wrong, but has one positive side-effect: John, escaping the hospital, heads back to the house where he grew up and confronts his childhood demons, together with his mother—who, we learn, has actually been dead for some time.
Roger Christian demonstrates a fair amount of directorial flare in this film: it's a tightly controlled, atmospheric work, with gorgeous visuals by cinematographer Roger Pratt paired with an equally striking use of sound, particularly the superbly orchestrated silence that suffuses the proceedings, and Trevor Jones' equally well-orchestrated score.
The dream-hallucination scenes are, barring some inadequate special effects (such as rats crawling out of the mouth of a patently unconvincing corpse), quite strong overall. Stand-out examples include the slow-motion stunt work seen in the terrifically unnerving electroshock sequence and a profoundly unsettling bleeding mirror gag that's pulled off with such virtuosity it must be counted as one of the greatest mirror scenes in film history.
The two "stars" Kathryn Harrold and Zeljko Ivanek are both quite strong. In his 2007 memoir TELL ME HOW YOU LOVE THE PICTURE the film's producer Edward S. Feldman took Roger Christian to task for passing over a young Tom Cruise for the male lead, but Ivanek, who's gone on to become a reliable supporting actor in a number of movies, proves quite winning in one of his very first film roles, holding his own admirably with more experienced co-stars like Harrold, Shirley Knight and Paul Freeman.
The one portion that really falls flat is the climactic showdown between Gail and John Doe's undead mother, which is marked by sluggish suspense and uninspired scripting. It shouldn't surprise anyone, I guess, that in a film graced with such a vivid otherworldly atmosphere its director's heart just wasn't in this conventional horror-suspense sequence. There is at least an impressive explosion at the end of it (Christian has a real talent for blowing things up—see 1994's THE FINAL CUT), so it's not a total waste.
Vital Statistics
THE SENDER
Paramount Pictures/Kingsmere Properties Limited
Director: Roger Christian
Producer: Edward S. Feldman
Screenplay: Thomas Baum
Cinematography: Roger Pratt
Editing: Alan Strachan
Cast: Kathryn Harrold, Shirley Knight, Paul Freeman, Zeljko Ivanek, Sean Hewitt, Tracy Harper, Al Matthews, Harry Ditson, Marsha Hunt, Olivier Pierre, Angus MacInnes