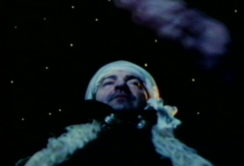 A signature film by the ever-eccentric Raul Ruiz (1941-2011), who was here adapting Sadegh Hedayat's Iranian classic THE BLIND OWL. This being Ruiz, however, you can be sure the film is anything but a straight adaptation. Having been crossed with Tirso de Molina's 1624 Spanish drama "Damned for Despair," it's wildly overcomplicated and confusing, both of which, it seems, were integral to Ruiz's intent.
A Chilean exile who settled in France, Raul Ruiz made quite a few playful and bizarre films, including THE HYPOTHESIS OF THE STOLEN PAINTING, THE TERRITORY and DARK AT NOON, all turned out at an astonishingly rapid clip. THE BLIND OWL (LA CAHOUETTE AVEUGLE; 1987) hails from Ruiz's mid-period, and is very much of a piece with his other films of the time. It's similar in many respects to Ruiz's LIFE IS A DREAM (also from 1987), which like this film was freely adapted from a literary classic and situated largely in and around a movie theater.
As for Sadegh Hedayat's 1937 BLIND OWL, it's a classic of schizophrenia, with a confounding double narrative (as for Molina's "Damned for Despair," it's barely touched on in this film). Hedayat's novel was previously adapted by Iranian director Kiumara Derambakhsh in the 1975 film BOOF-E KOOR.
Paris, 1955: A man arrives at a movie theater showing Arabic movies, having been hired to work as a projectionist. The man makes a point of not watching any of the movies he projects, until one day he finds himself transfixed by a dancing woman on the screen.
The following night the man is lured by a mysterious boy to a venue where a strange puppet show is put on just for him. Returning to the theater he meets a middle-eastern man claiming to be his "uncle," who beats him senseless and spits repeatedly in his face.
It would seem that the protagonist is entering into the movie he's screening, as among other oddities he finds himself interacting with the dancing woman he saw on the screen, and in a very Arabic milieu far removed from that of his "real" life. Suspecting that the woman is cheating on him, he kills and dismembers her, and places her body parts in a crate–only to find her corpse replaced with that of his so-called uncle, who's very much alive. The latter helps his alleged nephew dispose of the crate in a river, but the two are flummoxed when the woman's body parts are seen floating down the rapids.
Around this point the man awakens in his bed, suggesting that the preceding was all a dream…and a second (or third?) narrative strand commences, involving a bearded Arab man in search of long-lost relatives. He's led through an enchanted landscape to a palace where a seductive woman dances–which, it turns out, is the part of the movie that was so avidly viewed by the projectionist in the early scenes.
Switching back to the projectionist's reality, we find him being seduced by a woman who happens to be the identical twin(!) of the dancer on the screen. The twin demands the projectionist fight a duel in her honor, while back in the movie-within-the-movie the bearded man gradually loses his mind until eventually he chops up the object of his lust, placing her body parts in a crate…
Sadegh Hedayat's BLIND OWL, with its schizophrenic narrative and varying realities, would seem like ideal material for the ever-mercurial Raul Ruiz. Interestingly but not surprisingly, adapting the novel by itself wasn't enough for Ruiz, who gleefully piles on all manner of added complications, including the South American movie theater wraparound, the insanely complicated movie-within-a-movie setup and the secondary narrative featuring the middle eastern man. All three realities are quite porous and frequently intersect one another, making it impossible to discern what is supposed to be "real" and what isn't. As if all that weren't enough, there are frequent and explicit references to Dante's INFERNO, Wilde's SALOME and the Bible, as well as the 1973 Chilean coup that forced Ruiz into exile.
The film moves fast (which only adds to the confusion) and is blessed with bold multi-hued cinematography (although it seems the surviving prints of this 20-plus year old film have lost much of their original luster). There are many impressively visualized moments, as well as some mildly gruesome ones (severed body parts are a constant), with an overall style that playfully emulates the melodrama of traditional horror and mystery filmmaking.
Obviously this film isn't for everybody. One online critic dubbed it "French cinema's most beautiful jewel" of the 1980s, yet also conceded that the film "drives you crazy." Not every viewer will find THE BLIND OWL'S relentlessly self-referential nature (in which every scene calls attention in some way to its own artificiality) too edifying, but for those willing to stick with it the film is an undeniably fascinating mind-twister.
Vital Statistics
THE BLIND OWL
La Sept/Light Night/Maison de la Culture du Havre
Director: Raul Ruiz
Screenplay: Benoit Peters, Raul Ruiz
(Based on THE BLIND OWL by Sadegh Hedayat)
Cinematography: Patrice Cologne
Editing: Valeria Sarmiento, Rudolfo Wedeles
Cast: Francois Berthet, Jean-Marie Boeglin, Ilma De Witte, Jessica Forde, Jean-Bernard Guillard, Alain Halle-Halle, Jean-Francois Lapalus, Alain Rimoux