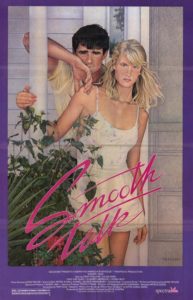 A seminal indie that won the Grand Jury Prize at the 1986 Sundance Film Festival. It still holds up as a provocative and disturbing psychological horror story, although SMOOTH TALK is probably most notable nowadays for its nostalgic depiction of 1980s-era mall culture.
The basis for this film was Joyce Carol Oates' controversial 1966 story "Where Are You Going, Where Have You Been?," about a 15-year-old girl's disturbing confrontation with a charismatic psychopath named Arnold Friend, a character based on serial killer Charles Schmid, the so-called "Pied Piper of Tucson" (and the inspiration for the films THE TODD KILLINGS and THE LOST). The ending of the tale is enigmatic, but the unmistakable implication is that the protagonist, as she climbs into Friend's car, isn't long for this world.
SMOOTH TALK was the 1985 debut feature by director Joyce Chopra (who only made one other feature, 1989's THE LEMON SISTERS, before becoming a full-time TV producer-director). It starred a teenage Laura Dern in one of her earliest roles, and Treat Williams, an established star whose most interesting work has always been in independent films like this one. 
15-year-old Connie lives in a Midwestern shithole. She's always fighting with her mother and older sister, and finds solace only in trips to the local shopping mall with her friends. There they shamelessly flirt with boys their age, until the night the gals decide to upgrade their flirting by dressing provocatively and parading their wares around a local burger joint. There Connie is picked up by a young dork who takes her to a secluded make-out spot where she loses her virginity.
Connie is nearly defiled again the following night but decides at the last minute that she'd rather hang on to what's left of her innocence. The following day, after an argument with her mother and sister, Connie is left alone in her house while her family attends a barbeque.
Hearing a car pulling up in the driveway, Connie steps outside to see who it is–and is faced with a seductive shade-wearing freak named Arnold Friend (we know this because the moniker is stenciled on the side of his car). He claims to be eighteen but looks much older, and seems to know every detail of Connie's life. She's enchanted at first but quickly grows creeped out, and runs back into the house. Friend is persistent, however, staying put outside and entreating Connie to take a ride with him in his car. Eventually she gives in, and haltingly steps outside for a ride with Arnold Friend—who, it's implied, may not actually be real.
SMOOTH TALK is a strong movie, but it doesn't entirely overcome the problems inherent in adapting a short story to a feature length film. As with most short story adaptations, the film is quite uneventful overall, with a lot of obvious padding. It's also divided into two distinct halves, beginning as a darkly comedic, near-documentary look at teen culture in the eighties (as one who was a teenager back then, I can attest that the details are quite authentic) and winding up a dark psychological horror story. Far worse is the awful, quintessentially eighties electronic music score, which more than any other single element dates the film.
The whole thing is quite true to the Joyce Carol Oates story, although the details of Connie's climactic confrontation with Friend have been softened. In the story Friend used fear and intimidation to lure Connie out of her house, while here he's far more seductive and the scene overall has a different meaning than that of the story—here Connie's car trip with Friend represents a symbolic rather than literal death (of her childhood self, to be exact).
In the lead role Laura Dern delivers what might be her finest-ever performance, and really looks the part as well (meaning it's not at all difficult to understand why all the boys in the film are hot for her). Treat Williams is also quite strong as the seductive yet dangerous Friend, a welcome respite from the bland nice guy roles he usually played in the eighties (and still does).
Vital Statistics
SMOOTH TALK
Spectrafilm/Goldcrest
Director: Joyce Chopra
Producer: Martin Rosen
Screenplay: Tom Cole
(Based on a story by Joyce Carol Oates)
Cinematography: James Glennon
Editing: Patrick Dood
Cast: Laura Dern, Treat Williams, Mary Kay Place, Margaret Welsh, Sarah Inglis, Levon Helm, Elizabeth Berridge, Geoff Hoyle, William Ragasdale, David Berridge, Cab Covay, Michael French, Joy Carlin