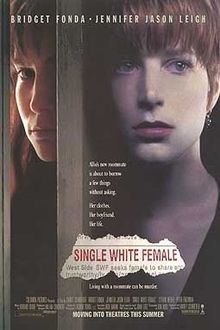 2017 marks the 25th anniversary of this nineties thriller, one of the key entries in the "girlfriend/neighbor/cop/nanny/roommate from Hell" subgenre so popular at the time.
1992's SINGLE WHITE FEMALE, adapted from the 1990 novel SWF SEEKS SAME by John Lutz, was the first step down sell-out strip for France's Barbet Schroeder. Schroeder directed and/or produced highly eccentric French language films like MORE (1969), CELINE AND JULIE GO BOATING (1974), MAITRESSE (1975) and the infamous documentary GENERAL IDI AMIN DADA (1974). In 1987 he directed his first English language film BARFLY, followed by REVERSAL OF FORTUNE in 1990, both of which were very much in keeping with his earlier work…and then SINGLE WHITE FEMALE came along.
It starred Bridget Fonda and Jennifer Jason Leigh, both of whom were quite hot (in every sense of the word) in the nineties. Since then both actresses have largely dropped off the radar: Leigh only works sporadically and Fonda (as of late '17) hasn't appeared in a movie since 2002.
Fonda plays the successful computer programmer Allie Jones, who lives in a rent controlled NYC apartment. After breaking up with her philandering boyfriend Sam, Allie advertises for a roommate. She winds up with Hedra (J.J. Leigh), a shy and reserved brunette. Relations between the two are fine, but then Allie gets back together with Sam and Hedra freaks out. Shortly thereafter Allie catches Hedra coming onto Sam—and later that night spies her passionately masturbating. The following day Allie's pet dog dies in a suspicious accident and Hedra gets her hair styled in an exact duplicate of Allie's.
Snooping in Hedra's bedroom, Allie discovers that Hedra had a twin sister who died as a child. Now thoroughly suspicious of Hedra, Allie follows her to an underground S&M club one night—where Hedra identifies herself as Allie.
Allie tells her gay friend living upstairs what she's learned, unaware that Hedra is listening through an air vent. The latter sneaks up and (seemingly) kills Allie's friend, and then, pretending to be Allie, heads to Sam's apartment and sucks him off. Sam obligingly lets her finish even after discovering that it's not Ally who's blowing him, and then gets fatally stabbed through the eye with the stiletto heel of one of Hedra's shoes.
Now thoroughly unhinged, Hedra ties up her roommate and shoots an asshole client of Allie's who makes the mistake of paying her a visit. Allie manages to escape, leading to a violent—and frankly pretty silly—chase through her apartment building.
With this film Barbet Schroeder officially made the transition from arthouse auteur to Hollywood hack, although there are some eccentric elements. The copious nudity is unusual for a Hollywood production, and the sinuous and atmospheric Hitchockian visuals are equally striking. But Schroeder was admittedly following a shopworn formula established by FATAL ATTRACTION and its offspring, and also borrows heavily from ROSEMARY'S BABY (the inspiration for the creepy NYC apartment building where much of the film takes place, and also Bridget Fonda's orange hair bob); there's even a nod to Ingmar Bergman's PERSONA in the final image of the two leading ladies' faces fused together. Such derivative filmmaking doesn't suit Schroeder, whose best work is notable for its originality and unpredictability.
The screenplay by Don Roos attempts unsuccessfully to find a middle ground between escapist pulp and psychological thriller—it's never made clear whether Hedra is the one dimensional psycho-bitch from Hell she was in the John Lutz source novel or the disturbed young woman she appears. The film also helped instigate one of modern Hollywood's most annoying rom-com mainstays: the gay best friend character who exists only to comfort the heroine.
It's a good thing the leading ladies are both so attractive and uninhibited. It's always fun watching Jennifer Jason Leigh act crazy and get naked, both of which she does here. Her climactic rampage, however, isn't at all convincing.
Final verdict: a sexy and entertaining time-waster, far from the "classic" thriller it's often cracked up to be. Ultimately, about the best I can say about SINGLE WHITE FEMALE is that it isn't as insufferable as later Barbet Schroeder efforts like KISS OF DEATH, DESPERATE MEASURES and MURDER BY NUMBERS.
Vital Statistics
SINGLE WHITE FEMALE
Columbia Pictures
Director: Barbet Schroeder
Producer: Barbet Schroeder
Screenplay: Don Roos
(Based on a novel by John Lutz)
Cinematography: Luciano Tovoli
Editing: Lee Percy
Cast: Bridget Fonda, Jennifer Jason Leigh, Steven Weber, Peter Friedman, Stephen Tobolowsky, Frances Bay, Michele Farr, Tara Karsian, Christiana Capetillo, Jessica Lundy, Rene Estevez, Ken Tobey