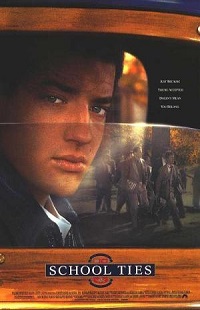 Memory: reporting to work as a projectionist at the late Mann Village 6 multiplex on a Friday in September of 1992, only to have a supervisor meet me at my car and inform me that my services wouldn't be needed that night, or for the remainder of the weekend.  The reason, I later learned, was that it was the opening day of SCHOOL TIES, a pet project of its co-producer Stanley R. Jaffe.  Jaffe, of course, was also the president of Paramount, which owned the Mann Theater chain, and he made a point of dispatching emissaries to every Mann Theater in the U.S. to make sure the projection and sound were immaculate.  Thus, Mann's higher-ups freaked out and made a last-minute decree that only projectionists who were experienced and union-affiliated (two things I wasn't) would be threading up SCHOOL TIES that weekend.
This scenario would seem to answer a couple queries I'm sure a lot of us have: do studio executives actually care about any of the movies they greenlight, and how might such movies play?  Based on SCHOOL TIES, the answer to the latter question would be stately and old-fashioned.  I don't mean those as negatives, as the film is actually pretty good, albeit burdened with a crummy third act.  These days it's best known as an early showcase for quite a few future stars.
Based on the real-life experiences of co-screenwriter Dick Wolf, SCHOOL TIES stars Brandan Fraser as David Greene, who's accepted into an elite New England prep school due to his athletic prowess.  His working class background renders him an outcast in this rarefied atmosphere, as does the fact that he's Jewish.  David initially keeps his Jewishness a secret from his roommate (Chris O'Donnell) and fellow athletes, whose ranks include the school's weasely star quarterback Charlie Dillon (Matt Damon).  The latter is upset with David for replacing him on the football team, and also for romancing the local hottie Sally (Amy Locane), upon whom Charlie has his eye.  Thus, when Charlie learns of David's Jewishness he sees a perfect opportunity to get revenge on him via acts of anti-Semitic harassment.
All this is quite compelling, with uniformly strong performances by the up-and-coming cast.  Director Robert Mandel also does a good job conveying the other-ness felt by David, who has to contend with the casual anti-Semitism of his fellows (who like the phrase "Jew me down") in addition to swastikas and Nazi slogans (it's not SCHOOL TIES'S fault that EUROPA EUROPA had played in the U.S. a year earlier, and dramatized those things far more forcefully).
The film's biggest problem is its third act, pivoting on a rather contrived cheating drama that's resolved by an overly convenient last-minute confession.  Nineties-era critics praised the film for foregoing the type of violent showdown that would appear to have been ordained by the early scenes, as well as the conclusions of previous Stanley Jaffe productions like FIRSTBORN and FATAL ATTRACTION.  Instead we get a subdued middle-of-the-road coda, which may have affected the film's box office performance.
Speaking of which: after SCHOOL TIES'S all-important opening weekend, which resulted in the Mann Village 6 getting a brand new screen in the auditorium in which it played, I returned to work, laying my inexperienced hands on the precious celluloid that comprised SCHOOL TIES.  Not that this mattered much, as hardly anyone turned out to see it anyway.
Vital Statistics
SCHOOL TIES
Paramount Pictures
Director: Robert Mandel
Producers: Stanley Jaffe, Sherry Lansing
Screenplay: Dick Wolf, Darryl Ponicsan
Cinematography: Freddie Francis
Editing: Jacqueline Cambas, Jerry Greenberg
Cast: Brendan Fraser, Matt Damon, Chris O'Donnell, Randall Batinkoff, Andrew Lowery, Cole Hauser, Ben Affleck, Anthony Rapp, Amy Locane, Peter Donat, Zeljko Ivanek, Kevin Tighe, Michael Higgins, Ed Lauter