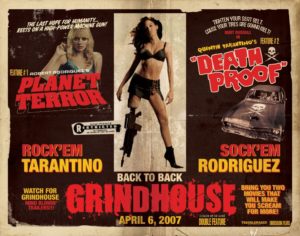 The film that started the retro-grindhouse movie craze, a raucous 3-hour double feature that comes complete with fake trailers and intentionally degraded film stock, both intended to replicate the so-called grindhouse moviegoing experience of the 1970s and 80s.
GRINDHOUSE was a box office flop during its Spring 2007 release, and took a few years to reach DVD in its intended form—its two mini-features, the Robert Rodriguez directed PLANET TERROR and the Quentin Tarantino helmed DEATH PROOF, were initially released as standalone DVDs—but it succeeded in kicking off a mini-genre of horror-exploitation no-budgeters marked by self-consciously retro styling and scratched up film stock (never mind that most of the movies in question were digitally shot).
First up is a trailer for MACHETE, featuring Danny Trejo as a Mexican day laborer who leads an uprising against a corrupt politician. This is followed by the first of GRINDHOUSE'S two mini-features, PLANET TERROR.
It involves an experimental serum created in a military base that transforms people into slime spewing, pustule-faced zombies. It's up to a doctor's wife, a tough sheriff, a disgraced go-go dancer and a punk named El Wray to set things right. After an excess of shooting and dismemberment during which the doctor's wife loses her young son and the go-go dancer loses a leg, they all wind up interred in the military base where the serum was created. There El Wray faces down the project's evil overseers and the dancer gets a machine gun in place of her missing leg.
Next are three more trailers. The first is for WEREWOLF WOMEN OF THE SS, a Rob Zombie helmed tribute to the Nazisploitation programmers of the seventies featuring Udo Kier as a demented Nazi surgeon, Sherri Moon Zombie as one of his henchwomen, and Nicolas Cage as Fu Manchu(?).
The second trailer is for a movie called DON'T, a slasher involving young people entering an old dark house and getting killed.
Lastly there's a trailer for THANKSGIVING, in which a nut beheads a marcher in a Thanksgiving day parade and then embarks on a killing rampage, eventually placing a man's cooked corpse on a family's dinner table in lieu of a Thanksgiving turkey—and then screwing it!
DEATH PROOF is the second feature. It features a group of Austin-based women clustering around a popular radio DJ named Jungle Julia. After an afternoon spent BS-ing about drugs and sex the ladies head to a local bar where they meet up with Stuntman Mike, a psychopath with a nasty scar on his face. Mike gets his jollies by killing women with his "death proofed" stunt car, which he demonstrates first by jostling a young woman around in the passenger seat of his car until she dies, and then by slamming head-on into a car carrying Jungle Julia and her posse. They die, but he doesn't.
Mike's next targets are four gals, one of whom is the Kiwi stuntwoman Zoë Bell. The gals convince a redneck to lend them his 1970 Dodge Challenger for the day, allowing Zoë to play "Ship's Mast," in which she lies on the hood of the speeding car. But it's at this point that Stuntman Mike makes his second appearance, running the gals off the road and nearly killing Zoë. The pissed-off ladies decide to chase the bastard down and kill him.
GRINDHOUSE'S two features are diametrically opposed: the fast-moving, action-oriented PLANET TERROR is all about noise and excess. At times it feels like one of those insufferably self-aware STV pictures by the likes of David DeCocteau or J.R. Bookwalter, but Robert Rodriguez's enthusiasm is infectious, and makes for a fun ride.
Quentin Tarantino's DEATH PROOF, by contrast, is slow and talky (even more so in the extended DVD cut, which includes a lengthy convenience store sequence included, allegedly, as a tribute to Richard Linklatter's SUBURBIA). Yet it's also quietly menacing, with a looming outrageousness that all-but explodes in the absolutely remarkable final smack-down, closing the film out on a pitch-perfect note of delirious exhilaration of the type that's possible only in a good exploitation movie.
Both filmmakers served as their own cinematographers. Scratches and faded emulsion are extensively utilized, and often in extremely artful fashion, by Rodriguez throughout PLANET TERROR, while Tarantino loses interest in such things after about ten minutes of DEATH PROOF.
Both PLANET TERROR and DEATH PROOF are packed with hot chicks, with actress Rose McGowan (who Rodriguez was banging at the time) given substantial roles in each. Another standout performer is Zoë Bell, a veteran stuntwoman who plays herself in DEATH PROOF–a necessity given the stunt-heavy nature of her role–with an appealingly natural and unaffected screen presence.
Of the trailers, the Robert Rodriguez directed MACHETE seemed quite fun back 2007, but now that a feature version of MACHETE (and a sequel) utilizing much of the footage seen in the trailer has appeared, it's not nearly as cool. The Rob Zombie directed WEREWOLF WOMEN OF THE SS is pretty cheesy, and not in a good way. DON'T, directed by Edgar Wright, is quite amusing, adroitly spoofing the hoary conventions of eighties slasher films ("If you are thinking of checking out the basement…don't!") and also the hysterical editing style that characterizes most horror movie trailers, with the narration cleverly timed to the cuts. Best of all is the HALLOWEEN inspired THANKSGIVING, directed by Eli Roth; of all the trailers here, it looks the most like an actual grindhouse movie preview, complete with hilariously overripe narration ("White meat, dark meat…all will be carved!")
In summation, not too many films these days can be said to have everything, but GRINDHOUSE comes mighty close: it contains zombies, guns, explosions, mutants, mad scientists, deadly car crashes, more-than-ample T&A, plenty of trash talk and assorted ass whippings…nearly all the things, in short, we go to movies for.
Vital Statistics
GRINDHOUSE
Dimension Films
Directors: Robert Rodriguez, Quentin Tarantino, Rob Zombie, Edgar Wright, Eli Roth
Producers: Elizabeth Avellan, Quentin Tarantino, Robert Rodriguez, Erica Steinberg
Screenplay: Robert Rodriguez, Quentin Tarantino, Rob Zombie, Edgar Wright, Eli Roth, Jeff Rendell
Cinematography: Robert Rodriguez, Quentin Tarantino
Editing: Robert Rodriguez, Sally Menke
Cast: Rose McGowan, Freddy Rodriguez, Michael Biehn, Jeff Fahey, Josh Brolin, Marley Shelton, Michael Parks, Kurt Russell, Rosario Dawson, Vanessa Ferlito, Jordan Ladd, Sydney Poitier, Tracie Thoms, Mary Elizabeth Winstead, Zoë Bell, Danny Trejo, Cheech Marin, Udo Kier, Sherri Moon Zombie, Tom Towles, Nicolas Cage