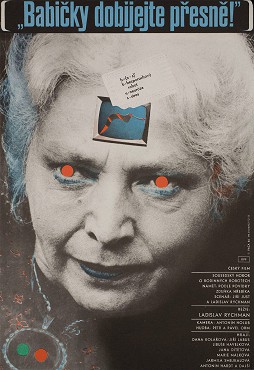 This Czech satire owes more than a little something to Ray Bradbury's I SING THE BODY ELECTRIC!/THE ELECTRIC GRANDMOTHER (which took the form of a third season TWILIGHT ZONE episode, 1969 short story and 1982 TV movie), but taken on its own terms it's pretty good.  In fact, it's even something of an improvement on Bradbury's intriguing but obnoxiously sentimental tale, as sentimental is something 1984's BABICKY DOBIJEJTE PRESNE!/GRNADMOTHERS RECHARGE WELL! most definitely isn't.
Zdenek Louda (Jiri Labus) is a harried violinist and his wife Jarmilka (Daniela Kolarova) an equally harried scientist, while their two children, Alice (Katka Urbancova) and Bertik (Piotr Frolik), are budding juvenile delinquents.  Zdenek and Jarmilka are understandably anxious to have someone help with their day-to-day grind.
Jarmilka attends a demonstration of the Biotex Laboratory's robotic "grandma" models, which include grandmas—so designed because such folk were deemed the most calming and family friendly—who run, dance and sing.  After a chat with their neighbors, who have a grandma named Carmen (Jana Ditetova) that's made their lives appreciably easier, Zdenek and Jarmilka decide to take the plunge and buy their own grandma.
This grandma (Libuse Havelkova) is delivered to their home by workmen who entreat them to always keep the robot woman properly charged.  Said grandmother identifies itself as Rose and happily does all the household chores.  But Rose also proves quite annoying, touching the children with hands that feel like claws and waking the family up at 4 AM.  Rose also has an obsession with exercise, which quickly exhausts everyone.
A greater problem is with Carmen, who likes to play pranks on the Loudas.  Rose escalates those pranks, which eventually come to include the killing of the Loudas's cat.  Zdenek and Jarmilka decide they don't want Rose any more, and call in a couple Biotex technicians to take the machine away.  But divesting themselves of Rose turns out to be far more arduous than they anticipated!
This film has much of the same sense of jittery apprehension that distinguishes the films of co-writer/director Ladislav Rychman's fellow countryman Jan Svankmajor, and also a similar air of matter-of-fact surrealism.  The use of sound is especially crucial in this regard—in the clicking and whirring noises that accompany the grandmas' movements—as is the alternately touching and malevolent performance of Libuse Havelkova as Rose.
The film is also, for all its silliness, a credible piece of science fiction, with Rose the robotic grandmother's bad behavior presented with frank and inescapable logic; it's made clear throughout that Rose's quirks were all programmed by the protagonists, just as Rose's rival robot Carmen behaves in the brutish way it does because it's a less advanced model.  I could, however, have done without the broad comic touches (like the device of having the protagonists' neighbors spy on them via binoculars and make dopey comments), which only distract from Rychman's otherwise spot-on satire.
Vital Statistics
GRANDMOTHERS RECHARGE WELL! (BABICKY DOBIJEJTE PRESNE!; CHARGE YOUR GRANDMAS PROPERLY!)
Filmove Studio Barrandov
Director: Ladislav Rychman
Screenplay: Jiri Just, Ladislav Rychman
Cinematography: Antonin Holub
Editing: Miroslav Hajek
Cast: Jiri Labus, Daniela Kolarova, Libuse Havelkova, Jana Ditetova, Katerina Urbancova, Piotr Frolik, Antonin Hardt, Marie Malkova, Michal Rynes, Dana Balounova, Viktor Vrabec, Karel Chromik