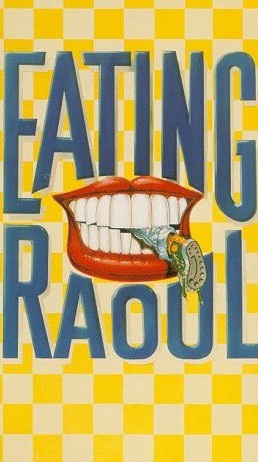 This is the most famous movie directed by the late Paul Bartel, a highly successful indie black comedy about sex, murder and cannibalism.
During his life Paul Bartel (1938-2000) was best known as a prolific supporting actor in films like PIRANHA, GREMLINS 2, THE USUAL SUSPECTS and many others. He should be known for the films he directed, particularly DEATH RACE 2000, PRIVATE PARTS, SHELF LIFE and this dark comedy hit from 1982.
EATING RAOUL is enhanced by the talents of the unforgettable Mary Woronov, along with co-writer/associate producer/supporting player Richard Blackburn (who claims he also partially directed the film), of LEMORA: A CHILD'S TALE OF THE SUPERNATURAL. Incidentally, a Chevy Chase headlined sequel to EATING RAOUL was set to be made, but the project was cancelled in the wake of Bartel's untimely demise.
Paul and Mary Bland are an upscale—and uptight—couple who sleep in separate beds. They're looking to open a restaurant but money troubles halt that dream.
One night a local pervert gets fresh with Mary. Paul kills the guy by bashing him in the head with a frying pan, and then filches the money from his wallet. The following night another perv comes on to Mary and again winds up killed by Paul, giving the Blands another thousand dollars from the perv's wallet.
Paul and Mary decide to make a business out of luring perverts to their home and killing them. On the advice of a comely dominatrix, Mary pretends to be a prostitute while Paul stands by with the deadly frying pan at the ready.
In this way they kill two guys before Raul, a shady locksmith, catches them in the act. He demands to be let in on their scheme, offering to dispose of the corpses by selling 'em to a local dog food company, and the Blands reluctantly acquiesce.
A perverse love triangle is formed after Mary unexpectedly has sex with Raoul. The latter wants to kill off Paul and have Mary to himself, but Paul catches onto Raoul's scheme. Following a swingers' party that nets Paul and Mary several thousand dollars—after Mary stabs to death an overly zealous suitor and a drunken Paul electrocutes the rest of the partygoers in a hot tub–Paul and Mary arrive home to confront a supremely pissed-off Raoul, who demands a portion of the loot. Unfortunately this occurs shortly before a scheduled dinner with an important restraunteur who wants to help Paul and Mary achieve their dream. What to do??
In truth, this isn't the best of Paul Bartel's films (PRIVATE PARTS and SHELF LIFE are stronger): it's raggedy and extremely cheap-looking, and further marred by an inexcusably shitty DVD print. Yet it is an unerringly entertaining showcase for Bartel's career-long fascination with the freakish and perverse. The subject matter is often downright grisly, but done with just the right amount of comedy to take the edge off. About that comedy, it's broad to the point of cartoonishness (and underscored with annoying Looney Tunes-esque music I could have done without), yet also genuinely funny.
The film is highly plot driven (which probably accounts for its success), leaving little room for acting or directorial quirks. Still, Bartel displays enormous low budget inventiveness that's sustained throughout the fast moving 83-minute running time, while performance wise the film belongs to Bartel's frequent co-star Mary Woronov, who's never been more perversely seductive onscreen.
Vital Statistics
EATING RAOUL
20th Century Fox International Classics
Director: Paul Bartel
Producer: Annie Kimmel
Screenplay: Richard Blackburn, Paul Bartel
Cinematography: Gary Theiltges
Editing: Alan Toomayan
Cast: Paul Bartel, Mary Woronov, Robert Beltran, Ed Begley Jr, Buck Henry, Susan Saiger, Richard Blackburn, (the Real) Don Steele, Edie McClurg