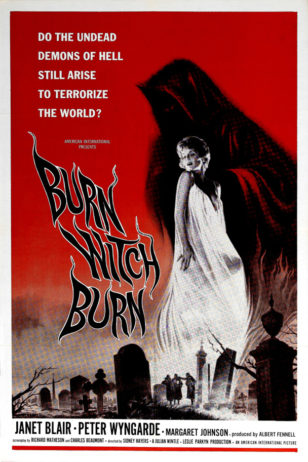 This intriguing 1962 horror fest, known as NIGHT OF THE EAGLE outside the US, is a justified classic, but it should be better than it is.  Some real talent was involved in its conception, and the results are, as expected, quite memorable…but again, this film really should be better.
If nothing else, BURN, WITCH BURN! has an impeccable literary pedigree.  It was based on Fritz Leiber's classic novel CONJURE WIFE, which was adapted by Charles Beaumont and Richard Matheson, both acknowledged masters of horror fiction (for that matter, the title BURN, WITCH BURN comes from a literary classic by A. Merritt, which was adapted by Todd Browning in 1936's DEVIL DOLL).  Far less reassuring is the presence of director Sidney Hayers, who outside the infamous CIRCUS OF HORRORS (1960) made little of interest in his forty-year career.  Another deterrent is the low budget.  This was a scrappy AIP (American International Pictures) production intended for drive-ins.  That's okay, as quite a few fine films were made under the AIP banner, but the material really deserved better.
Norman Taylor, a contented college professor, has dedicated his life to disproving supernatural phenomena; at the beginning of the film he scrawls, "I DO NOT BELIEVE" on his blackboard.  Imagine his shock, then, when he discovers supernatural paraphernalia left around his house by Tansy, his seemingly normal wife.  He confronts her, and she reveals that she's a practicing witch.  Under pressure from the outraged Norman, Tansy agrees to give up her supernatural affiliations, but warns him they'll no longer be "protected."
Sure enough, scary business commences.  A disgruntled student pulls a gun on Norman and a rival witch casts a spell on him, resulting in a steadily rising tide of freakishness culminating in a giant eagle that chases Norman through the halls of his University, eventually driving him back against his blackboard, where he inadvertently erases the "NOT" from the aforementioned "I DO NOT BELIEVE" slogan.
This film is well made for the most part, with good acting, sprightly pacing and generally solid technical credits, but the overall impression is one of suffocating blandness.  The black and white photography is utterly unremarkable, matched by boring set-ups and many clichéd horror movie elements (completely out of place in a story notable for its originality).  This is in keeping with the majority of director Sidney Hayers' film and TV work.  While Hayers' by-the-numbers approach does work in conveying the dull routine of the central character's life, overall the material would definitely have benefited from a more imaginative helmer.
Much of this film is, sorry to say, plain bad.  The giant eagle that shows up toward the end is a singularly tacky sight, and in the final minutes Hayers resorts to a scare of the cheapest type: a falling statue.  I've experienced greater scares viewing BAYWATCH, a series containing another of Sidney Hayers' directorial efforts…possibly a better one!
Vital Statistics 
BURN, WITCH BURN! (a.k.a. NIGHT OF THE EAGLE)
American International Pictures
Director: Sidney Hayers
Producers: Samuel Z. Arkoff, Albert Fennell
Screenplay: Charles Beaumont, Richard Matheson, George Baxt
(Based on a novel by Fritz Leiber)
Cinematography: Reginald Wyer
Editor: Ralph Sheldon
Cast: Peter Wyngarde, Janet Blair, Margaret Johnston, Anthony Nicholls, Colin Gordon, Kathleen Byron, Reginald Beckwith, Jessica Dunning, Norman Bird, Judith Stott, Bill Mitchell