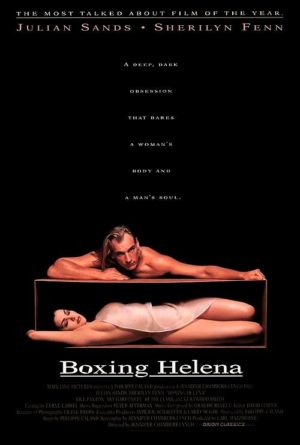 Some people claim this notorious 1993 bomb is a misunderstood masterpiece. Don't believe 'em!
How this project came together is something of a mystery: the script, written by David Lynch's 19-year-old daughter Jennifer, somehow managed to attract the attention of Madonna and Kim Basinger, both of whom were set to play the title role at various points (Basinger was successfully sued for backing out of the project, although the verdict was subsequently overturned). Sherilyn Fenn ended up with the part, unfortunately enough, under the direction of the totally inexperienced Ms. Lynch, who botched the job spectacularly.
It took Jennifer Lynch 15 years to make another film. That film was 2008's SURVEILLANCE, and it's far better than BOXING HELENA, so much so that Jennifer's father actually lent his name to the new film as executive producer (if David Lynch has ever mentioned BOXING HELENA publicly I have yet to hear of it).
Nick is a wealthy neurosurgeon, but also a hopeless basket case. He's obsessed with an attractive but bitchy young woman named Helena. At night he peeps at her through her bedroom window (she apparently never thinks to close her curtains) and sends her massive bouquets of flowers. She's unimpressed, but Nick is not to be deterred. He invites her to a lavish party he throws, where she for some reason decides to dance in his backyard fountain. This nearly drives Nick out of his skull with desire. She's still not interested in him, however, and makes a show of leaving the party with another guy.
Nick gets Helena to return to his house by stealing her wallet. She still doesn't respond to his romantic overtures, and this time pays a deadly price: she's run over outside his house. Her legs are broken, and Nick puts his surgeon's skills to work by amputating Helena's limbs and keeping her captive in his house.
She's none too pleased about this situation, and vents her anger by making fun of Nick sexually. He responds by cutting off her arms, thus making her totally dependent on him.
In this guise Helena becomes more responsive to Nick's overtures, and even gets turned on by the sight of him having sex with another woman. But this apparently blissful romance is interrupted by Helena's meathead boyfriend, who shows up and beats the crap out of Nick.
Around this point Nick wakes up to hear that Helena is in the hospital, recuperating from her surgery. Apparently much of the preceding action was a dream—or maybe it all is. The real question is, who cares?
What's wrong with this film? Damn near everything, I'd say, starting with the screenplay. Lines like "Why didn't you just fake it? That's what good women do!" play every bit as ludicrous as they sound. Jennifer Lynch claims she wrote the script at age 19, which explains its hopelessly naïve and misinformed take on male-female relations.
Contrary to what you might have heard about it, BOXING HELENA isn't especially weird or gruesome. The chintzy photography is more akin to a Hallmark ad and the erotic scenes look like bad outtakes from RED SHOE DIARIES. The lead actors Julian Sands and Sherilyn Fenn are both staggeringly awful, delivering high school play-worthy performances. I found it impossible to fathom what Sands' character sees in Fenn, who never comes off an anything more than a spoiled rich bitch, or how it was that the severely dorky Sands could possibly be a wealthy surgeon (he's certainly got plenty of free time).
But the real shock of the film, coming from a relation of David Lynch, is the complete lack of directorial finesse. What few effective moments there are (such as the scenes of the hapless Nick futilely attempting to relate to the armless-and-legless Helena) appear to have come about largely by accident. Otherwise, though, what shines through is the complete amateurishness of the project. Since Jennifer Lynch's second film demonstrates real talent, I can only assume that with BOXING HELENA she just wasn't ready.
Vital Statistics
BOXING HELENA
Main Line Pictures
Director: Jennifer Chambers Lynch
Producer: Carl Mazzocone
Screenplay: Jennifer Chambers Lynch
Cinematography: Frank Byers
Editing: David Finfer
Cast: Julian Sands, Sherilyn Fenn, Bill Paxton, Art Garfunkel, Betsy Clark, Kurtwood Smith, Nicolette Scorsese, Meg Register, Bryan Smith, Marla Levine