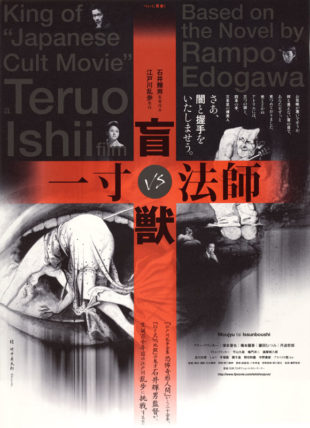 The unfortunate final feature of Japan's Teruo Ishii. A shot on video no-budgeter, it's an uninspired and amateurish product not befitting one of Japan's most prominent cult auteurs.
This 2001 "film," which is a.k.a. MOJU TAI ISSUNBOSHI, was inspired by its director's "lifelong love" for the writings of Edogawa Rampo (Teruo Ishii previously made the Rampo-inspired HORRORS OF MALFORMED MEN). Here Ishii combined two Rampo tales: THE BLIND BEAST/MOJU (1932) and THE DWARF (1926). Never mind that the first of those tales was already made into a movie by director Yazuzo Masumura, 1969's BLIND BEAST, a true cult classic the present film can't hope to approach, much less better.
Ranko Mizuki is a famous actress being stalked by a blind pervert. Concurrently the popular mystery novelist Kobayashi finds himself drawn to a mysterious dwarf he spots carrying a severed arm. Kobayashi's interest only increases when he later reads about the brutal killing of a woman that occurred on the following day.
Ranko winds up imprisoned by the creepy blind guy in a cave filled with statues of disembodied arms, eyes, ears and breasts. She resists the guy's overtures but eventually succumbs, entering into a freaky S&M relationship that ends with Ranko stabbed in a fit of psychosis by the blind beast, who dismembers her corpse and encases the body parts in a paper maiche sculpture he leaves on a populous city block.
Kobayashi's private detective friend Akechi investigates Ranko's disappearance. Akechi ferrets out the blind beast by a chance lead and unravels the case, which turns out to be far more convoluted than was initially apparent. We also learn more about the dwarf, whose name is Jiro; he's led a tough life, having joined the circus at an early age and then burned it down after being humiliated by its employees. He's also at death's door.
Overshadowing all this, however, is the fact that the blind beast has found another woman to imprison and dismember…
Teruo Ishii was a skilled filmmaker, but this film never seems like anything more than the shot on video no-budgeter it is. It contains all the elements you'd expect from such an effort, including poor lighting, a muddled script (which meshes the two Edogawa Rampo stories in clumsy and disjointed fashion, with the "vs" of the title nowhere to be found), low rent synthesizer music and amateurish performances. Most of the latter were by Japanese cult figures such as TETSUO director Shinya Tsukamoto (who's admitted he appeared in this film solely due to Ishii's cult cachet), SUICIDE CIRCLE director Shion Sono, SEXUAL PARASITE director Takao Nakano, anime writer/filmmaker Riri Furanki, and veteran supporting actor Tetsuro Tanba.
There are some striking images here and there, most notably the blind beast's assortment of body part sculptures, visualized through multi-colored filters (it's best not to think about Masumura's BLIND BEAST, as the comparison does Ishii's film no favors). Of course those sculptures are situated in what looks like a morass of tissue paper whose tacky appearance seriously jeopardizes the picture's already-tenuous sense of "reality"—which isn't helped by the inexcusable gore effects or visibly breathing "corpses." Clearly, at age 77 Teruo Ishii no longer cared about how things appeared in his films, or, it seems, much of anything else.
Vital Statistics
BLIND BEAST VS. KILLER DWARF (MOJU TAI ISSUNBOSHI)
Eleven Arts Films
Director/Producer/Screenwriter/Cinematography: Teruo Ishii
Editing: Masaki Yaguchi, Akiko Yamashita
Cast: Riri Fukari, Shinya Tsukamoto, Hisayoshi Hirayama, Reika Hashimoto, Little Frankie, Tetsuro Tanba, Kenpachiro Satsuma, Chido Yoshida, Tomoko Matsumoto, Momoka Sakata, Shion Sono