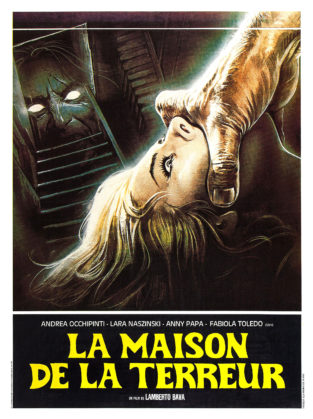 Lamberto Bava appears to have been channeling his mentors Mario Bava and Dario Argento (both of whom he previously worked for as an assistant director) in this unremarkable 1983 giallo (or Italian horror-thriller).
This was the second film directed by Lamberto Bava, the talented son of the late Mario. Lamberto's first credited directorial effort was 1980's impressive MACABRE. Following that he returned to his former profession of assistant director on Dario Argento's TENEBRAE (1982) and then made this film. It has a colorful history, having begun life as a four part Italian TV movie that was reedited to feature length. It was released in Italy as LA CASA CON LA SCALA NEL BUIO and in America as A BLADE IN THE DARK (a title Bava says he prefers to the original).
The extreme violence reportedly caused a fair amount of controversy in Europe, although Bava insists the film was intended as a parody of violent shockers. He followed it with DEMONS, which remains Lamberto Bava's most widely viewed—and probably most artistically successful—work.
Bruno is a musician who's been hired to score a horror movie, and has rented a secluded villa to do so. He doesn't realize the place is also inhabited by a shadowy maniac with a penchant for hacking up people with a box cutter. The maniac's first victim is an attractive lady friend of Bruno; during the melee Bruno wanders out to see what's happening but misses out on the action (of course!), and finds his workshop ransacked when he returns.
The second victim is another unfortunate young woman who comes on to Bruno, and ends up with her head bashed in and her throat slashed. By this time Bruno has begun investigating the life of the villa's former owner, a disturbed woman who it seems is still afoot and committing the murders.
Victim number three is a dude who finds a corpse in a tank and gets repeatedly conked in the head with a wrench. Another woman acquaintance of Bruno's, the director of the film he's working on, is the next victim: she's strangled to death, appropriately enough with a mass of celluloid!
As Bruno delves deeper into the past of the woman who once owned his house, he discovers a sordid history of abuse, gender confusion and a weird fetish for tennis balls.
This being the heavily referential effort it is, A BLADE IN THE DARK is filled with hommages to past giallos: a tennis ball tossing little girl is an obvious throwback (pun intended) to the ghost girl with the bouncing ball of Mario Bava's KILL BABY KILL. I'll assume the film's many similarities to Brian De Palma's early eighties thrillers DRESSED TO KILL and BLOW OUT are also intended as hommages rather than outright steals (though I doubt it!).
Lamberto Bava says the film was intended as a parody, but it doesn't play that way. I suspect Bava claimed that to justify the many over-familiar elements. You'll need to be conversant with the giallos of Argento and the elder Bava to fully "get" this film, but then you're also likely be bored by its uninspired run-through of giallo clichés.
The murder sequences are among the most startling and sadistic of any giallo. They're the one area in which the film really works, as the domestic scenes with actor Andrea Occhipinti, playing one of the blandest protagonists on record, definitely don't! The many attractive young women on display offer some welcome eye candy, but the ladies exist solely as potential victims—who all conveniently take long walks around the nether regions of the villa in the film's many suspense-free stalk and slash sequences.
Vital Statistics
A BLADE IN THE DARK (LA CASA CON LA SCALA NEL BUIO)
National Cinematographica sri/Nuova Cinematographica sri
Director/Producer/Editor: Lamberto Bava
Screenplay: Dardano Sacchetti, Elisa Brigante
Cinematography: Gianlorenzo Battaglia
Cast: Andrea Occhipinti, Anny Papa, Fabiola Toledo, Michele Saovi, Valeria Cavalli, Stanko Molnar, Lara Naszinski