Here we have The Bedlam Files' first-ever "Look Back," covering the previous year's noteworthy happenings in the world of cult/horror film and literature.  The format, you'll find, is identical to the "Look Back in Horror" listings I did for the Fright Site, but with a greater scope.
In prefacing the list I'll issue a warning: I'm going to be getting political.  Yes, I generally try and avoid politics, but in discussing 2016 it's impossible to completely avoid such issues.
Anyway…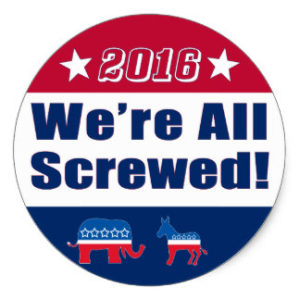 The 2016 Election and The Arts
Here's a subject I'm sure many writers and filmmakers would rather ignore, but which casts an indelible shadow over the artistic community—and, like it or not, will continue to do so for the next four (or more?) years.  The fact that our new president spewed a great deal of ire last November on HAMILTON—and, more recently, on the "overrated" Meryl Streep—is hardly insignificant.  Nor is the fact that so many Hollywood liberals vented their frustration about the 2016 election on a most unexpected target: 1972's LAST TANGO IN PARIS, which apparently needs to be censored, stripped of its awards and have its makers jailed due to a recently unearthed revelation by its director Bernardo Bertolucci that the famous "bring me the butter" scene wasn't entirely consensual on the part of actress Maria Schneider.  I won't attempt to excuse Bertolucci's actions, but will state that right now there are more worthwhile things to be outraged about–and also, that applying modern-day standards of political correctness to filmmaking in the 1970s is a losing gambit.
Yet there may be hope.  Just as the Watergate era proved a boon to artists and filmmakers, so perhaps will the Trump years become a source of future inspiration.  According to Robert Zemeckis (who confirmed in 2015 that the Biff Tannen character in BACK TO THE FUTURE PART II was in fact based on Donald Trump), "For years to come there will be fantastic movies with stories and characters set in this decade.  It'll be wild."
Continuing on this subject…
An Arts' Eye View of Why Democrats Lost the Election, and A Mini-Rant About Twitter

Sorry to get political, but as one who's heavily involved in the arts, and who voted democratic in 2016, this is a subject of particular concern to me.  I'm not pleased that democrats were shut out of all three branches of government in 2016, but given what occurred throughout the year I can't say I'm too surprised—see here, here and here.  It seems that in its zeal to police peoples' speech (how dare Steve Martin proclaim Carrie Fisher beautiful!) the left may have lost sight of the larger picture.
Then again the real problem here may be, simply, with Twitter, upon which people are prone to write poorly worded posts, and which seems to attract a never-ending parade of raving assholes on both sides of the political spectrum.  To quote Harlan Ellison: "Why do people keep insisting that I join the 21st Century?  I *LIVE* in the 21st Century!  I just don't want to be bothered by the shitheads on the internet."  Change the last word in that quote to twitter and you'll have my sentiments.
Horror Scribes in the News
Whatever else it may have been, 2016 was a banner year for media coverage of horror novelists.  First there was Stephen King, who made headlines when he blasted Maine governor Paul LePage (who a year earlier had falsely claimed that King left the state to avoid paying taxes) as "a bigot, a homophobe, and a racist" on twitter.
More bizarre was the case of novelist Jeff Rovin, whose 1999 mutant bat chiller VESPERS I quite enjoyed back in the day.  In late 2016 Rovin speared on Sean Hannity's Fox News program to explain how he worked as a "media fixer" for Bill and Hilary Clinton, and as such helped cover up Hilary's "illicit romps" with both men and women.  I should add here that Rovin was an editor for the late Weekly World News, which during its reign was known as the most outrageous, fact-twisting supermarket tabloid of them all.
Most unsettling of all, however, were the headlines generated by one David Mitchell, better known to us as D.M. Mitchell, author of the surreal horror novel THE SEVENTH SONG OF MALDOROR and editor of the H.P. Lovecraft tribute anthology THE STARRY WISDOM.  As laid out in this article, it seems that in the summer of 2015 the 56 year old Mitchell, for no discernible reason, brutally attacked a friend, upon whom he inflicted injuries that according to one report "can only be described as stomach-churning."  In early 2016 Mitchell was sentenced to ten years in prison for his actions, meaning we probably won't be seeing too many more books bearing the D.M. Mitchell byline.
Horror Magazine Snafus
Wow: more bad news on the Fangoria front!  As a longtime horror buff I've had a more-than-passing interest in the fortunes of Fangoria magazine, and it seems that it may at last be down for the count.  The June, 2016 firing of longtime Fango associate—and more recently editor-in-chief—Michael Gingold would appear to be the final nail in the coffin of this once-formidable publication, which in previous years has struggled mightily.  Gingold, you see, was Fangoria's last remaining link to the powerhouse it once was, so in firing him it would seem that Fango's overseers were deliberately doing themselves in.  Well done, guys!
In other horror magazine news, in 2016 Tim Lucas' Video Watchdog ceased publication after 26 years.  I was never a huge fan, but will give the Watchdog credit for its longevity, and for at least making an attempt at elevating the 1990s horror zine scene, which (contrary to the nostalgic revisionism being peddled on many horror sites) tended to operate on a middle-school level.
Incidentally, one long-running genre mag that continues to survive, and even thrive, amid the harsh realities of today's print media scene is Shock Cinema.  Of course I'm a bit biased in this case, having been a proud Shock Cinema contributor for nearly twenty years, but I think its longevity proves that focus and integrity can reap real dividends!
Notable Trends: Filmic
In discussing the films of 2016 I find myself focusing on the critics and their opinions.  Quite simply: throughout the year I found that said critics had a tendency to overrate movies to the point of obnoxiousness.
It's a fact that film critics are among the most herd-like creatures that exist, meaning if one or more influential reviewers rave about a movie you can bet most of the rest will follow suit.  That would appear to explain the inexplicable acclaim bestowed upon the bloated and self-satisfied LA LA LAND, and the derivative ARRIVAL.  Of course, much of the acclaim for the latter came about due to its message of tolerance for other cultures, appearing around the time of Trump's electoral win—note the many variants on the line "it's just the movie we need right now" that appeared in quite a few reviews.
Then there was the PC factor, which accounts for the outsized raves that greeted the woman-centric Wall Street thriller EQUITY, a glorified TV movie whose critical notices I'm certain would be far less effusive had its cast been male rather than female dominated.  And we mustn't forget the case of THE BIRTH OF A NATION, the ludicrously heavy-handed dramatization of the 1931 Nat Turner led slave uprising that wowed critics at the Sundance Film Festival, to the point that Fox Searchlight shelled out a reported $17.5 million for it (the most costly acquisition in Sundance history).  It was widely predicted that the film would sweep the Oscars, which panned out in about the same fashion as a certain other widely-publicized 2016 prediction (one that inspired a presidential candidate to wrongfully order fireworks in NYC a week before Election Day).  Here I'll have to give kudos to the much-hated L.A. Weekly, a reviewer for which attempted to sound the alarm back in February 2016, in an article claiming, correctly, that THE BIRTH OF A NATION "isn't very good."
I'll also have to call out critics for vastly overpraising the interminable Thai art-horror film MEKONG HOTEL, although I suppose I'm guilty in this case for actually taking the reviews in question seriously.  To be sure, I should have been tipped off by outrageous lines like "the calmest, slowest and most graceful scene of human-entrail eating ever committed to film" (as was stated by a Sight & Sound magazine critic), which of course begs an obvious question: how many human entrail eating scenes has this person actually seen?
Notable Trends: Print
A few years ago a New York publishing honcho advised writers with film related publications in mind to put those books aside.  The reasons?  There were apparently a glut of books about film, and few of those books were very good.  Fast forward to 2016, when the first of those reasons remained true, but definitely not the second!
Indeed, I found that a vast majority of the 2016 publications I read were film oriented.  They included the long-awaited CINEMA ALCHEMIST, a memoir by the legendary set decorator and director Roger Christian about his work on STAR WARS, ALIEN and the short film BLACK ANGEL; David Hinds' FASCINATION: THE CELLULOID DREAMS OF JEAN ROLLIN, the first really substantial English language book on the French horrormeister Jean Rollin; STANLEY KUBRICK AND ME, an affectionate reminiscence of the famously idiosyncratic Mr. Kubrick by his longtime personal assistant Emilio D'Alessandro; the Daniel Olson edited volume THE DEVIL'S BACKBONE AND PAN'S LABYRINTH, the latest edition of Centipede Press' essential "Studies in the Horror Film" series; and THE OLIVER STONE EXPERIENCE by Matt Zoller Seitz, an exhaustive compendium of all things Oliver Stone.
Favorite Discoveries, Literary and Cinematic, from 2016
A FELADAT: A Hungarian made miniseries from the seventies that despite less-than-stellar production values emerges as a singularly thoughtful and provocative piece of intellectual sci-fi.
DARK MATTER By GARFIELD REEVES-STEVENS: An altogether unique serial killer novel that combines Thomas Harris-esque apprehension with quantum physics.
A FAMILY FAILURE By RENATE RASP: A singularly haunting, nightmarish account of a young man being groomed by his selfish parents to become a tree!
FISH & CAT: This Iranaian-made exercise in arty apprehension has been described as "Samuel Beckett meets George Romero," and makes magisterial use of differing time periods, all conveyed in a single take.
FORCIBLE ENTRY By STEWART FARRAR: A most fascinating and intelligent body-switch fantasy, written by a practicing Wiccan.
IN THE WALL: A 2007 short film that received all sorts of accolades that, for once, are fully justified.
LITTLE FRUIT FROM THE EQUATOR: There's never been another movie like this one, an altogether bizarre parable about a man toting a giant breadfruit across a tropical island.
MONSEIUR HAWARDEN: The debut feature by Belgium's Harry Kumel was this criminally neglected masterpiece, a peerlessly stylish and disquieting depiction of a woman masquerading as a man in 19th Century France.
PLATES OF MEMORY By MARIAN KOLODZIEJ: A most powerful testimonial to the art of Poland's late Marian Kolodziej, a Holocaust survivor who created stunningly horrific Heironymous Boschian Hell-scapes.
THE TOUR By MICHAEL PERKINS: The scarcest of author Michael Perkins' esteemed Essex House published porn novels and, it turns out, the best of them.
THE VISITORS: A Czech time travel themed mini-series from the eighties that I'll be reviewing in the upcoming issue of Shock Cinema—for now, though, I'll say merely that's its breezy, enjoyable and really should be better known in this country.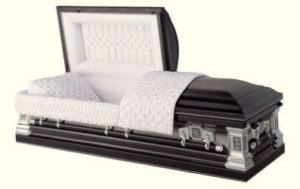 Remembering Those Who've Passed On:
RICHARD ADAMS (1920-2016) Novelist: WATERSHIP DOWN, THE PLAGUE DOGS, GIRL ON A SWING
ALEXIS ARQUETTE (1969-2016) Actor: LAST EXIT TO BROOKLYN, JACK BE NIMBLE, PULP FICTION, CLEOPATRA'S SECOND HUSBAND
HECTOR BABENCO (1946-2016) Director: PIXOTE, KISS OF THE SPIDER WOMAN, IRONWEED, CARANDIRU
KENNY BAKER (1934-2016) Actor: STAR WARS, FLASH GORDON, THE ELEPHANT MAN, TIME BANDITS, MONA LISA, LABYRINTH
DAVID BOWIE (1947-2016) Actor: THE MAN WHO FELL TO EARTH, CHRISTIANE F., THE HUNGER, THE LAST TEMPTATION OF CHRIST, TWIN PEAKS: FIRE WALK WITH ME, THE PRESTIGE
MICHAEL CIMINO (1939-2016) Director/Screenwriter: SILENT RUNNING, THUNDERBOLT AND LIGHTFOOT, HEAVEN'S GATE
LEONARD COHEN (1934-2016) Novelist: THE FAVORITE GAME, BEAUTIFUL LOSERS
PATTY DUKE (1946-2016) Actress: 4-D MAN, THE VALLEY OF THE DOLLS, THE SWARM
UMBERTO ECO (1932-2016) Novelist: THE NAME OF THE ROSE, FOUCAULT'S PENDULUM
KEITH EMERSON (1944-2016) Composer: INFERNO (1980), MURDER-ROCK, GODZILLA: FINAL WARS
CARRIE FISHER (1956-2016) Actress: STAR WARS, UNDER THE RAINBOW, HOLLYWOOD VICE SQUAD, AMAZON WOMEN ON THE MOON, THE 'BURBS, DROP DEAD FRED
ZSA ZSA GABOR (1917-2016) Actress: TOUCH OF EVL, QUEEN OF OUTER SPACE, SUPERTRAIN
GUY HAMILTON (1922-2016) Director: GOLDFINGER, DIAMONDS ARE FOREVER, REMO WILLIAMS: THE ADVENTURE BEGINS
CURTIS HANSON (1945-2016) Director: SWEET KILL, THE BEDROOM WINDOW, BAD INFLUENCE, L.A. CONFIDENTIAL
FLORENCE HENDERSON (1934-2016) Actress: THE BRADY BUNCH, THE BRADY BUNCH VARIETY HOUR, POLICE SQUAD!, SHAKES THE CLOWN
MICHAEL HERR (1940-2016) Writer: DISPATCHES, APOCALYPSE NOW, FULL METAL JACKET
ARTHUR HILLER (1923-2016) Director: THE HOSPITAL, NIGHTWING, SILVER STREAK
DAVID HUDDLESTON (1930-2016) Actor: BLACK LIKE ME, THE KLANSMAN, CAPRICORN ONE, SUPERTRAIN, FRANTIC, JOE'S APARTMENT, THE BIG LEBOWSKI
GEORGE KENNEDY (1925-2016) Actor: STRAIGHT-JACKET, THE FLIGHT OF THE PHOENIX, THUNDERBOLT AND LIGHTFOOT, JUST BEFORE DAWN, THE NAKED GUN, BRAIN DEAD, SMALL SOLDIERS
TIM LaHAYE (1926-2016) Novelist: LEFT BEHIND
HERSCHELL GORDON LEWIS (1929-2016) Director/Novelist: BLOOD FEAST, 2000 MANIACS, COLOR ME BLOOD RED, JUST FOR THE HELL OF IT, THE GRUESOME TWOSOME, SOMETHING WEIRD, SHE DEVILS ON WHEELS, A TASTE OF BLOOD, THE WIZARD OF GORE
FRANCOISE MALLET-JORIS (1930-2016) Novelist: THE WITCHES
GARRY MARSHALL (1934-2016) Actor/Director/Producer: PSYCH-OUT, MORK AND MINDY, LOST IN AMERICA, EXIT TO EDEN
BILL NUNN (1952-2016) Actor: DO THE RIGHT THING, THE LAST SEDUCTION, SPIDER-MAN
JON POLITO (1950-2016) Actor: REMO WILLIAMS: THE ADVENTURE BEGINS, HIGHLANDER, HOMEBOY, MILLER'S CROSSING, BARTON FINK, THE HUDSUCKER PROXY, THE CROW, FLUKE, THE BIG LEBOWSKI, THE BOX
NANCY (DAVIS) REAGAN (1921-2016) Actress: DONOVAN'S BRAIN
DEBBIE REYNOLDS (1932-2016) Actress: SINGIN' IN THE RAIN, WHAT'S THE MATTER WITH HELEN?, JENNIFER SLEPT HERE, FEAR AND LOATHING IN LAS VEGAS
ALAN RICKMAN (1946-2016) Actor: DIE HARD, CLOSET LAND, RASPUTIN (1996), DOGMA, PERFUME, SWEENEY TODD
JACQUES RIVETTE (2928-2016) Director: THE NUN, OUT 1, CELINE AND JULIE GO BOATING
GARRY SHANDLING (1949-2016) Actor: WHAT PLANET ARE YOU FROM?
DOUGLAS SLOCOMBE (1913-2016) Cinematographer: DEAD OF NIGHT (1945), CIRCUS OF HORRORS, THE SERVANT, THE FEARLESS VAMPIRE KILLERS, BOOM!, THE MUSIC LOVERS, THE MAIDS (1975), ROLLERBALL (1975), THE SAILOR WHO FELL FROM GRACE WITH THE SEA, RAIDERS OF THE LOST ARK, INDIANA JONES AND THE TEMPLE OF DOOM
LIZ SMITH (1921-2016) Actress: LEO THE LAST, THE DUELLISTS, BRITANNIA HOSPITAL, THE LIFE AND LOVES OF A SHE-DEVIL, APARTMENT ZERO, THE COOK THE THIEF HIS WIFE AND HER LOVER, OLIVER TWIST (2005)
ALAN THICKE (1947-2016) Actor/Talk Show Host: THICKE OF THE NIGHT, MASQUERADE (TV; 1984), THE OUTER LIMITS (TV; 1997)
MICHEL TOURNIER (1924-2016) Writer: THE ERL-KING, GILLES AND JEANNE
LUPITA TOVAR (1910-2016) Actress: DRACULA (1931; Spanish version), GREEN HELL
PETER VAUGHAN (1923-2016) Actor: VALLIAGE OF THE DAMNED (1960), DIE! DIE! MY DARLING!, STRAW DOGS, SAVAGE MESSIAH, SYMPTOMS, VALENTINO, TIME BANDITS, BRAZIL, PRISONER OF HONER, HEART OF DARKNESS (1993)
ROBERT VAUGHN (1932-2016) Actor: DEMON SEED, BATTLE BEYOND THE STARS, THE DELTA FORCE, JOE'S APARTMENT
ABE VIGODA (1921-2016) SUPERTRAIN, DEATH CAR ON THE FREEWAY, THE STUFF, BATMAN: MASK OF THE PHANTASM
ANDRZEJ WAJDA (1926-2016) Director: KANAL, SIBERIAN LADY MACBETH, MAN OF MARBLE
GENE WILDER (1933-2016) Actor: BONNY AND CLYDE, WILLY WONKA & THE CHOCOLATE FACTORY, RHINOCEROS, YOUNG FRANKENSTEIN, SILVER STREAK
ANDRZEJ ZULAWSKI (1940-2016) Director: THE THIRD PART OF THE NIGHT, THE DEVIL, POSSESSION, L'AMOUR BRAQUE, A SILVER GLOBE, SZAMANKA
VILMOS ZSIGMOND (1930-2016) Director/Cinematographer: THE SADIST, THE NAME OF THE GAME IS KILL!, FUTZ, HORROR OF THE BLOOD MONSTERS, McCABE AND MRS. MILLER, IMAGES, DELIVERANCE, THE LONG GOODBYE, THE SUGARLAND EXPRESS, WINTER KILLS, HEAVEN'S GATE, BLOW OUT, THE BONFIRE OF THE VANITIES, THE GHOST AND THE DARKNESS, THE ARGUMENT (1999)