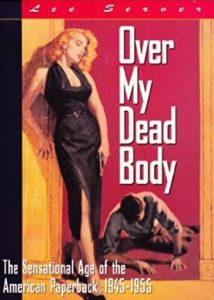 By LEE SERVER (Chronicle Books; 1994)
This heavily illustrated overview of "The Sensational Age of The American Paperback: 1945-1955" is hardly the definitive book on the subject, serving as, essentially, an introduction to the world of sleaze paperbacks in mid-Twentieth Century America.  Lee Server is of course the author of 1993's essential DANGER IS MY BUSINESS, which remains the premiere book about the American pulp magazine phenomenon.  Beside it OVER MY DEAD BODY seems quite slight.
Part of the problem here is that Server casts his net a bit too wide in his exploration of the paperback scene, encompassing crime, sleaze, beat literature and science fiction, any one of which could have filled an entire book.  Attempting to explore them all, and in just 108 pages, was ill-advised, to say the least.
But the book isn't bad.  It's quite knowledgeable about its subject matter, with solid mini-profiles of authors like Mickey Spillane, Jim Thompson, Charles Willeford, Jack Kerouac, David Goodis and Cornell Woolrich, whose collective output includes titles like THE BLONDE IS DEAD, A NIGHT FOR SCREAMING, A SWELL LOOKING BABE and THE WHIPPING.  There's also some historical perspective about how the aberrant subject matter of these books was meant to appeal to the jaded sensibilities of ex G.I.s, and how the era described in these pages came to abrupt end in the mid-1950s, when censorious attitudes prevailed.
Perhaps the most striking portions of this book are the photographic reproductions of quite a few fabulously lurid book covers, accomplished by such artists as Robert Jonas, Rudolph Belarski and James Avati.  Stand-outs include the commie scare novel THE SPLINTERED MAN, depicting a guy in his underwear menaced by foregrounded hands wielding a scary-looking syringe, and NO HANDS ON THE CLOCK, depicting a woman's corpse sprawled over a clock face.
Those wanting a comprehensive account of the American paperback scene are advised to read the books listed in OVER MY DEAD BODY'S bibliography (Geoffrey O'Brien's HARDBOILED AMERICA in particular), or better yet the paperbacks it details.  Not all of those books are easy to track down nowadays, and many are better left unfound, but the best of them—Thompson's THE KILLER INSIDE ME, Willeford's THE WOMAN CHASER, Goodis's DOWN THERE—can hold their own with most "respectable" literature then and now.