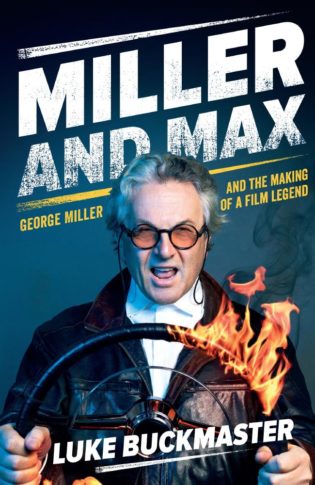 By LUKE BUCKMASTER (Hardie Grant Books; 2017)
An absolute must for MAD MAX fans, a sort-of biography of Australian filmmaker George Miller and his signature creation.  The book could be a bit deeper on the whole, but it delivers what it promises: a fast-moving and entertaining study worthy of the films of its subject, a warm and genial man who trained as a doctor but became known for directing four of the most violent and kinetic movies all time.
On the whole, it must be said that author Luke Buckmaster provides a good overview of George Miller's life.  Quite a few of Miller's friends and colleagues are interviewed, and there are even some dissenting views from disgruntled cast and crewmembers who don't like him.
The book begins, fittingly enough, with a description of Miller's upbringing in the rural Queensland community of Chinchilla, a desolate environ where "There was just these long flat roads, where there was no speed limit."  The petrol-head culture of the place impacted Miller without question, even though he himself wasn't much of a car buff.  He attended medical school at the University of New South Wales, during which he became film-obsessed after seeing Robert Altman's MASH.  It was around this time that he met Byron Kennedy, his future producing partner, in a University film workshop.
From that meeting emerged the ultra-low budget MAD MAX.  Its production, we learn, was a calamitous affair in which Miller's lack of directorial experience was evident throughout, and resulted in the film's leading actress being replaced midway through the shoot and Miller fired (only to be rehired the following day).  Yet the finished film, which Miller admittedly "hated," was a massive hit that for years held the title of the most profitable movie of all time.
A sequel was inevitable, and arrived in the form of 1981's MAD MAX 2/THE ROAD WARRIOR.  Its production was a much smoother, more professional operation than that of its predecessor, although the filming of Max's third incarnation, in 1985's MAD MAX BEYOND THUNDERDOME was, despite having the healthiest budget of the three films, something of a nightmare.  The unpleasantness began before shooting even commenced, with the death of Byron Kennedy in a helicopter accident, and continued in the form of a high-profile court case brought by the city of Sydney involving hundreds of pigs Miller and co. brought into the area.
An interval of nearly thirty years preceded Max's next adventure, the mega-budgeted MAD MAX: FURY ROAD.  Its shoot involved more trouble, in the form of years of development hell during which Mel Gibson as Max was replaced twice (first with Heath Ledger, who died before shooting got underway, and then Tom Hardy) and inhospitable desert locations in Namibia.  Yet it all came together in a film that, unexpectedly enough, was a multiple Academy Award winner.
Of course, about George Miller's non-MAD MAX affiliated films (which include TWILIGHT ZONE: THE MOVIE, THE WITCHES OF EASTWICK, LORENZO'S OIL and BABE: PIG IN THE CITY) and television work little is said.  But then, the title makes it clear that the author's focus is on Mad Max, in which respect this book more than succeeds.