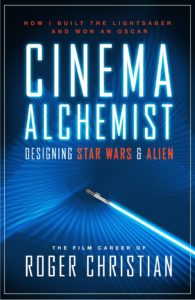 By ROGER CHRISTIAN (Titan Books; 2015/16)
This is a vital acquisition for all true film buffs, a memoir by the legendary set decorator turned director Roger Christian about his work on STAR WARS and ALIEN.  Also included are chapters detailing Christian's labors on MONTY PYTHON'S LIFE OF BRIAN and the making of his self-directed short film BLACK ANGEL (which played before THE EMPIRE STRIKES BACK in the UK and Australia).
Christian's work as set decorator on STAR WARS was a large part of what made that film the success it was.  What Christian did that was so revolutionary was to employ pre-used material, scavenged from masses of discarded airplane parts and other such detritus, in the dressing of the sets.  Granted, this was the only viable solution given the overly scant budget allocated by 20th Century Fox, yet Christian's peculiar brand of alchemy provided a gritty, lived-in look that was unprecedented in science fiction cinema of the 1970s.
As one of the few crewmembers on STAR WARS' calamitous shoot who was unswervingly loyal to George Lucas, Christian doesn't hesitate to call out the bratty behavior displayed by cinematographer Gilbert Tayor and his collaborators.  Christian also recognizes the toll Taylor's belligerence took on Lucas, who concluded the production of STAR WARS felled by exhaustion.
The production of ALIEN was apparently not dissimilar.  Once again it involved a visionary director, in this case Ridley Scott, fighting against a tight budget and collaborators who didn't share his vision.  Christian, however, claims to have supported Scott from the start, and given that Scott (like George Lucas) has lavished copious praise on Christian and his contributions I guess we'll have to believe those claims.
The chapters on BLACK ANGEL are fascinating for different reasons.  Here we're made privy to Christian's attempts at creating a mythically oriented mini-epic with a non-existent budget, unpredictable weather amid outdoor Scottish locations, and a complete lack of directorial experience.  Luck, it transpires, played a large part in the film's success.
Granted, those of you without a rooting interest in STAR WARS, ALIEN or BLACK ANGEL probably won't be as enchanted by this book as I am.  But if by chance you share my enthusiasm for Christian's achievements then this user-friendly tome is required reading, pure and simple!