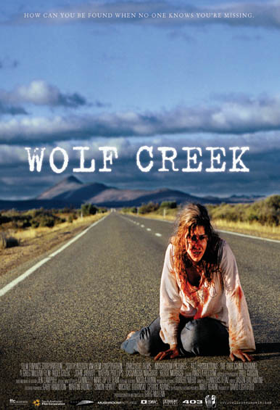 Hard, mean, no-nonsense horror from Down Under, proving that Aussie-sploitation is alive and well.  It's too bad, though, about that crummy ending!
This 2005 effort was a successful and inspired product, a dynamite feature debut by Greg McLean (who previously made the award-winning 2001 short ICQ) that shares the same templates of recent hard R-rated genre efforts like THE DEVIL'S REJECTS, CHAOS and the HILLS HAVE EYES remake: 1970s American exploitation cinema.  WOLF CREEK certainly has much in common with the seminal work of filmmakers like Wes Craven and Tobe Hooper, including the inevitable "Based on a True Story" claim, which the film's distributors have made a lot of.
In fact, Greg McLean was apparently inspired by several true-life accounts, including that of Bradley John Murdoch, a drug-running mechanic charged with murdering a British tourist in the Australian outback.  Bradley's lawyers actually prevented this film from being screened in Australia until his trial was complete (for the record, Bradley was found guilty in December, 2005 and sentenced to a life sentence).  Another inspiration was Ivan Milat, a serial killer who murdered several hitchhikers in New South Wales back in the 1990s, who was also apprehended and given a life sentence.  Yes, certain details of the two cases are similar to events in WOLF CREEK, but not enough, in my view, to justify the True Story claim—but you can read the plot synopsis below and decide for yourself.
Ben and his friends Kristy and Liz are on a jaunt through the Australian outback.  After much aimless horsing around they find themselves with a broken-down car at the lip of the vast Wolf Creek crater.  They appear to be saved when Mick, a friendly bloke who apparently lives in the area, appears, offering to fix their car.  Ben and co. allow Mick to tow them over a distance that seems like hundreds of miles to his home, a rubbish-strewn set of run-down shacks.  All are a mite spooked, but Mick seems like such a nice guy they allow themselves to be lulled into a false sense of security, and bed down for the evening in Mick's domain.
Later that night Liz awakens to find herself tied up.  She manages to loosen her bonds and ventures out to find Mick torturing Kristy.  Liz responds by setting Ben's car afire, distracting Mick and shooting him in the neck with a rifle.  !!!SPOILER ALERT!!!  Unfortunately the wound is far from fatal; Mick pursues Liz and Kristy into the desert and back to his lair, where he stabs Liz to death.  This leaves Kristy, who Mick dispatches in a brutal car duel.  But there's still Ben, stuck crucified back in Mick's lair; he escapes and makes his way back to civilization, where he fills the authorities in on what happened.  As a result (end credit intertitles inform us) Ben is unjustly locked up for four months on suspicion of the killings, but no bodies are ever found, so Ben is set free—and Mick is never brought to justice.
Like the seventies-sploiters WOLF CREEK is patterned after, it takes its sweet time getting to the nasty business.  It's a full thirty minutes before we meet Mick, the antagonist, and then another twenty before he commences his demented handiwork.  This of course makes the violence all the more shocking, as we've gotten to know and like the characters (particularly the fetching Liz, who we're led to believe is the heroine–yet it's she who dies first!), and makes for an especially intense third act.
The film has a spare, unadorned aesthetic fully befitting its no-frills narrative.  It also has a unique sun bleached look achieved by filming on high definition video that was digitally manipulated in post production, resulting in one of the best looking video productions I've seen.  Special mention must also go to the actors, who actually look like real people (i.e. not the toned TV stars we've become accustomed to seeing in so many recent horror flicks).  The exception, of course, is John Jarrett as Mick the psychopath.  Jarrett is a veteran performer (in PICNIC AT HANGING ROCK and many other Aussie classics) who explodes any number of friendly Aussie clichés with his near-inhumanly affable bushman character who turns out to be anything but.
The one major problem I have is with the ending–or rather, the noneneding.  The film comes to an abrupt stop after the male lead escapes his confines, abruptly slipping into "Unsolved Mysteries" mode.  Since the "Based on A True Story" claim is largely bogus (see above), I honestly can't figure out why writer/director Greg McLean concludes the film the way he does.
Vital Statistics
WOLF CREEK
The True Crime Channel/Best FX
Director: Greg McLean
Producers: Greg McLean, David Lightfoot
Screenplay: Greg McLean
Cinematography: Will Gibson
Editing: Jason Ballantine
Cast: John Jarratt, Cassandra Magrath, Kestie Morassi, Nathan Phillips, Gordon Poole, Guy O'Donnell, Phil Stevenson, Geoff Revell, Andy McPhee, Aaron Sterns, Michael Moody, Andrew Reimer, Vicki Reimer, Isabella Reimer