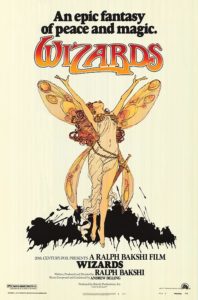 The first and most interesting of animator-director Ralph Bakshi's cartoon fantasy epics (the others include 1978's LORD OF THE RINGS and 1983's FIRE AND ICE).  1977's WIZARDS (originally titled WAR WIZARDS) was released by Twentieth Century Fox a mere two weeks prior to the similarly themed STAR WARS, which, needless to say, buried Bakshi's film at the box office—although Bakshi claims WIZARDS was still quite profitable.
The film contains a great deal of bloodletting and scantily clad women, yet it was apparently Bakshi's idea of children's fare—and compared with his previous features, which included the X-rated grunge-fest FRITZ THE CAT (1972) and the similarly themed HEAVY TRAFFIC (1973) and COONSKIN (1975), WIZARDS is pretty tame.
The setting is a future Earth that has been devastated by nuclear war.  This world, in which science has been outlawed and old fashioned magic has come back into vogue, has been divided into Montagar, a paradise inhabited by elves and fairies, and Scortch, a nightmarish landscape of freaks and mutants.  The former is ruled over by the kindly wizard Avatar and the latter by the evil Blackwolf—who is seeking to create a war machine by excavating the ruins of the past, becoming particularly obsessed with Nazi paraphernalia.
Blackwolf dispatches a robotic emissary to kill Avatar.  The attempt is thwarted and the emissary, ironically named Peace, is tied up and made to do Avatar's bidding.  From there Avatar, his busty GF Elinore, the courageous elf Weehawk and the tied-up Peace journey into Scortch.  Their journey involves Elinore getting taken hostage by a race of tiny people, an ambush by a gang of barbarians and fights with Weehawk's mutant henchmen, and culminates in a final apocalyptic battle between good and evil.
WIZARDS (unlike STAR WARS) is nothing if not topical, with explicit allusions to the Third Reich, the Vietnam war, religion and the mid-1970s U.S. political scene.  The old school hand-drawn animation, accomplished by big names in the field like Irven Spence, Brenda Banks and Ian Miller, is refreshing in these days of computerized cartooning, although it's also quite primitive, reflecting the film's low budget.  In true Bakshi fashion a variety of styles and techniques are utilized, most strikingly in the battle scenes, in which blacked-out footage from ALEXANDER NEVSKY is rotoscoped onto animated backgrounds (a moneysaving effect Bakshi admittedly overused on his subsequent films).
Where WIZARDS really falls short is in the storytelling department.  Bakshi's previous films were marked by nonlinear stream-of-consciousness plotting, and he evidently had a difficult time putting together a traditional narrative.  The "story" here proceeds in the form of self-contained vignettes, with snatches of narration (spoken by an uncredited Susan Tyrell) accompanied by still pictures inserted to let us know what's happening.  Yet the quirkiness and individuality of Bakshi's filmmaking make for a provocative and eye-pleasing viewing experience.
P.S.: listen for the voice of Mark Hamill in a bit part, initiating what would become a long-lasting career in cartoon voice overs.
Vital Statistics
WIZARDS
Bakshi Productions, Inc./Twentieth Century Fox
Director/Producer/Screenwriter: Ralph Bakshi
Editing: Donald W. Ernst
Cast: Bob Holt, Jesse Welles, Richard Romanus, David Proval, James Connell, Steve Gravers, Barbara Sloane, Angelo Grisanti, Hymen Wien, Christopher Toyback, Mark Hamill, Susan Tyrell