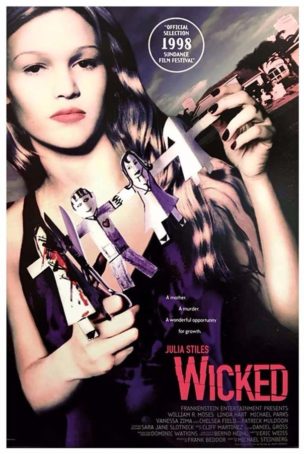 Extremely stylish and refined nineties sleaze, headlined by then up-and-coming starlet Julia Stiles. WICKED has a copyright date of 2000, the year of its straight-to-DVD release, yet it was actually completed (and screened at Sundance) in 1998. It was the third feature directed by Michael Steinberg, following THE WATERDANCE (1992) and BODIES, REST AND MOTION (1993). I'm one of the few who really likes the latter film, which nearly everyone I know detests, and this follow-up has inspired nearly as much ire. It's also, as of mid-2010, the last film directed by Mr. Steinberg, who outside a few writing and producing credits has been silent.
Ellie is an attractive teenager who's dissatisfied with her life in a gated LA suburb, where she lives with her parents and younger sister. One morning Ellie's bitchy mother is bludgeoned to death with a ceramic tribal mask while Ellie is (apparently) at school. This gives Ellie a chance to install herself as the household matriarch…and indulge her twisted passion for her father! He's already made the mistake of telling Ellie she's his "favorite" daughter, which only inflames her already outsized ego.
Ellie takes to sleeping in her dad's bed with him, and one night actually gets him to kiss her on the lips—and, it's implied, go a bit farther sexually. But Ellie's bliss is cut short when her beloved father brings home a girlfriend, a pretty blond named Lena. Ellie fantasizes about killing Lena, and becomes even more unhinged when her father and Lena get married.
In the meantime, suspicion for her mother's killing falls upon Ellie. This suspicion would seem to be confirmed when a suitcase is discovered belonging to Ellie that contains the bloody mask that killed her mother. Yet Ellie has an advantage: her knowledge of the incestuous hijinks that occurred between her and her father, which can complicate his marriage greatly!
As sleazy as this film is, it's given A-list treatment by Michael Steinberg. The visuals are impeccably composed and lit, with an eye for oft-kilter eccentricity that perfectly compliments the subject matter. There's a real sense of style, as I'd expect from the director of BODIES, REST AND MOTION. You might argue, of course, that Steinberg could have found better material with which to grace that style.
Eric Weiss' script isn't bad, just half-baked and implausible. Ellie's perverse obsession with her father is never properly explained or developed, and the outrageous twist ending turns the entire story into a bad joke.
Julia Styles is miscast as the nymphetish Ellie (Styles was a hot property at the time), but at least gives the role a solid try. She's surrounded by several sharp supporting players—DUST DEVIL'S Chelsea Field, STARSHIP TROOPERS' Patrick Muldoon, FROM DUSK TILL DAWN'S Michael Parks—who help lend class to an otherwise trashy wallow in pure exploitation.
Vital Statistics
WICKED
Automatic Pictures
Director: Michael Steinberg
Producer: Frank Beddor
Screenplay: Eric Weiss
Cinematography: Bernd Heinl
Editing: Daniel Gross
Cast: Julia Stiles, William R. Moses, Linda Hart, Michael Parks, Vanessa Zima, Chelsea Field, Patrick Muldoon, Louise Myrback