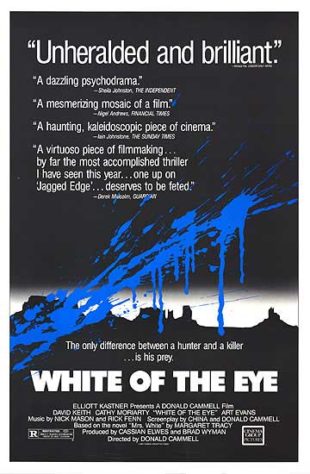 One of the more unnerving modern psycho-thrillers. Fractured, innovative and often quite brilliant, WHITE OF THE EYE was directed by the late, underrated Donald Cammell, and remains among his finest work.
In a moviemaking career that spanned nearly thirty years, the British genius Donald Cammell completed just four features. The legendary PERFORMANCE (1970) was the first. It was co-directed with Nicolas Roeg, who went on to utilize many of the film's innovative techniques in his own auspicious filmography, even though most everyone connected with PERFORMANCE attests that Cammell was the true driving force behind its unique vision.
Cammell's subsequent films included the science fiction drama DEMON SEED (1977) and the dark comedy WILD SIDE (1995), which was heavily recut against his wishes and allegedly led to his 1996 suicide (for the record, a director's cut was issued in 2000). WHITE OF EYE, Cammell's third film, was written by Cammell and his wife China, scored by Pink Floyd's Nick Mason, and filmed on location in Globe, Arizona. Released in 1987 to widespread disinterest, WHITE OF THE EYE remains a shamefully underrated film; as of early 2009 it's never been released on DVD in the US.
A series of brutal murders rocks the small Arizona town where Joan White, a transplanted New Yorker, lives with her young daughter and stereo salesman husband Paul. The police investigation into the killings comes to focus on Paul, as his past is a decidedly checkered one.
Joan suspects that Paul is cheating on her with a local floozy. Her suspicions are confirmed when she follows Paul to the ho's house one day. Joan is so upset by Paul's deception she refuses to defend him when the police call her in to be questioned about his doings.
The irony is that Paul IS in fact the killer, and murdered the floozy in her house while Joan was outside. Back home Joan discovers Paul's handiwork in the form of a moldering corpse he's stashed under the bathroom floor. She's understandably unnerved, and Paul decides it's time to put an end to it all. Joan doesn't stand much of a chance against his madness, but Mike, a mutual friend who's known the couple since the sixties, turns up to help her fight him off–but is Mike's intervention a case of too little, too late?
Donald Cammell's most famous and recognizable film PERFORMANCE was made in the late sixties (though not released until 1970), and a distinctly counterculture atmosphere pervades WHITE OF THE EYE, from the frequent references to Indian magic to the consistently tripped-out visuals.
The film is heavily experimental in its construction, with nearly every kind of visual quirk one can think of. Highlights include much swooping steadicam camerawork and heavily expressionistic editing by Terry Rawlings (replacing Cammell's stock editor Frank Mazzola). This makes for an extremely self-conscious viewing experience, and far from the Hollywood model that decrees directorial technique be invisible. But Cammell's cinematic mastery, self-conscious or not, is undeniable.
The performances by David Keith and Cathy Moriarty are simply great, with both actors proving adept at conveying a sense of mundane suburban reality and one of total madness. It's that juxtaposition that gives the film a creepy, unnerving edge far beyond that of most standard thrillers.
Ultimately WHITE OF THE EYE is as much an artful portrait of a crumbling relationship as it is an intense psycho thriller—and in crafting this oddball mix Cammell does the seemingly impossible: he actually succeeds in having it both ways.
Vital Statistics
WHITE OF THE EYE
Palisades Entertainment
Director: Donald Cammell
Producers: Cassian Elwes, Brad Wyman
Screenplay: Donald Cammell, China Cammell
(Based on a novel by Margaret Tracy)
Cinematography: Larry McConkey
Editing: Terry Rawlings
Cast: David Keith, Cathy Moriarty, Art Evans, Alan Rosenberg, Michael Greene, Danielle Smith, Alberta Watson, William G, Schilling, David Chow, Marc Hayashi, Mimi Lieber, Pamela Guest, Bob Zache