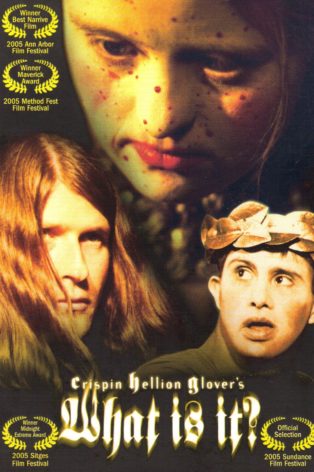 Q: What is the absolute WEIRDEST movie of the 00s? A: This ten-years-in-the-making cinemutation, the directorial debut of nutcase actor Crispin Glover. WHAT IS IT? was a longtime legend on the underground circuit, and fully lives up to its rep, being a dark, freaky and totally insane glimpse into Glover's fractured psyche.
Crispin "Hellion" Glover is best known for his unforgettable turns in films ranging from BACK TO THE FUTURE to WILD AT HEART and CHARLIE'S ANGELS. He's also something of a fringe culture guru, having released several books through his company Volcanic Eruptions and published an essay in the Feral House anthology APOCALYPSE CULTURE II—an essay titled, appropriately enough, "What Is It?"
WHAT IS IT? began production in 1995. It was intended as a short film, but over the years was expanded to 72 minutes, and eventually completed in 2005. The cast is packed with actual Down Syndrome patients, as well as the late cerebral palsy afflicted Steven Stewart (the star of Crispin Glover's subsequent film) and Glover himself.
WHAT IS IT? was the first entry in Glover's IT trilogy, followed by IT IS FINE! EVERYTHING IS FINE in 2007 and the forthcoming IT IS MINE. These films are especially noteworthy for Glover's audacious distribution strategy: he personally screened them at select venues across the U.S. together with a slide show and a lengthy Q&A session. I caught WHAT IS IT? in late 2006 at Hollywood's American Cinematheque together with a packed audience, which made for a memorable experience–and no, right now it doesn't look like Glover will be releasing this film or its follow-ups on DVD any time soon.
A down syndrome afflicted young man finds himself shut up in a Hollywood Hills home with his neglectful crack-smoking mother, where he hallucinates wildly. Among other things, the young man falls in love with a talking snail he smashes against a window.
The young man "escapes" the offending house but then finds he's locked himself out. His attempts at getting back inside involve further hallucinations involving a deranged man getting jerked off inside a giant clamshell, a guy in blackface repeatedly injecting his face with snail guts, and a subconscious realm run by the young man's only slightly saner alter ego. In this realm naked dancers emerge from volcanic outcroppings and demented puppet shows are performed with talking Tide boxes.
The young man appears to discover a way out of his dilemma when a friend gives him a key to his front door. Yet the young man chooses to hang out in a graveyard with several of his buddies. A number of brutal murders follow, via bludgeoning, burying alive and plastic bags over heads, as salt is poured on several unfortunate snails and the young man ponders "Am I a snail or am I me?"
WHAT IS IT? is quite uneven, playing at times like a particularly insufferable student film, but there are stretches of psychotic genius worthy of classics of the bizarre like UN CHIEN ANDALOU, FREAKS and EL TOPO. The low budget is evident throughout, but helps lend a unique homemade charm to a film that was shot largely in and around Crispin Glover's Hollywood home.
The content is impudent, exploitive and irreverent by turns, with an overall love of shock (those swastikas placed throughout aren't accidental) and a puckish sense of humor. Pop culture references and homages to other films are constant, and nor is Glover above the occasional in-joke: at one point a cast member actually identifies Glover as "McFly" (a reference to Glover's role in BACK TO THE FUTURE).
With its noisy, discordant music score (featuring selections by Richard Wagner, Charles Manson and Church of Satan founder Anton LaVey) and wildly nonlinear succession of dissolves, intercuts and warring voice-overs, the proceedings sometimes look and feel like Glover slapped together a jumble of unrelated footage into something resembling a feature film. That may indeed have been the case, but whatever the circumstances of its inception, with WHAT IS IT? Crispin Glover created a genuinely freakish oddity that can stand with the weirdest movies of all time.
Vital Statistics
WHAT IS IT?
Volcanic Eruptions
Director: Crispin "Hellion" Glover
Producers: Crispin Glover, Matt Devlan, Ryan Page, Michael Pallagi
Screenplay: Crispin Glover
Cinematography: Wyatt Troll
Editing: Crispin Glover
Cast: Crispin Glover, Steven Stewart, Michael Blevis, Carlos Richardson, Lisa Fusco, John Insinna, Kelly Swiderski, Robin Adams, Adam Parfrey, Rikky Wittman, Fairuza Balk