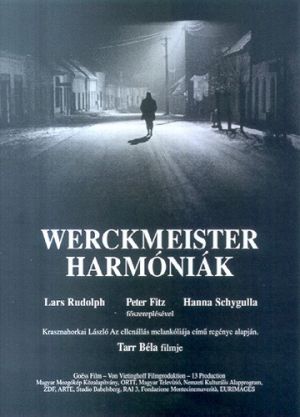 More art movie madness, a grim and mysterious Hungarian effort that will be best appreciated by film buffs with a lot of patience.  Bela Tarr is one of the world's most uncompromising filmmakers, known for extremely long takes and pacing of the somnambulant variety.  He also has a preference for black-and-white film stock and highly elliptical, uneventful narratives.  WERCKMEISTER HARMONIES (WERCKMEISTER HARMONIAK), from 2000, contains all those elements, but is more accessible overall than most of Tarr's work.  It's been dubbed his "arthouse breakthrough," meaning it was the first of Tarr's films to (barely) play on the American arthouse circuit.
In a secluded Hungarian village a traveling circus arrives.  This circus consists of jars full of medical anomalies, a dead whale (which is never shown publicly) and a malevolent figure known as "the Price" (who is never seen).  Valuska is a laid-back guy prone to barroom showmanship and nocturnal walks.  Upon the arrival of the circus he immediately senses that something's wrong.
That sense grows as the townspeople become increasingly seduced by the circus, gathering around it each day in large groups.  Tunde, a crafty old woman, tries to use the situation for her own ends, inducing Valuska to spread her revolutionary gospel each day.  But Valuska finds himself irresistibly drawn to the whale enclosed within the circus trailer.
The atmosphere, meanwhile, is becoming increasingly dark and foreboding.  It all culminates in a mass attack on a local hospital, as the Prince, speaking in a different language, incites the townspeople to violence.
Anarchy reigns.  Valuska goes mad and becomes a vegetable.  Even the circus isn't spared, as in the end the trailer is wrecked, leaving the whale carcass beached in the town square.
Obviously this film will never be mistaken for HAPPY GILMORE.  It's weird, contemplative and relentlessly elliptical.  Just what it all "means"—the significance of the Prince and the whale, the reason the townspeople choose to ransack the hospital—is left open to interpretation.  The glacial pacing and unerringly grim narrative trajectory will further alienate viewers looking for conventional entertainment.
Yet there are some profoundly impressive elements.  Tarr, working with his usual collaborators—co-scripter Laszlo Krasznahorkai, editor Agnes Hranitzky (Tarr's wife) and composer Mihaly Vig—perfected his technique in this film, creating luminous images that rank among the most stunning you'll see (notably the magnificently eerie shot of Valuska staring into the giant eye of the dead whale).  Tarr's mastery is also evident in the bravura staging and photography of the assault on the hospital, a masterful eight minute sequence done in a single take.
Make of WERCKMEISTER HARMONIES what you will, but it is a stunningly lensed work of gothic beauty.
Vital Statistics
WERCKMEISTER HARMONIES (WERCKMEISTER HARMONIAK)
Goess Film/Von Vietinghoff Filmproduktion
Director: Bela Tarr
Producers: Mikoos Szita, Franz Goess, Joachim von Vietinghoff, Paul Saadoun
Screenplay: Bela Tarr, Laszlo Krasznahoraki
(Based on a novel by Laszlo Krasznahoraki)
Editing: Agnes Hranitzky
Cast: Lars Rudolph, Peter Fitz, Hanna Schygulla, Ferenc Kallai, Janos Derzsi, Djoko Rosic, Tamas Wichmann, Ferenc Kallai, Mihaly Kormos, Putyi Horvath