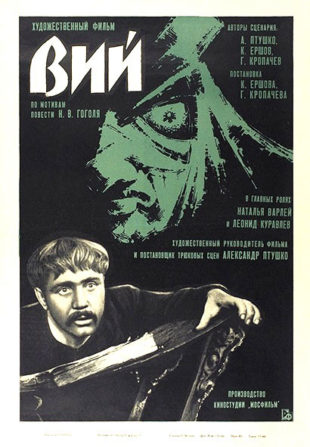 Beg, borrow or steal to see this amazing 1967 Russian mind blower!  Based on a story by Nikolai Gogol, it's an astounding achievement in old-fashioned horror.
Turn of the century writer Nikolai Gogol was one of Russia's most famous scribes, and was known to turn out quite a few horror-themed stories (such as "The Overcoat"), but none more so than VIY (or, as it's sometimes known, THE VIJ), which he claimed was taken from an old peasant fairy tale and written "exactly as it was told to me."
This adaptation of Gogol's most horrific story (Mario Bava's 1961 classic BLACK SUNDAY was also taken, albeit very loosely, from the same piece) was co-directed by the veteran fantasy filmmaker Alexander Ptushko (SADKO, RUSLAN AND LUDMILLA, THE TALE OF THE TSAR SULTAN), whose genius with special effects was never more evident.  VIY was at the time the only horror film made in Russia, which seems somehow appropriate, as it would be extremely hard to top.
Like many films based on short stories, this one suffers from a certain amount of visible padding to stretch it out to feature length (and it's only 73 minutes long!).  Otherwise, though, it's a near word-for-word adaptation of Gogol's fiction, being the bizarre story of a young monk-in-training who, lost in the woods one night, comes upon a withered old woman.  It soon becomes clear that she's a witch, and transforms herself into a gorgeous young woman who forces out bumbling hero to take a broomstick flight on her back.  Upon setting down, he beats her to death, thus setting off an ultimately deadly chain reaction.
The relatives of the dead woman, apparently unaware she's a witch, mourn her loss and start a search for the killer.  Somehow, the protagonist is picked to stand guard over her corpse each night inside a cavernous, nightmarish church, apparently to keep evil spirits away.  As it turns out, though, keeping evil spirits out is not his problem—quite the opposite, in fact!
The directors Georgi Kropachyov and Aleksandr Ptushko prove with this film that audacity and imagination are the real special effects.  While the FX work in the wall-to-wall finale (done by Ptushko himself) seems mighty primitive by today's standards, it remains an astonishing spectacle, with flying coffins, giant hands reaching up from the ground and monsters of every conceivable variety swarming the area.
The production design and photography are also a marvel.  The church where much of the action takes place could be the very definition of Gothic, and the gorgeously evocative use of color rivals the stunning work of Mario Bava.  It all adds up to a true lost classic that simply MUST be rediscovered!
Vital Statistics
VIY [a.k.a. THE VIJ] Mosfilm
Directors: Georgi Kropachyov, Aleksandr Ptushko
Screenplay: Georgi Kropachyov, Akeksandr Ptushko, Konstantin Yershov
Cinematography: Viktor Pishalnikov, Fyodor Provorov
Editors: R. Pesetskaya, Tamara Zubova
Cast: Leonid Kuravlyov, Natalya Varley, Aleksei Glazyrin, Vadim Zakharchenko, Nikolai Kutuzov