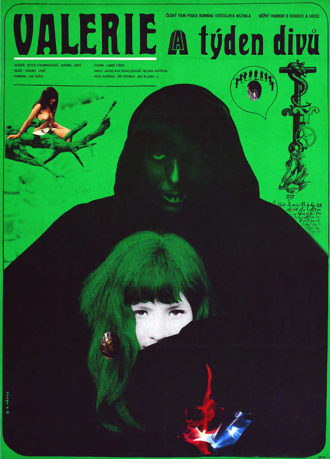 Fascinating Czech surrealism from the seventies.  Beautifully filmed, affectionately macabre and totally unique, it's precisely the type of film They Just Don't Make Anymore.
Director Jaromil Jires was one of the guiding lights of the Czech cinematic New Wave of the sixties.  This movement produced startlingly irreverent, politically subversive films like THE PARTY AND THE GUESTS (O SLAVNOSTI A HOSTECH; 1966), THE FIREMEN'S BALL (HORI, MA PANEKO; 1967), DAISIES (SEDMIKRASKY; 1966) and Jires' own THE JOKE (ZERT; 1969), all of which were banned for countless years—in some cases forever—by the Czech government.  Compared to the above films, Jires' VALERIE AND HER WEEK OF WONDERS (VALERIE A TYDEN DIVU; 1970) seems, despite its surreal veneer, downright traditional.  It hasn't been banned anywhere, to my knowledge.  Perhaps this film, a curious melding of ALICE IN WONDERLAND and NOSFERATU, was Jires' idea of "lighter" fare after the previous decade's spate of politically charged cinema.
The pubescent Valerie is awakened one day by a pasty-faced, Nosferatu-like vampire who steals her earrings (which, we later learn, are imbued with magical powers).  She pursues him, but he manages to vanish into a crowd.  She spots the vampire again later, feebly disguised behind a mouse-head mask, and points him out to her (alarmingly pale) grandmother.  As it turns out, the earring thief has vampirized Valerie's grannie, along with much of the town, and furthermore has set up shop in the dark, cobwebby basement of Valerie's house!
Matters aren't helped by the presence of a lecherous priest with an eye for Valerie, but things really come to a head when Val's young, pretty "aunt" moves in and tries to take Valerie out of the picture.  The aunt is in fact Val's vampirized grandmother looking to further the head vamp's nefarious aims.  Luckily Valerie's one true love, a dashing young man, is there to help her escape her grandmother's clutches and defeat the vampires, which inspires a mass celebration among the townspeople, ending with them all surrounding Valerie as she climbs into an outdoor bed and goes to sleep.
VALERIE AND HER WEEK OF WONDERS gains much of its power from the fact that it is one of the screen's only successful attempts at capturing the texture of a dream.  The constantly shifting fairy tale landscapes, the fragmented yet curiously streamlined narrative and the unpredictable interplay of reality and fantasy are all masterfully orchestrated by Jaromil Jires, working with gorgeously desaturated photography; the film is every bit as authentically dreamlike—and eerily beautiful—in its own way as ERASERHEAD.
The subject matter, a girl's budding sexuality, is sensitively handled with a refreshing lack of salaciousness.  There are some troubling bits, such as a scene in which the youthful Valerie wakes up in a bed beside a much older woman—while we're shown nothing untoward, the all-too-clear implication is that the two did far more than sleep!  In any event, Jires' 14-year-old star Jaroslava Schallerova definitely ranks among the most radiantly beautiful child actors ever to grace the silver screen; her face provides one of the most compelling sights in this uniquely hallucinatory, stunningly poetic, deeply enthralling piece of cinema.
Vital Statistics
VALERIE AND HER WEEK OF WONDERS (VALERIE A TYDEN DIVU)
Filmove Studio Barrandov
Director: Jaromil Jires
Screenplay: Jaromil Jires, Ester Krumbachova
(Based on a novel by Vitezslav Nezval)
Cinematography: Jan Curik
Editor: Josef Valusiak
Cast: Jaroslava Schallerova, Josef Abrham, Helena Anyzova, Karel Engel, Jan Klusak, Petr Kopriva, Jirina Machalicka, Jiri Prymek, Martin Wielgus