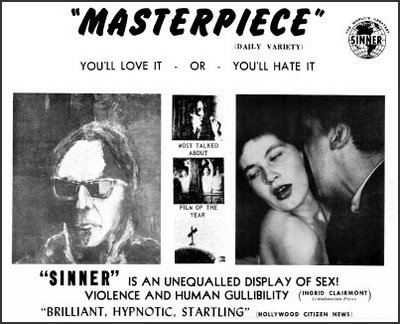 A truly astounding early sixties artifact that remains frustratingly obscure.  A one-of-a-kind exploration of sex, sin and religion, THE WORLD'S GREATEST SINNER was the magnum opus of Timothy Carey, one of Hollywood's most eccentric provocateurs, and demands to be seen by all true cult movie buffs.
Timothy Carey remains best known as a supporting actor in movies as varied as THE KILLING, PATHS OF GLORY, EAST OF EDEN, THE CONVERSATION, FAST-WALKING and THE KILLING OF A CHINESE BOOKIE.  Production on THE WORLD'S GREATEST SINNER, written, produced, directed and headlined by Carey, was initiated in 1956 and completed in 1963, a self-financed labor of love that met with extremely hostile response from critics and audiences; indeed, a riot apparently ensued during its premiere screening in Los Angeles!
That shouldn't surprise, though, considering Carey's own statements regarding the film: "I was tired of seeing movies that were supposedly 'controversial'…so I wanted to do something that was really controversial."  Cinematography was completed in part by future bad movie auteur Ray Dennis Steckler (whose films would come to include THE INCREDIBLY STRANGE CREATURES WHO STOPPED LIVING AND BECAME MIXED-UP ZOMBIES, THE THRILL KILLERS and RAT PFINK A BOO-BOO), along with the legendary B-movie impresario Edgar G. Ulmer (whose opuses include the unforgettable thirties curio MANIAC).  The music was by a then-unknown Frank Zappa (who later branded it "the world's worst movie").
Sadly, Timothy Carey's WORLD'S GREATEST SINNER was to be the only directorial effort by this lovably eccentric would-be auteur.  Not that he didn't try other things: in 1968 Carey started production on something called TWEET'S LADIES OF PASADENA (described as being about "a giant man-child who roller-skates everywhere he goes" while "trying to clothe all the naked and homeless animals in the world"), but the film was never completed.  In the nineties he attempted to stage a self-penned play called THE INSECT TRAINER about a man who argues for the attributes of farting (apparently an obsession of Carey's).  After a succession of strokes, however, Carey passed away in May of 1994, before the play got underway.
Clarence Hilliard is a seemingly contented everyman working for an insurance firm.  One day, however, he snaps: he renames himself God and embarks on a religious crusade, guided by none other than the Big S (who in an early voice-over enthusiastically dubs Hilliard "my greatest possibility since the apple incident").  His message: there is no God but man himself.  Hilliard learns to play guitar, thus utilizing rock 'n roll to preach his perverted gospel, and gets an old lady to contribute money to his cause by seducing her.  There's much more seduction to come as "God" uses his growing fame to bed a wide variety of women…and not a few girls.  He even mounts a run for president, with the modest expectation of receiving "more votes than any other candidate in history."
Eventually, however, God Hilliard begins to sour on his crusade, and decides to confront the possible reality of a higher being head-on…by challenging the Big G to a fight!  God responds, leading to Hilliard's earthly downfall and spiritual redemption in a mystical coda that I'm not sure I fully understood.
From a directorial standpoint this film is a wildly mixed bag, seeming like a heavily improvised John Cassavettes drama at times (Cassavettes, appropriately enough, was a huge admirer of the film) and at others like an AIP drive-in exploiter.  The head scratching finale, for its part, wouldn't feel out of place in a European art film.  The editing is often laughably self-conscious and Carey's wildly uninhibited lead performance so inanely over-the-top it nearly attains its own category.  What links it all is the mercurial personality and unwavering conviction of the film's creator, who if nothing else definitely managed to impart a uniquely personal, heartfelt vision.  I don't know that I agree with those who proclaim this film "a masterpiece" or "one of the most prophetic and groundbreaking films in cinema" (yes, those are actual quotes), but will admit it's an impossible-to-forget oddity that was light years ahead of its time.
Vital Statistics 
THE WORLD'S GREATEST SINNER
Frenzy Productions
Director/Producer/Screenplay: Timothy Carey
Cinematography: Frank Grande, Robert Shelfow, "Ove H. Sehested" (Edgar G. Ulmer), Ray Dennis Steckler
Editing: Carl Makakian, Lee Strosnider
Cast: Timothy Carey, Gil Barretto, Betty Rowland, James Farley, Gail Griffen, Grace De Carolis, Gitta Maynard, Gene Pollack, Whitey Jent, Carolina Samario, Victor Floming, Ann Josephs, Jenny Sanchez, Paul Frees