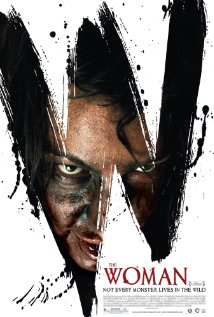 Despite some pretty glaring missteps, this is one of the most stylish and atmospheric horror films of 2011, a gory yet compelling depiction of American psychosis from novelist Jack Ketchum and director Lucky McKee.
THE WOMAN was based on a novel by Jack Ketchum and Lucky McKee that was a sequel to Ketchum's 1991 OFFSPRING. That novel was filmed in 2009 with British actress Pollyanna McIntosh, who here reprises her role.
Both incarnations of THE WOMAN appeared in 2011. The film actually showed up first, premiering at the January 2011 Sundance Film Festival (where it was reportedly one of the most controversial entries), whereas the novel wasn't published until four months later.
I feel the film is superior in many respects to the novel, although its theatrical release was unfortunately very much in keeping with those of Lucky McKee's previous films THE WOODS and RED—which is to say all-but-nonexistent. Let's hope THE WOMAN finds a receptive audience on DVD!
A cannibal woman, who resides in a cave in rural Massachusetts, is captured by the (seemingly) charming and mild-mannered lawyer Chris Cleek. He chains the woman up in the basement of his house in an effort to "save" her, with the help of his loyal wife Belle and three children. This seemingly upstanding family harbors a number of dark secrets, including the fact that Chris periodically molests his teenage daughter Peg.
Chris's ordered life comes unglued after he kidnaps the cannibal woman. For starters the attractive young Genevieve, Peg's sensitive math teacher, grows concerned about Peg's mood swings and baggy clothes, correctly sensing the girl is pregnant–and becomes determined to let Peg's parents know about it.
Another threat to Chris' dominance is his own uncontrollable desire for the woman. His son Brian spies his father raping the woman, just as Belle and Peg begin to chafe under Chris' autocratic rule.
It all comes to a head one day when Belle questions Chris' methodology and Genevieve makes an unannounced visit to the Cleek residence. Not to give anything away, but rebellion, spousal abuse, murder, cannibalism and at least one shocking revelation are in store.
THE WOMAN isn't perfect, but is nonetheless director Lucky McKee's most satisfying film since the justly celebrated MAY (2002). The evocative visuals, emotion-based editing (there are lots of dissolves) and imaginative sound design attest to McKee's filmmaking prowess. The quiet aura of rural Massachusetts is perfectly evoked, and makes for an affecting contrast to the viciousness of the narrative. It's a shame, then, that McKee insists on filling the soundtrack with bland rock tunes.
At least the casting is (mostly) strong. Sean Bridgers as the eminently charming but hopelessly demented Chris Cleek is a particular standout, fleshing out a character who never entirely came alive in the novel. Lucky McKee regular Angela Bettis also acquits herself quite well as Cleek's cowed wife, and Pollyanna McIntosh is unforgettable in the title role.
Unfortunately Carlee Baker is less-than-impressive (although she looks damn good) as the lesbian teacher Genevieve, although that's probably due to the fact her role is somewhat underwritten, being essentially a watered-down rehash of a similar character in PRECIOUS (2009). Another element that doesn't quite work is the climax, which despite McKee's best efforts is wildly overwrought (as it was in the novel), and will likely inspire an abundance of intentional laughter should you see this film on a big screen.
Vital Statistics
THE WOMAN
Moderncine
Director: Lucky McKee
Producers: Robert Tonino, Andrew van den Houten
Screenplay: Jack Ketchum, Lucky McKee
Based on a novel by Jack Ketchum, Lucky McKee)
Cinematography: Alex Vendler
Editing: Zach Passero
Cast: Carlees Baker, Shana Barry, Marcia Bennett, Angela Bettis, Sean Bridgers, Lauren Ashley Carter, Chris Krzykowski, Alexa Marcigliano, Pollyanna McIntosh, Shyla Molhusen, Tommy Nelson