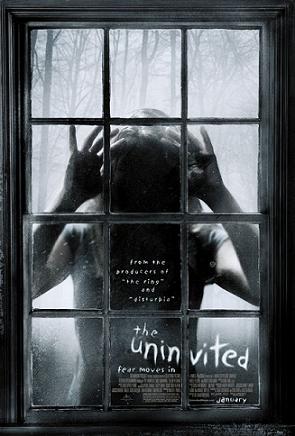 The Hollywood remake of the Korean A TALE OF TWO SISTERS.  It must be said that THE UNINVITED'S makers tried to create something beyond most Hollywood horrors, but what they came up with, in contrast to the complexity of the original film, is a hokey gothic melodrama.
Writer/director Ji-Woon Kim's A TALE OF TWO SISTERS (2003) was one of the most popular Korean films of recent years, so a Hollywood remake was inevitable.  The directors were the British Charles and Thomas Guard, previously known for the short films "Inside–Out" and "Round About Five."  For THE UNINVITED (2009) they (or somebody) managed to attract a stellar cast that includes Elizabeth Banks, David Strathairn and 20-year-old Australian actress Emily Browning (of LEMONY SNICKET'S A SERIES OF UNFORTUNATE EVENTS).  Also featured is the prolific character actor Don S. Davis in his final role (he died on June 28, 2008).
In an even more surprising development, the film actually received some decent reviews from mainstream critics, definitely unusual for a horror movie.  This did not help it at the box office, however!
Having just been released from a nuthouse, the fragile Anna moves in with her father and stepmother Rachael.  They live in a forbidding Cliffside mansion where just a few years earlier Anna's mother was killed in an explosion.  Also living in the house is Anna's rebellious older sister Alex, with whom she has a complex relationship.
Rachael is overly solicitous toward Anna and her sister, which makes them suspicious.  They come to believe Rachael might be hiding something, and do research into her past.  Apparently Rachael once had a different name and has a connection with some unsolved murders that occurred in the area.  But when Anna tries to confront her father with this info she learns Rachael has prepared for this eventuality, warning that Anna is still mentally unstable and should be sent back to the nuthouse if she mentions anything involving murder.
Anna is suffering from quite a few mental problems, including recurring visions of her dead mother.  This seems to point to a dark secret that's about to be revealed in a bloody climax (hint: it involves Anna's sister Alex).
There are some good things here.  The performances of David Strathairn and Elizabeth Banks are solid, and Emily Browning is quite winning in the lead role.  The build-up is also impressive, accomplished with real suspense and character development.  But the filmmakers can't seem to refrain from punctuating the action with noisy shock scenes involving bloody corpses.
Of course the debuting Guard Brothers can't hope to match the atmospheric brilliance of A TALE OF TWO SISTERS, much less the psychological intricacies of that film's narrative.  Yes, they've tried to create something interesting and multi-layered, and if I were grading on effort alone then I'd call the film a success.  But I base my verdict on accomplishment, and in that area THE UNINVITED falls short.
Vital Statistics 
THE UNINVITED
DreamWorks SKG
Directors: Charles Guard, Thomas Guard
Producers: Roy Lee, Laurie MacDonald, Walter F. Parkes
Screenplay: Craig Rosenberg, Doug Miro, Carlo Bernard
(Based on the film A TALE OF TWO SISTERS written by Ji-Woon Kim)
Cinematography: Dan Landin
Editing: Jim Page, Christian Wagner
Cast: Emily Browning, Elizabeth Banks, David Strathairn, Arielle Kebbel, Maya Massar, Kevin McNulty, Jesse Moss, Dean Paul Gibson, Don S. Davis, Lex Burnham, Matthew Bristol, Danny Bristol, Heather Doerkson