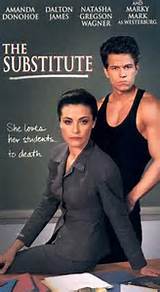 Some impressive names are associated with this 1993 TV movie, including director Martin Donovan, screenwriter David S. Goyer and actors Amanda Donohoe and Mark Wahlberg (back when he was Marky Mark). THE SUBSTITUTE, however, is not a high point in any of their resumes.
The Argentine filmmaker Martin Donovan has had a highly eccentric career, with horror-tinged oddities like APARTMENT ZERO and MAD AT THE MOON appearing alongside mostly uninspiring TV movies like this one. Its headliner was the semi-distinguished British actress/sex symbol Amanda Donohoe, coming off the Ken Russell movies LAIR OF THE WHITE WORM and THE RAINBOW and a recurring role on L.A. LAW, while the screenwriter was the popular comic book movie scripter David S. Goyer, of DARK CITY, the BLADE films, THE DARK KNIGHT and MAN OF STEEL. Then there's Mark Wahlberg, who was making his none-too-impressive film debut in a supporting role.
Gail is a happily married high school English teacher, but when she catches her hubbie in the arms of another woman Gail snaps and kills them both. A year later we find Gail has changed her name and taken a substitute teaching position at another school.
Gail becomes quite popular with her students. She wastes no time seducing one of them, a strapping young jock named Josh; her real target is Josh's father, with whom Gail is hoping to settle down and eradicate her former existence. She also breaks into the home of the teacher she's subbing for and causes the woman to have a heart attack.
Josh grows unhealthily obsessed with Gail, which screws up his relationship with his perky girlfriend Jenny. This coincides with Gail becoming cognizant of the fact that one of her more rebellious pupils, the punked-out Ryan, is having suspicions about her. She reacts by luring Ryan to a secluded spot and killing him. Gail tries to do the same to Jenny in a local gym, but she survives the attack.
Josh does some research on Gail and uncovers her true identity. He correctly deduces that her next targets will be him and his father, leading to a rooftop showdown that's every bit as hokey as it sounds, followed by an even hokier twist ending.
This is standard TV movie silliness in most respects, but there are some eccentric touches. They include an erotic dream sequence involving both leading ladies (Amanda Donohoe and Natasha Gregson Wagner) that pushes the boundaries of what was permissible in nineties-era television. Unfortunately it seems that (if certain of the film's crewmembers are to be believed) much of director Martin Donovan's best work ended up on the cutting room floor, leaving us with an uninspiring and by-the-numbers thriller.
Mark Wahlberg is introduced looking straight into the camera, in the first of quite a few lingering close-ups (a Martin Donovan trademark). But that shot aside, Wahlberg doesn't make much of an impression, mostly because his role (as the rebellious Ryan) is too scant. Dalton James doesn't fare much better as the pure-hearted Josh, and nor do Natasha Gregson Wagner as his long-suffering girlfriend or Molly Parker as a fellow student. Of the performers, only Amanda Donohoe in the title role makes any real impression, being alternately sexy and deeply menacing. Her committed work isn't enough, however, to save this film from terminal mediocrity.
Vital Statistics
THE SUBSTITUTE
Paramount Television
Director: Martin Donovan
Producer: Matthew O'Connor
Screenplay: "Cynthia Verlaine" (David S. Goyer)
Cinematography: Glen MacPherson
Editing: Louise Innes
Cast: Amanda Donohoe, Dalton James, Natasha Gregson Wagner, Eugene Robert Glazer, Patricia Gage, Shelley-Lynn Owens, "Marky Mark" (Mark Wahlberg), Brigitta, David Frankham, Cusse Mankuma, Molly Parker