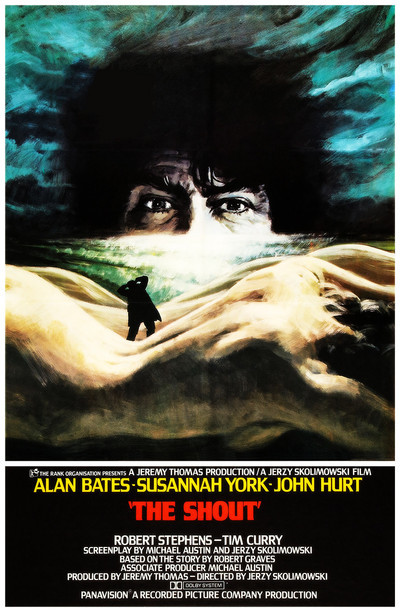 Although it's fallen into obscurity in recent years, this 1978 film marked something of a milestone in British horror with its unique narrative and unprecedented (for the time) use of sound.  It's still a fascinating piece of work that remains a triumph of audacity and imagination.  You won't find another film like it.
THE SHOUT was reportedly the first-ever British film to utilize the then state of the art Dolby Stereo system, which at the time was looked upon solely as the province of large scale Hollywood productions like STAR WARS.  Viewing THE SHOUT on a big screen was apparently a mind blowing experience, but even on home video the film is well worth a watch…if you can find it, that is!
THE SHOUT began life as 1928 short story by Robert Graves, adapted to film by screenwriter Michael Austin.  The producer was Jeremy Thomas (who'd go on to ultra-prestigious projects like THE LAST EMPEROR and THE SHELTERING SKY), who initially envisioned a large-scale production directed by Nicolas Roeg and scored by David Bowie.  Roeg and Bowie weren't available, however, and Thomas ended up with a decidedly modest film directed by Poland's Jerzy Skolimowski.  Skolimowski's previous credits include co-scripting Roman Polanski's A KNIFE IN THE WATER and directing films like 1972's brilliant DEEP END.  THE SHOUT marked a "comeback" for Skolimowski, whose career had stalled in the wake of 1972's disastrous KING, QUEEN, KNAVE, and he made the most of the opportunity by turning out one his most memorable films, complete with a top notch cast: John Hurt (ALIEN, THE ELEPHANT MAN), Alan Bates (GEORGY GIRL, ZORBA THE GREEK), Susanna York (TOM JONES, SUPERMAN), Tim Curry (Dr. Frank 'N Furter himself) and, if you look closely, you can spot Jim Broadbent (of TIME BANDITS and TOPSY-TURVY fame).
In a rural insane asylum located somewhere in the British countryside, the writer Robert Graves visits Charley Crossley, a seemingly delusional yet disarmingly articulate madman who tells Graves the apparently true story of how he (Crossley) ruined the life of Anthony, a fellow inmate.
According to Crossley, he insinuated his way into the life of Anthony, an avant-garde composer living with his wife Rachel in a remote coastal region.  Crossley initially regaled them with stories of his life in the Australian Outback, where he fathered several children with an Aboriginal woman and killed them all as part of an obscure tribal ritual.  Crossley also boasted of learning how to kill people with a shout; Anthony was understandably skeptical of this claim, so Crossley proved his unique skill by killing a shepherd and many of his sheep with a single full throated yell.
But Crossley's powers didn't end there: he used a magic piece of bone to cast a spell over Anthony and Rachel's home, and further seduced Rachel by manipulating a shoe buckle containing the essence of her soul.  Anthony in turn became increasingly immersed in Crossley's strange world and set out to find a stone he was sure contained the soul of his nemesis.  This he managed to do just as Australian police appeared on the scene, looking to arrest Crossley for the murders of his children.
Back in the insane asylum an electric storm hits, during which three people are killed, apparently by a bolt of lightning.  The deaths occur, however, just as Crossley demonstrates his shouting power for Graves.  Could his fantastical story and outlandish boasts be true?  The unexpected appearance of Rachel in the end to reclaim the belt buckle that figured so prominently in Crossley's tale would certainly seem to confirm it…
Jerzy Skolimowski is a deeply eccentric filmmaker, with a roster of films as distinctive in their own way as those of his fellow countryman and former colleague Roman Polanski.  Skolimowski has made some truly awful movies without question (take it from one who had the great misfortune to sit through KING, QUEEN, KNAVE and TORRENTS OF SPRING), but when he's inspired, as with DEEP END, MOONLIGHTING and the present film, few other filmmakers can match him.
Here Skolimowski utilizes his talent for documentary-esque naturalism in a fascinating and unprecedented manner that vastly enhances the surrealism of the narrative.  Flawless performances by an unusually skilled cast further contribute to a profoundly unsettling, near-otherworldly atmosphere of primitive sorcery; the film is subtly eerie in a way that favorably recalls classics like THE NIGHT OF THE HUNTER and CARNIVAL OF SOULS, but its creepy and elliptical aura remains unique in the annals of genre moviemaking.
Mention must also be made of Skolimowski's use of sound.  The shouting bit is the film's stand-out sequence, with a human voice enhanced by aural distortion and a reported forty different audio tracks.  Equally impressive is the peerlessly haunting opening sequence, featuring a dimly glimpsed figure stumbling through sand dunes over creepy organ music played at an intentionally low volume (as if issuing from a distance), an odd yet effective artistic choice befitting a deeply odd yet totally effective film.
Vital Statistics 
THE SHOUT
Rank Distributors
Director: Jerzy Skolimowski
Producer: Jeremy Thomas
Screenplay: Michael Austin, Jerzy Skolimowski
(Based on a story by Robert Graves)
Cinematography: Mike Molloy
Editing: Barrie Vince
Cast: John Hurt, Alan Bates, Susanna York, Tim Curry, Jim Broadbent, Robert Stephens, John Rees, Carol Drinkwater, Julian Hough, Susan Woolridge, Nick Stringer