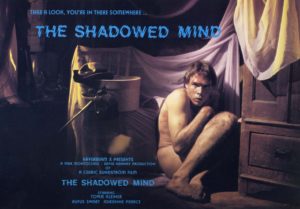 An insane asylum set South African horror-sexploitation oddity from 1988 that was heavily informed by FAREWELL JOHNNY, the granddaddy of South African horror/cult films. Taken on its own terms THE SHADOWED MIND is agreeably bizarre, though not nearly as deep as it purports to be.
Banned for several years in its native land, THE SHADOWED MIND remains largely unknown in the US, where it was given an X (later NC-17) rating. (It was supposed to be released on DVD in North America by Mondo Macabro in 2012, but wasn't.)
The film was an early feature credit by the Swedish raised, South African born director Cedric Sundstrom, who is currently best known for helming AMERICAN NINJA parts 3 and 4.
It begins with Stephanie, a woman with an irresistible compulsion to show her breasts, turning up at a secluded insane asylum. Among her fellow inmates are Kurt, a suave ladies' man with severe anti-social tendencies; Brenda, a seductive nymphomaniac; Paul, a sexual exhibitionist; Matthew, a too-sensitive-for-this-world recluse; Julia, a chronic whiner; and The General, who fancies himself a wartime general—and, tellingly, is the only black man present in the asylum. Equally nutty in her own way is the asylum's director, the odd, and oddly sexual, Dr. Hildesheimer.
Seduction is rife among the patients, as, it transpires, is murder. One night Kurt seduces Brenda, who is then stabbed to death. Kurt insists he didn't do it, even though the killing occurred in his room. Hildesheimer, who's looking to obtain a million dollar grant, elects to cover up the killing.
The following night Kurt is seduced by the sexually omnivorous Paul, and then, like Brenda before him, stabbed to death by an unseen assailant. Hildesheimer, not wanting to jeopardize her grant, once again covers up the murder.
Next Paul attempts to seduce Stephanie without success, and so turns his attentions to Julia—but while tip-toing through the asylum grounds on her way to meet him Julia is killed. Hildesheimer again tries to cover up the crime but the remaining patients discover the bloodied corpse. The race is now on to find the killer, who it seems is about to strike again, and soon…
While THE SHADOWED MIND, with its overpowering atmosphere of surreal insanity, was evidently inspired by the aforementioned FAREWELL JOHNNY, it lacks that film's intelligence and sophistication, existing on the level of an above-average eighties slasher film. But then, in the filmmakers' defense, given the middling quality of most 1980s South African films (of which THE GODS MUST BE CRAZY is often cited as the "best") it ranks as a standout.
This film's visuals may not be on the level of those of FAREWELL JOHNNY, but it does contain some artful compositions and garish lighting that recalls Dario Argento, and also some strikingly sinuous camerawork, especially in the deeply perverse final scenes (which play like an unholy hybrid of BASIC INSTINCT and NEKROMANTIK).
Stand-out performances? I'm afraid there aren't any. As for the many knife attacks, they're surprisingly graphic, while the sex scenes are plentiful but never especially erotic, lit as they are in ultra-gaudy eighties fashion.
One last complaint, albeit one that's not directly related to the film itself but rather its promotion: the movie's final shot, which is quite spoiler-ific, is revealed on its poster!
Vital Statistics
THE SHADOWED MIND
David Hannay Productions
Director: Cedric Sundstrom
Producers: David Hannay, Max Montocchio
Screenplay: David Hannay, Cedric Sundstrom
Cinematography: George Bartels
Editing: Mark Baard
Cast: Towje Kleiner, Rufus Swart, Adrienne Pierce, Trish Downing, Simon Poland, Evan J. Klisser, Jennifer Steyn, Nicholas Ashley Nortier, Hayley Dorskey, Debra Kaye, Simon Sabela, David Hannay