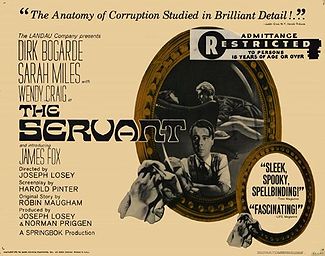 A justified classic, and the very definition of a psychological thriller. THE SERVANT boasts great direction, writing and acting, succeeding as both a brainy thriller and an intriguing psychological case study.
THE SERVANT (1963), based on a slim 1949 novel by the nephew of novelist Somerset Maugham, was one of a handful of films made by the American expatriate director Joseph Losey in England, where he relocated after being blacklisted in his native country. It marked the first of his collaborations with the famed playwright Harold Pinter (the others are ACCIDENT and THE GO-BETWEEN), while lead actor Dirk Bogarde was already a Losey veteran, having appeared in the latter's 1954 film THE SLEEPING TIGER.
THE SERVANT'S shoot was a rough one. James Fox, in his film debut, reportedly clashed with co-star Sarah Miles, and Losey became deathly ill midway through, forcing Bogarde to temporarily take on directorial duties himself (relaying Losey's hospital bed instructions). Yet the film was a success, and is widely regarded by myself and many others as the absolute best work of Losey, Pinter and Bogarde.
Fox plays Tony, a British architect who upon moving into an upscale townhouse takes on a live-in servant, the Bogart essayed Barrett. The latter, a (seemingly) meek yet dedicated fellow, is staunchly dedicated to Tony's well-being, frequently going out of his way to make his master comfortable. Being the lazy man he is, Tony takes to Barrett's pampering all too readily, and ends up totally devoted to his servant.
Trouble enters the scene in the form of the seductive Vera, who Tony introduces as his sister. Tony quickly becomes smitten with Vera, and Barrett subtly encourages their clandestine relationship. Then one day Tony catches Barrett and Vera having sex and throws them both out.
But Tony can't live without Barrett for long. The latter apologizes to Tony and is allowed to resume his servant duties. Only now the relationship has shifted, with Barrett using Tony's neediness to assert his own hitherto submerged tyrannical nature. It's not long before the roles are reversed entirely, and Tony is serving Barrett!
THE SERVANT can be called the best film Roman Polanski never made, as it contains so much of what makes Polanski's work distinctive: an unerring grasp of aberrant psychology, tightly composed visuals, an obsession with voyeurism and an air of suffocating claustrophobia.
Harold Pinter's script is unusually observant in its minute delineation of the relationship between its protagonists, and how that dynamic slowly shifts over the course of the film. This is especially impressive considering that the source novel by Robin Maugham was a reactionary piece of work about a nice guy laid low by an evil servant, told from the point of view of a secondary character. Pinter has both deepened and simplified the material, turning in a dark psychological case study that works because it's never less than thoroughly convincing.
Losey does the script justice in his nourish visuals: in his hands the apartment where much of the action takes place becomes a veritable house of horrors, filled with baroque architecture that, as viewed through cinematographer Douglas Slocombe's densely layered visual compositions, grows distinctly prison-like.
Then there are the performances of Dirk Bogarde as Barrett the sinister servant and James Fox as Tony the pampered master. Neither actor has ever been stronger onscreen, and Sarah Miles isn't even bad as the hottie who furthers Barrett's dastardly aims. Of course I found myself rooting for the "evil" Barrett to take down Tony—which, considering Joseph Losey's well-documented anti-authoritarian tendencies, I strongly suspect was the director's intent.
Vital Statistics
THE SERVANT
Elstree Distributors Limited
Director: Joseph Losey
Producers: Joseph Losey, Norman Priggen
Screenplay: Harold Pinter
(Based on a novel by Robin Maugham)
Cinematography: Douglas Slocombe
Editing: Reginald Mills
Cast: Dirk Bogarde, James Fox, Sarah Miles, Wendy Craig, Patrick Magee, Catherine Lacey, Richard Vernon, Ann Firbank, Doris Konx, Jill Melford, Alun Owen, Harold Pinter