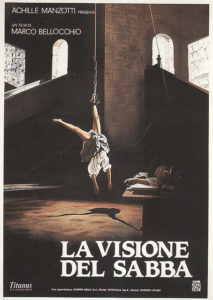 Any movie featuring the delectable Beatrice Dalle involved in orgies and medieval torture can't possibly be all bad—or so I thought until I sat through this mess, which under the direction of Italy's Marco Bellocchio comes off as pretentious and dull.
1988's THE SABBATH (LA VISIONE DEL SABBA) had an irresistible selling point in the presence of French actress Beatrice Dalle, then an international superstar due to her performance in BETTY BLUE. As for THE SABBATH'S director, the vastly overrated Marco Bellocchio, he was coming off an international success of his own, 1986's DEVIL IN THE FLESH, a film that received the majority of its attention because of a much-debated oral sex scene. That probably explains why Bellocchio packed so much sex and nudity into the present film, which does not make for a good or terribly compelling product.
David is a young shrink examining the seductive Maddalena, who's on trial for murder. Currently interned in an insane asylum, Maddalena claims to be a witch who for 300 years has been searching for a suitable man to take her virginity. David is immediately smitten with Maddalena, to the point that he neglects his wife. David also has elaborate hallucinations in which he joyously partakes in erotic pagan rituals involving Maddalena and a bevy of fellow witches.
Maddalena's behavior, meanwhile, grows increasingly erratic. This doesn't stop David from falling further under her spell, going so far as to make out with her during a conference with many of his high-level colleagues in attendance. From there David gives into his desires fully, ravishing Maddalena in a park later that night. However, his ambivalence about their relationship is reflected in a final hallucination that sees him present as Maddalena is burned at the stake—and lighting the fire himself!
To be fair, there are some inspired moments herein. A surreal bit in which Beatrice Dalle literally lifts off the ground and spins around is undeniably striking, adroitly demonstrating the somewhat creepy and unnatural hold she has on the protagonist's affections. For the most part, though, the proceedings come off as boring and pretentious.
The filmmaking is overwrought, with quite a few scenes ludicrously drawn out past the point of tedium, and Bellocchio's attempts at marrying fantasy and reality—such as a cutaway of Dalle shut up in a medieval cage hanging outside the protagonist's apartment window—come off as forced and obvious. This only points up how underwritten and ill-conceived Marco Bellocchio's script truly is, and how he vastly overestimates his filmmaking talent. Quite simply, material like this needs a more imaginative and less self-conscious filmmaker than Bellocchio—i.e. someone on the order of Ken Russell or Andrzej Zulawski.
The film's lassitude extends to the performances of Beatrice Dalle, who's sexy but dramatically staid, and Daniel Ezralow as David, who fails to make much impression at all.
Vital Statistics
THE SABBATH (LA VISIONE DEL SABBA)
Gruppo Bema/Reteialia
Director: Marco Bellocchio
Producer: Achille Manzotti
Screenplay: Marco Bellocchio,
Cinematography: Giuseppe Lanci
Editing: Marco Bellocchio, Mirco Garrone
Cast: Beatrice Dalle, Daniel Ezralow, Corinne Touzet, Jacques Weber, Renata Leoni, Roberta Lena, Daniele Nuccetelli, Sasa Vulicevic, Raffaella Rossellini, Stefano Abbati, Omero Anonutti