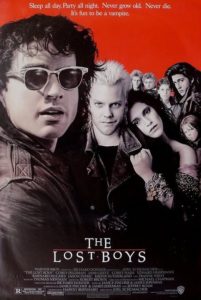 An almost-good movie that suffers from an excess of eighties trendiness. I think it goes without saying that this film was far more effective in its time than it is now!
Fact: if you a). were a teenage girl, b). had a teenage daughter, or c). had (as I did) a teenage sister in 1987 then you were well acquainted with this movie. It was the hippest thing around back then, with no less than four teen idols: Jason Patric, Kiefer Sutherland and The Coreys—Corey Haim and Corey Feldman, to be exact, whose first film together it was.
The project began as a MONSTER SQUAD-like kiddie horror movie to be directed by Richard Donner. It wound up being helmed, unexpectedly enough, by Joel Schumacher, who turned it into an R-rated teen-centric trend-fest. As such THE LOST BOYS was a modest financial success that for whatever reason became massively popular on home video, and eventually inspired two shitty straight-to-DVD sequels: 2008's LOST BOYS: THE TRIBE and 2010's LOST BOYS: THE THIRST.
Eighteen-year-old Michael moves with his financially strapped mom and dorky younger brother Sam to the California beach community Santa Carla (actually Santa Cruz), the self-proclaimed "Murder Capitol of the World." Michael develops an immediate crush on an attractive brunette named Star, who hangs out with a group of punks living in a beachfront cave. Michael allows himself to be drawn into the orbit of these "lost boys," and drinks from a wine bottle containing blood that turns him into a half-vampire–to become a full vamp he'll have to drink a mortal person's blood.
Michael's bro Sam also falls in with a suspicious crowd, in this case Edgar and Allan Frog, two twerps who fancy themselves vampire killers. Sam becomes freaked out by Michael's increasingly odd behavior and turns to the Frog brothers for help. They determine that a head vampire is behind all the madness, and think they've found the culprit in a fortyish man Sam and Michael's mom has begun dating—and who Michael invites into their home (mistake!).
Michael continues to hang out with the lost boys until one night when he witnesses them massacre a band of surf punks. From then on Michael becomes determined to rescue Star from the vampires' clutches. It all comes down to a STRAW DOGS inspired showdown at Michael and Sam's house, where mass vampire killings are in store, along with a none-too-revelatory revelation.
It's too bad this film is so resolutely shallow and trendy, as it contains many good things. The cinematography by the great Michael Chapman (of TAXI DRIVER and RAGING BULL) succeeds in creating a fully realized universe of dark enchantment. The tone, which wavers between FRIGHT NIGHT-esque comedy and intense horror, works surprisingly well, and there are at least three strong performances, by Jason Patric as Michael, Dianne Wiest as his mom and Kiefer Sutherland as the head lost boy; all seem to be taking their work seriously, unlike most every other performer here.
Chief among the latter is the late Corey Haim, coming off what was his last good performance in LUCAS (1986). Here, unfortunately, he was fully into teen idol mode, shamelessly mugging and preening his way through his role. It doesn't help that he's given a lot of dumb lines that no actor could possibly make work—director Joe Schumacher has admitted he never expected jokes like "Death by stereo" and "Holy shit, the attack of Eddie Munster!" to play especially well, and indeed they don't.
Schumacher, whose fourth film as director this was, always had a weakness for trendiness (see D.C. CAB, ST. ELMO'S FIRE, BATMAN AND ROBIN, TWELVE, etc), which tends to date his films extremely quickly. That's certainly the case with THE LOST BOYS, which contains a plethora of forgettable late-eighties rock tunes (including shitty cover versions of The Doors' "People are Strange" and Elton John's "Don't Let the Sun Go Down on Me"), distracting music video segues and countless examples of no-longer-hip fashions and hairstyles. If eighties nostalgia were enough to make a quality film then THE LOST BOYS would be a masterpiece, but, contrary to what many eighties cultists would have you believe, that's just not the case.
Vital Statistics
THE LOST BOYS
Warner Bros. Pictures
Director: Joel Schumacher
Producer: Harvey Bernhard
Screenplay: Janice Fischer, James Jeremias, Jeffrey Boam
Cinematography: Michael Chapman
Editing: Robert Brown
Cast: Corey Feldman, Jami Gerz, Corey Haim, Edward Herrmann, Barnard Hughes, Jason Patric, Kiefer Sutherland, Dianne Wiest, Jamison Newlander, Alex Winter, Brooke McCarter, Billy Wirth, Chance Michael Corbitt