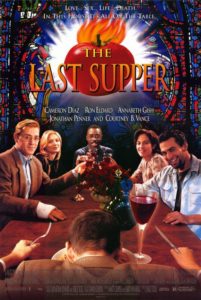 During a dinner gathering, five liberals accidentally murder their ultra-conservative guest. Inspired, they continue to invite right-wing guests to dinner each week, poisoning them to death. But as the death toll rises, the moral justification for the murders weakens. This is the premise of 1995's THE LAST SUPPER, a clever and engaging black comedy that benefits from fine performances and understated direction.
Obviously, a film like this depends heavily on its actors and the ensemble here fits the bill admirably. As a gang of frankly putrid liberals, Cameron Diaz, Courtney B. Vance, Annabeth Gish, Ron Eldard and Jonathan Penner accomplish the neat trick of generating sympathy for their characters even as their madness escalates. The surprise standout is Vance, the group's one black member: his descent into obsession is more severe than that of the rest of the group, and he's convincing all the way down. Diaz (in one of her very first movie rolls) is another standout as a gorgeous fashion victim, and the usually demure Gish (DESERT BLOOM, NIXON) shines in her wildest role yet, performing her first masturbation scene (chaste, fully clothed, but one has to start somewhere, I guess.

As the conservative victims, more seasoned actors take the stage. Charles Durning is a homophobic priest, Jason Alexander is an anti-environmentalist ("I'm not anti-Earth, I'm pro-Earthling!"), and Bill Paxton is a psychotic Desert Storm veteran who sets the plot in motion. The standout here, again, is a surprise—Ron Perlman (HELLBOY himself) as a hate-spewing Republican presidential candidate. Perlman's brief but memorable appearance reverberates long after the film is over and the other cast members are forgotten—he's that good. Nora Dunn as a nosy police inspector is the one cast member who fails to make any impression, due, perhaps, to her underwritten character.
Though the political satire of Dan Rosen's script is implicit in the concept, he thankfully takes things further. THE LAST SUPPER never reaches the all-out insanity of the Belgian MAN BITES DOG (which went completely over the edge, indicting both its characters and the viewer in the onscreen mayhem). Still, it goes beyond HEATHERS (which copped out with an utterly unconvincing ending that absolved the murderous heroine of all wrongdoing).  Here our cheerful gang of liberal do-gooders all-too-readily poison anyone whose views they disagree with, and we're made complicit in their evildoing—at least until the aforementioned Ron Perlman character shows up and subtly turns the tables…
First-timer Stacy Title makes a memorable directorial debut. Title maintains an eerie, subdued tone throughout, only occasionally lurching into horror movie kitsch such as lightning flashes and hysterical scoring; the film, in short, is true to its own cynical line of logic from the first murder to the final frame.  It also has an appropriately understated visual style (in spite of some overly self-conscious compositions). But it's Title's work with actors that is truly exceptional—nearly all of the performances are top-notch.  THE LAST SUPPER is well worth seeking out, being funny, scary and, best of all, politically incorrect.
Vital Statistics
THE LAST SUPPER
Sony Pictures Releasing
Director: Stacy Title
Producers: Matt Cooper, Larry Weinberg
Screenplay: Dan Rosen
Cinematographer: Paul Cameron
Editor: Luis Colina
Cast: Jason Alexander, Cameron Diaz, Nora Dunn, Charles Durning, Ron Eldard, Annabeth Gish, Mark Harmon, Bill Paxton, Jonathan Penner, Ron Perlman, Courtney B. Vance