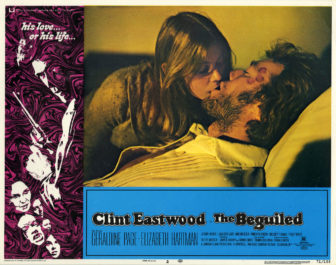 A macabre Civil War set study of repression and murder from the seventies, echoing the works of writers like Poe, Tennessee Williams and Ambrose Bierce, and starring…CLINT EASTWOOD?!?
Clint Eastwood, who made this film in 1970 at the height of his tough guy period (his next project was DIRTY HARRY), isn't the only one who seems out of place: its director Don Siegel was a legendary noir/action specialist NOT known for making stately gothic dramas, which is what THE BEUGILED most certainly is.  Unsurprisingly, this attempt at giving Eastwood something to do "besides just gunning people down" wasn't much of a success financially (a performance replicated by most of Eastwood's subsequent attempts at "something different," from PLAY MISTY FOR ME to WHITE HUNTER, BLACK HEART), and has developed something of a bad rep over the years.  The film's been dubbed corrupt and misogynistic by quite a few critics who've apparently never read anything by Poe or Bierce and don't seem to get that while the women of THE BEGUILED are presented as backstabbing murderers, the men don't come off particularly well, either.
Certainly no other film Eastwood has made (except perhaps THE BRIDGES OF MADISON COUNTY) more enthusiastically and perversely demolishes his carefully wrought image of a soft-spoken tough guy.  Here he not only spends the entire movie crippled, but is outfoxed and ultimately killed by a bunch of girls.
Corporal John McBurney, a Union soldier, is badly wounded and finds himself confined to a bed in a Confederate girls' boarding school.  Being a crafty person—and, at heart, a bit of a scumbag—McBurney manipulates his way into the good graces of the school's various residents.  To the black maid, he claims, "we're both prisoners here," while he's caring and nurturing to a young girl and inflames the perverse nature of the school's uptight headmistress, who has a somewhat sordid past.  His lies are intercut with snippets showing his contradictory actions (i.e. him burning fields as he babbles about how he never took part in any violence).  For a time it seems like he's successful in his deceptions: the women take to him and the headmistress even turns some Confederate soldiers away who are looking for shelter (and, it's implied, a little something else from these nubile females) in order to keep him hidden.  Ultimately, McBurney underestimates his female companions, who amputate his wounded leg and, despite his continuing attempts at making the situation work to his advantage, eventually do him in with poisoned mushrooms.
Although THE BEGUILED is somewhat dated with its melodramatic flashbacks and insistent Lalo Schifrin score, it's quite an impressive achievement overall and must be counted as one of Don Siegel's finest films.  The period details are richly, even obsessively designed and the acting is top notch from everyone, most notably the veteran Hollywood starlet Geraldine Page, who Siegel somehow convinced to smooch another woman(!).  The crisp cinematography by Bruce Surtees adds immeasurably to Siegel's carefully wrought atmosphere of sexual repression, encapsulated by an extremely creepy dream sequence containing the aforementioned woman-on-woman kiss.  And watch out for that nasty leg cutting, conveyed entirely via shadows on a wall and some truly hideous sound effects, which remains one of the decade's most nerve rattling sequences.
Postscript: as you're probably aware, this film was remade in 2017 by Sofia Coppola. I say you're much better off with the present film, in my view the definitive cinematic expression of this material.
Vital Statistics 
THE BEGUILED
Universal Pictures
Director: Don Siegel
Producer: Don Siegel
Screenplay: "John B. Sherry" (Albert Maltz), "Grimes Grice" (Irene Kamp)
(Based on a novel by Thomas Cullinan)
Cinematography: Bruce Surtees
Editor: Carl Pingitore
Cast: Clint Eastwood, Geraldine Page, Elizabeth Hartman, Jo Ann Harris, Darleen Carr, Mae Mercer, Pamelyn Ferdin, Melody Thomas Scott, Peggy Drier, Pattye Mattick, Charlie Briggs, George Dunn, Charles Martin, Matt Clark, Patrick Culliton, Buddy Van Horn