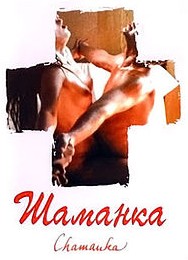 Amazing film! SZAMANKA is frenzied, subversive and cinematically invigorating, at once a provocative art film and a lurid thriller. It's a standout effort from director Andrzej Zulawski, and one of the most striking films of the 1990s.
SZAMANKA (1996) was Andrzej Zulawski's first film made in his native Poland since the aborted SILVER GLOBE back in the 1970s. SZAMANKA, unfortunately, was not well received by critics or audiences, although it is unquestionably one of the most remarkable Polish films of its era, and certainly the most unique. It is in many respects a companion-piece to Zulawski's quasi-horror masterpiece POSSESSION (1981), which dealt with many similar themes.
SZAMANKA is also noteworthy for the extraordinary lead performance of Iwona Petry, a fiery Keira Knightley look-alike Zulawski allegedly "discovered" in an upscale coffee shop (which is featured in the film). Zulawski was later attacked in the press for exploiting and/or abusing Petry, who has but a single acting credit (in a 2000 Polish TV series) after SZAMANKA.
A flighty and possibly insane young woman, identified only as "the Italian," moves into an apartment owned by Michal, an anthropologist. Their initial meeting in the apartment in question quickly devolves into a torrid fuckfest—the first of many, even though Michal is engaged and the Italian has a boyfriend.
Shortly after this Michal uncovers the mummified corpse of an ancient shaman with its head bashed in and traces of semen in its anus. Shamans, as Michal makes clear, imbibed drugs and presided over a pagan atmosphere of death and insanity. It seems just such an atmosphere is gradually infecting the reality of Michal and the Italian, whose relationship grows increasingly sordid and perverse. The two attempt to break away from each other by going back to their respective others, but find sex with their partners unsatisfying. They return to each other, and Michal's wife and the Italian's BF promptly meet violent deaths.
One night, during a pot-laced party, the shaman awakens and speaks with Michal. The shaman informs Michal that it was killed by a woman, and intimates that Michal will meet his end in the same manner. Not to give anything away, but the shaman is correct!
SZAMANKA may well be Andrzej Zulawski's masterpiece, with a transcendent sense of shock and outrage coupled with an undeniable cinematic brilliance, and several impossible-to-forget images: rats scuttling around in a meat grinder, a corpse springing to life in a vat of glowing water, the heroine ecstatically bathing in a rain of blood, etc.
The film contains all of Andrzej Zulawski's trademarks, from the unfettered mobile camerawork to the seemingly epileptic performances and overall atmosphere of barely-controlled hysteria. One added element is the steadicam camerawork: this is the first-ever Zulawski film to utilize a steadicam, with visuals that have a smoothness and grace none of Zulawski's other films contain.
SZAMANKA also has a focus and coherency unique to itself. True, it does threaten to become overstuffed in the final scenes, with the sudden introduction of a nuclear warhead theft subplot (which exists solely so an explosion can eventually be set off), but for the most part the film succeeds as a taut and contained love story.
As the male lead Boguslaw Linda, a major star in Poland, is impressive, but the film belongs to the amazing Iwona Petry as Linda's none-too-better half. It's difficult to tell if Miss Petry, who largely dropped out of sight after completing SZAMANKA, is a good actress of not, but she has amazing screen presence, with a smoldering eroticism and underlying menace that put most screen femme fatales to shame. In the course of the film she performs acts not too many other actors would dare attempt (undressing in public, shaving her bush, eagerly thrusting her naked ass at a man's crotch, etc), displaying amazing courage and audacity that place her in the company of more famous Zulawski starlets like POSSESSION'S Isabelle Adjani and L'AMOUR BRAQUE'S Sophie Marceau. It's a pity Iwona Petry did so little acting outside this film, but you can't deny she made quite an impression.
Vital Statistics
SZAMANKA
Canal+Polska/Film+
Director: Andrzej Zulawski
Producers: Chris Bolzli, Jacky Ouaknine
Screenplay: Manuela Gretkowska
Cinematography: Andrzej Jaroszewicz
Editing: Wanda Zeman
Cast: Iwona Petry, Boguslaw Linda, Piotr Machalica, Alicja Jachiewicz, Agnieszka Wagner, Pawel Delag, Wojciech Kowman, Zdzislaw Wardejn, Piotr Wawrzynczak, Pawel Burczyk