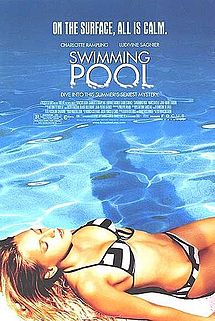 One of the signature films of France's Francois Ozon, who's turned in a sexy and absorbing psychological chiller. Ozon is known for dark and oft-bizarre films like SEE THE SEA (1997), SITCOM (1998) and 8 WOMEN (2002), which tend to feature strong female casts. 2002's SWIMMING POOL followed Ozon's UNDER THE SAND (2000), which starred British actress Charlotte Rampling in a subtle and perverse account of madness. SWIMMING POOL, which reteamed Ozon and Rampling, is similarly themed, and was an unexpected arthouse hit during its summer '03 U.S. release.
Sarah Morton is a successful mystery novelist who's growing tired of her profession. Her publisher allows her the use of his secluded country home, dominated by an imposing swimming pool, in the hope that she'll work up some inspiration. But this apparent summer retreat is ruined by the unexpected arrival of Julie, a young woman claiming to be Sarah's publisher's daughter.
Sarah initially finds Julie, with her incessant flirtiness and never-ending succession of fuck-mates, an irritant. Gradually, though, Sarah becomes intrigued—and aroused—by Julie, and begins writing a novel about her. Julie for her part grows to appreciate Sarah's presence in the house, seeing in her the maternal presence lacking in Julie's life.
A note of tension enters the relationship one night when Franck, Julie's latest mate, evinces affections for Sarah. The following morning Franck is nowhere to be found.
Sarah comes to suspect that Julie has killed Franck and hidden his body. Her suspicions would appear to be confirmed by Julie's increasingly erratic behavior, which includes fainting spells and mistaking Sarah for her deceased mother. Julie eventually admits that she did indeed kill Franck after an argument, and stashed his body in the pool house. Sarah assists Julie in burying the body in the yard beyond the pool, which brings up a new problem when an immigrant gardener begins snooping around the area…
To call this movie a masterpiece, as many critics did during its initial release, is a bit of a stretch, but it is impressively subtle, precise and chilling—even though most of it takes place in a sunny clime. It may be the finest daylight horror movie since LET'S SCARE JESSICA TO DEATH. Francois Ozon's narrative is quite simple for the most part, but with a sun-baked atmosphere of destructive sensuality that never fails to compel, and grows increasingly prevalent as the film approaches the concluding twist that puts it firmly in psychological territory.
Regarding that twist, I'm honestly not too sure it heralds anything too profound, seeing as how the film works fine without it. Seemingly every horror-suspense movie of the early '00s had to have a reality-tweaking twist (see THE OTHERS, FEMME FATALE, FRAILTY, THE VILLAGE, etc), and SWIMMING POOL follows suit.
It's best to concentrate on Ozon's skilled filmmaking and the expert performances of Charlotte Rampling and Ludvine Sagnier, who here emerges as one of the absolute sexiest cinematic presences of the decade.
Vital Statistics
SWIMMING POOL
Fidelite/Focus Features
Director: Francois Ozon
Producers: Olivier Delbosc, Marc Missonnier
Screenplay: Francois Ozon, Emmanuele Bernheim
Cinematography: Yorick Le Saux
Editing: Monica Coleman
Cast: Charlotte Rampling, Ludvine Sagnier, Charles Dance, Marc Fayolle, Jean-Marie Lamour, Mireille Mosse, Michael Fau, Jean-Claude Lecas