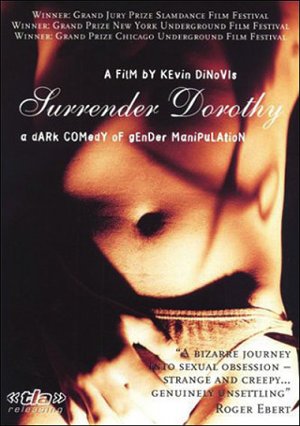 A twisted 1998 no-budgeter about a disturbed young man who attempts to turn his hetero-male roommate into Dorothy, the perfect woman. While it's no masterpiece, SURRENDER DOROTHY is grotesque, funny and endlessly thought provoking, and has won a number of awards at various film festivals. One thing it hasn't managed to do, though, is secure a legitimate theatrical release. An injustice? Most certainly, and one that occurs far too often.
Let's face it: the American "indie" film movement is pretty much dead. A once daring company like Miramax (who in its heyday released ballsy fare like THE COOK, THE THIEF, HIS WIFE AND HER LOVER and PULP FICTION) now fills its release roster with drivel like BRIDESHEAD REVISITED, and everybody else seems to be following suit. The Shooting Gallery, who at one point appeared to be the savior of the indie film industry, has long since filed for bankruptcy, while high-profile companies like Lionsgate continue to shun edgy fare (the latter company dumped the theatrical release of the hotly anticipated MIDNIGHT MEAT TRAIN in favor of the crappy Kate Hudson vehicle MY BEST FRIEND'S GIRL…need I say more?). The days when a daring and uncompromising item like SURRENDER DOROTHY could be picked up and released by even a minor company look to be, sadly, in the past.
Trevor, a borderline nut with a serious fear of women, lives with his buddy Lahn in a vast, freaky apartment (left unexplained is how they can afford the place when one is a dishwasher and the other an unemployed smack addict). Trevor dreams endlessly of women, but can't seem to bring himself to go near any, which leads him into some decidedly dangerous situations, like masturbating with a fork in his mouth (which ends exactly like you'd think it would) and soliciting a prostitute with a psychotic pimp.
Eventually, Trevor works out a bargain with the good-for-nothing Lahn: he'll supply the smack and pay the rent if the other becomes Dorothy, the perfect woman. Naturally, the heterosexual Lahn isn't too pleased about this, but finds himself powerless to resist as Trevor's obsession takes some increasingly menacing turns.
The multi-talented Kevin Dinovis wrote, produced and directed this film, and played Lahn to boot. He's made a typical no-budget production in many ways, with dark, grainy black and white photography, muddy sound design and oft-stilted acting. It's done with great skill, though, and a Lynchian sense of (dark) humor that helps carry us over the rough spots (like a series of annoying montages that drag on far too long). Functioning both as an offbeat thriller and a psychological case study, this seriously bizarre film should either repulse of amuse you—or, ideally, it will accomplish both.
Vital Statistics
SURRENDER DOROTHY
TLA Releasing
Director/Screenwriter/Editor: Kevin Dinovis
Producer: Richard Goldberg
Cinematography: Jonathan Kovel
Cast: Peter Pryor, Kevin Dinovis, Jason Centeno, Elizabeth Casey, Marcos Muniz, Keri Merboth