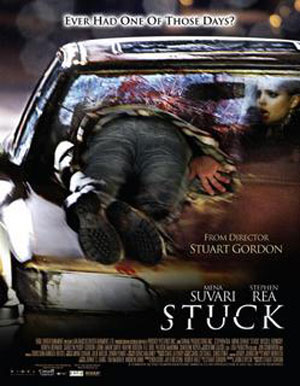 In the category of movies based on newspaper headlines (HEADLESS BODY IN TOPLESS BAR, IT CAN HAPPEN TO YOU), Stuart Gordon's STUCK stands out. Based on a real-life incident in which a man was hit by a woman with her car and ended up stuck in the windshield for the next two days, the film is darkly funny, gory and horrific.
STUCK (2007) sees Stuart Gordon, of RE-ANIMATOR fame, attempting to transcend the low budget horror ghetto he's been stuck in for the past 20-plus years. Let's not forget that Gordon was once known for more refined fare, having begun his career directing the original Chicago production of David Mamet's SEXUAL PERVERSITY IN CHICAGO. Yet STUCK, like Gordon's 2006 film of Mamet's EDMOND (Gordon's previous attempt at "respectable" cinema), contains more than a hint of the macabre grotesquerie that characterizes Gordon's genre fare. Although it was well received at film festivals, STUCK'S theatrical release was extremely limited. Hopefully it will find its audience on DVD.
For the record, the 2001 case that inspired STUCK concerned Chante Jawan Mallard, a Texas based nursing assistant who hit Gregory Biggs, a homeless man, with her car. Biggs died after two days stuck in Mallard's windshield, and she was sentenced to fifty years in prison.
Brandi is an overworked nursing assistant in an old folks' home. One night she hits a homeless man named Tom with her car–he crashes through the windshield and remains stuck with his head and torso inside the car and his legs on the hood. After parking her car in her garage the frazzled Brandi thinks about calling for help but doesn't, leaving Tom where he is.
The next day Brandi takes a cab to work. In her garage Tom struggles to free himself from the car windshield, and in the process attracts the attention of an immigrant boy and his mother. Before they can do anything, though, Brandi returns home and confronts Tom with the desperate quarry "Why are you doing this to me?"…to which she receives no satisfying answer.
Brandi heads off to get her burly boyfriend to assist in disposing of Tom. In the meantime he manages to work himself free from the car. The boyfriend tries to shoot Tom but he gets the upper hand and kills the guy. Brandi attempts to beat Tom to death with a hammer, and nearly succeeds. But Tom again gets the upper hand by obtaining the keys to Brandi's car…
The idea of a guy stuck in a car windshield for 90 minutes might not seem like promising material for a movie, but Stuart Gordon and screenwriter John Strysik provide a great deal of macabre invention. They've largely ignored the details of the actual case (in which the stuck man died and his corpse was buried in a park) in favor of an outrageously funny battle of wills between captor and captive, with a terrific pair of lead performances by Stephen Rea and Mena Suvari.
Gordon's love of gore is evident in the startlingly graphic scenes of Rae attempting to free himself from his prison of broken glass and jabbing windshield wipers. Being the skilled exploitation moviemaker he is, Gordon keeps things jumping with a steady stream of bloodletting and sheer desperation. There's also a real sense of tension as Gordon skillfully manipulates our sympathies between captor and captive. Both characters are victims in a sense, and both hold our interest throughout STUCK'S fast and compelling 85 minutes.
Vital Statistics
STUCK
Image Entertainment/Rigel Entertainment
Director: Stuart Gordon
Producers: Robert Katz, Jay Firestone, Ken Gord, Stuart Gordon
Screenplay: John Strysik
Cinematography: Denis Maloney
Editing: Andy Horvitch
Cast: Stephen Rea, Mena Suvari, Russell Hornsby, Rukiya Bernard, Carolyn Purdy-Gordon, Lionel Mark Smith, Wayne Robson, R.D. Reid, Patrick McKenna, Sharlene Boyer