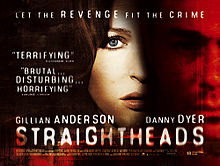 A strong English-centric revenge thriller with a terrific performance by Gillian Anderson. This 2006 film was, like quite a few of Anderson's post X-FILES projects, a British production (and no surprise, as she lives in London). The writer-director was Dan Reed, of the acclaimed British underworld drama SHOOTERS (2001). As for STRAIGHTHEADS, it received some decent reviews but not much else, going straight to DVD in the U.S. under the title CLOSURE.
Rich bitch Alice is dating the much younger Adam, who installs her home security system…when he's not masturbating to security camera footage of Alice undressing! Leaving a party one night, they get into a minor scuffle with some backwoods hunters that turns major when Alice's car hits a deer and stalls. The hunters take the opportunity to beat Adam severely and rape Alice.
Both are understandably traumatized by the attacks, yet their essential natures don't change: Alice is still a selfish bitch and Adam is still a pervert. But then one day Alice fortuitously spots one of the rapists and learns his name.
She and Adam track down the scumbag and head to his house out in the woods, a high-powered rifle in hand. All they net, alas, is the guy's dog, as Alice finds she can't go through with the intended sniping after spotting (who she thinks is) the asshole's wife exit the house.
Still, Alice isn't about to let the opportunity for vengeance pass. She has Adam surreptitiously install cameras so she can monitor the doings of the rapist and his pals. But when she spies the guy attempting to asphyxiate himself in his car Alice springs into action.
Taking the man into her home, Alice forces him to confess his crimes. He reveals that the woman Alice thought was his wife is actually his daughter, who was with him and his hunting buddies the night of the rape—which he claims he committed in an effort to distract his companions so they wouldn't abuse his daughter.
But then Adam shows up and the rapist tries to turn the tables—and things get nasty!
Writer/director Dan Reed is to be commended for turning the conventions of conventional revenge dramas on their heads. In truth STRAIGHTHEADS isn't much more complex than THE LAST HOUSE ON THE LEFT or I SPIT ON YOUR GRAVE, but it is quite untraditional in its details. For once, the brutalized couple at the film's center aren't naïve innocents forced to confront their brute natures; in CLOSURE the protagonists are in touch with their dark sides before they're attacked. The details of Alice's rape aren't lingered upon and nor is the final violent revenge, although both have considerable impact nonetheless.
Yet STRAIGHTHEADS' virtues are ultimately those of the above-mentioned revenge potboilers: the film is compact, nasty and suspenseful. One thing it has that's very much in its favor is a terrific performance by Gillian Anderson, who's both off-putting and sympathetic as Alice, and displays a convincing range of emotion from narcissism to grief to righteous anger.
Vital Statistics
STRAIGHTHEADS (CLOSURE)
UK Film Council/Filmfour
Director: Dan Reed
Producer: Damian Jones, Kevin Loader
Screenplay: Dan Reed
Cinematography: Chris Seager
Editing: Ewa J. Lind
Cast: Gillian Anderson, Danny Dyer, Anthony Calf, Ralph Brown, Adam Rayner, Anthony Byrne, Steven Robertson, Gugu Mbatha-Raw, Neil Finnighan, Francesca Fowler