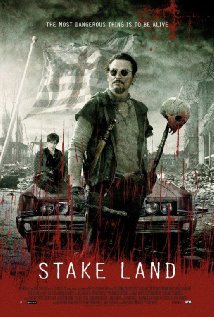 If Terrence Malick directed I AM LEGEND the results would probably play a lot like Jim Mickle's STAKE LAND, a terrific apocalyptic horror fest, and one of the standout films of 2011.
For those who don't know, Terrence Malick is the brilliant yet famously mercurial and unprolific American filmmaker who created BADLANDS, DAYS OF HEAVEN, THE THIN RED LINE and THE NEW WORLD, all languidly paced, visually expressive and poetic films that would seem to be far removed from the world of low budget horror cinema. Yet director/co-writer/editor Jim Mickle (of 2006's MULBERRY STREET) proves otherwise with STAKE LAND, which was produced by Larry Fessenden, a gifted filmmaker in his own right who evidently has a great eye for talent.
A vampire conflagration has reduced the United States to a wasteland. After his family is slaughtered, a preteen boy named Martin teams up with a grizzled vampire killer known only as Mister, and the two embark on a quest for "New Eden" (a.k.a. Canada). They roam the wastelands of upper New York, ruled by fast moving vampires and cannibalistic religiosos who use the vamps to do their twisted bidding.
Martin and Mister pick up several traveling companions, including a kindly middle aged woman known as Sister, a young pregnant woman named Belle, and Willie, a tough black guy. On their way to New Eden this ragtag band is captured and tortured by psychotics, discovers a mini-town where peace reigns until the place is firebombed with vampires dropped from helicopters, settles down briefly in an abandoned school bus, and eventually reaches New Eden, albeit without several of its members.
Do we really need another zombie/vampire apocalypse movie? Frankly, no. This film, however, is so stylish and assured I won't complain overmuch about its done-to-death subject matter.
In keeping with the Terrence Malick influence, the widescreen visuals are lush and sumptuous, and overdubbed with voiceover narration—a device I normally abhor but didn't mind here since (as in Malick's films) the narration is well used and quite true to the personality of the protagonist. There's also an orchestral score that often directly recalls Ennio Morricone's iconic music for Malick's DAYS OF HEAVEN. Given the placid, visually oriented nature of the film, it's hardly surprising that the copious gory action sequences are a tad chaotic and difficult to follow, and the narrative rather formless and episodic (this is one of those movies that seems to end several times before it actually does).
Characterization is one area in which STAKE LAND excels. The protagonists are all distinct and likeable individuals, as evinced by the impact their deaths have on the viewer. You may be surprised at how much you come to care about these people, something that's all-but unheard of in most modern horror fests, and sets this one far apart from the rest.
Vital Statistics
STAKE LAND
Glass Eye Pix/Dark Sky Films
Director: Jim Mickle
Producer: Derek Curl, Larry Fessenden, Adam Folk, Brent Kunkle, Peter Phok
Screenplay: Nick Damici, Jim Mickle
Cinematography: Ryan Samul
Editing: Jim Mickle
Cast: Connor Paolo, Nick Damici, Danielle Harris, Kelly McGillis, Michael Cerveris, Sean Nelson, Bonnie Dennison, Chance Kelly, Adam Scarimbolo, Larry Fessenden, Marianne Hagan, Ellis Cahill