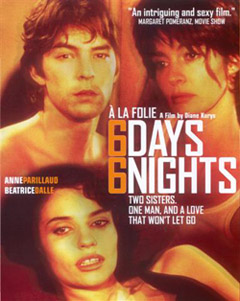 It's time for a trip to the art house. SIX DAYS SIX NIGHTS, imported from France, is an art film with lots of heavy talk about the nature of love. But it's also a thriller of sorts, one with enough outright macabre touches to categorize it as psychological horror—a fact I'm sure would horrify director Diane Kurys to no end.
Art house mavens swooned in ecstasy when Fine Line Features announced the release of this film, originally titled A LA FOLIE, in the summer of 1994. It paired two big name French stars, Anne Parillaud (LA FEMME NIKITA) and Beatrice Dalle (from BETTY BLUE and INSIDE), with director Diane Kurys (much respected for films like ENTRE NOUS and PEPPERMINT SODA). Even though the score by Michael Nyman (of THE PIANO fame) was released on CD, the film never appeared. To this day it has yet to be legally released in the US. Of course, one look at the finished product and it's not hard to see why Fine Line dropped it.
A successful painter, Alice (Parillaud, utterly unconvincing), attempts to escape the obsessive attentions of her sister Elsa (Dalle, marginally better) by moving in with boyfriend Frank (Patrick Aurignac, awful). Naturally Elsa, after walking out on her family one morning (still in her bedroom slippers), tracks Alice down and turns her life upside-down. Elsa seduces Frank (unconvincingly) using Alice's affections as a weapon (again unconvincingly) until finally the three of them barricade themselves in their apartment. Then the twisted mind games really begin, and we're left to ponder whether Alice and Elsa once shared an incestuous relationship—or if they're really even sisters at all…
In case I've made this story sound too exciting, let me set the record straight: the dialogue is obvious and silly, the characters are cardboard, and the story is a mess of cliches from start to finish.  It's a sort-of French–ified SINGLE WHITE FEMALE, but maybe that's not such an apt comparison. SINGLE WHITE FEMALE, after all, was an entertaining movie!
Diane Kurys' earlier, more successful films tended to be light, autobiographical melodramas. Here, she was clearly out of her element. While I can applaud Kurys for trying something new, the finished product leaves much to be desired. The visuals are flat and uninteresting, and the entire exercise plays like a boring product of the US studio system (and this from a country that goes out of its way to avoid such fare). In addition, Kurys only uses about half the tracks from Michael Nyman's excellent score, and the weaker ones at that. Thankfully, that score is readily available on CD—buy it and skip the movie.
Vital Statistics
SIX DAYS, SIX NIGHTS (a.k.a. A LA FOLIE)
New Light Films
Director: Diane Kurys
Producer: Alexandre Arcady
Screenplay: Diane Kurys, Antoine Lacomblez
Cinematography: Fabio Conversi
Editor: Luc Barnier
Cast: Anne Parillaud, Beatrice Dalle, Patrick Aurignac, Bernard Verley, Marie Guillard, Jean Claude De Goros, Alain Chabat