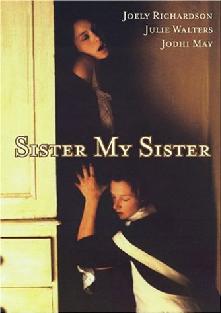 A British film about the notorious Papin sisters, French maids who in 1933 murdered their female employer and her daughter while carrying on a torrid incestuous relationship.  Sounds like perfect material for a horror movie, and the unnerving SISTER MY SISTER puts it to excellent use.
The story of the Papin sisters is one of apparently endless fascination to intellectuals, writers and filmmakers in and out of France, which shouldn't be surprising considering its combustible mix of lesbianism, incest, social warfare and murder…truly, reality is stranger than fiction.  The Papins' sordid deeds were written about at length by the likes of Jean-Paul Sartre, Simone De Beauvoir and Jean Genet, whose famous play LES BONNES (THE MAIDS) is based on the case.
Several films have been inspired by the Papins' crimes, including LES ABYSSES (THE DEPTHS; 1963), THE MAIDS (1974), LA CEREMONIE (1995) and LES BLESSURES ASSASSINES (MURDEROUS MAIDS; 2000).  1994's SISTER MY SISTER is something of an anomaly in the lineup, as it was not based on the Genet text (screenwriter Wendy Kesselman adapted her own play), wasn't made in France (as all but one of the above films were) and had a near entirely female crew to go with its all-woman cast.
Christine, a maid, manages to get her younger sister Lea a job working alongside her in the stuffy mansion of Madame Danzard, who lives with her grown daughter Isabelle.  Christine and lea are united by resentment for their deceased mother and their understandable hatred of the sadistic Madame Danzard (who when she spots Lea wearing a nice coat audibly wonders if she's paying them too much) and her spoiled daughter.  The fragile Lea grows increasingly unstable in this combustible atmosphere, and her relationship with her sister degenerates into carnality and perversion.
Naturally the quality of the maids' housework slips, much to the consternation of Madame Danzard.  Things come to a head when Christine leaves broken glass in the kitchen sink and Lea blows a fuse while ironing.  The ensuing Christine-Danzard confrontation brings their mutual resentment to a boil, culminating in the brutal killings of the Madame and her daughter.
Director Nancy Meckler first and foremost does an excellent job directing her lead actresses Julie Walters (as the bitchy Madame), Joely Richardson (as Christine) and Jodhi May (Lea); it's difficult to imagine how their respective performances could possibly be better.  Meckler also manages to render her stage-bound material in a credible cinematic manner: the early-20th Century French setting is well mounted and extremely convincing (even though all the characters speak English).  The incestuous relationship at the film's center is graphically—though never salaciously—portrayed, as is the climactic murder (shot largely in darkness, though what I could make out wasn't pretty).
The class warfare angle is also vividly rendered, though Meckler never lets the proceedings degenerate into a simplistic political screed; her film is a sharply focused psychological thriller that builds tension through the intensity of its performances and the sordidness of the atmosphere.  In this respect the dank, muddy photography, an unfortunate stable of low-budget British films (further aggravated here by a poor DVD transfer), actually adds to the film's effectiveness.  There are a few missteps (the rather tacky, out-of-place flashbacks, for one), but overall SISTER MY SISTER is a near flawless evocation of social upheaval and encroaching madness.
Vital Statistics
SISTER MY SISTER
Film Four International
Director: Nancy Meckler
Producer: Norma Heyman
Screenplay: Wendy Kesselman
(Based on a play by Wendy Kesselman)
Cinematography: Ashley Rowe
Editor: David Stiven
Cast: Julie Walters, Joely Richardson, Jodhi May, Sophie Thursfield