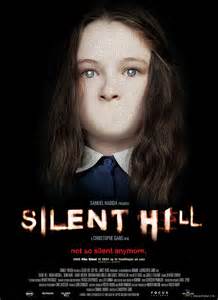 Contrary to what I once believed, it IS possible to have too much surreal weirdness in a movie. This expensive adaptation of the PC game SILENT HILL, from the talented Christophe Gans, proves that point adequately. Gans assembled a solid cast and top-flight crew, but the film simply doesn't work.
2006's SILENT HILL followed Christophe Gans' international hit BROTHERHOOD OF THE WOLF (and preceded his nearly-as-popular 2014 filming of BEAUTY AND THE BEAST). It's just too bad the screenwriter was Roger Avery, who's been struggling ever since contributing to the script of PULP FICTION back in the early 1990s; Avery's self-directed films KILLING ZOE, MR. STITCH and THE RULES OF ATTRACTION all failed to match, much less approach, the brilliance of PULP, and so did SILENT HILL.
The film was nonetheless a minor hit during its April '06 release, which I'd put down to Tri-Star's arresting poster art (who can forget the sight of its young star Jodelle Ferland without a mouth?). There was even a sequel, SILENT HILL: REVELATION, in 2012, but that film, unsurprisingly, wasn't much.
Rose is a young woman whose adopted daughter Sharon is exhibiting behavioral problems. Rose takes Sharon to the secluded town of Silent Hill for treatment, which, it turns out, is the first of many questionable decisions. On her drive to Silent Hill Rose attempts to outrun a woman cop, and eventually spins out on a bridge. In the melee Rose passes out and Sharon either runs off or gets kidnapped.
Rose searches for Sharon amid the strangely deserted, archaic avenues of Silent Hill, where an underground mine explosion has caused soot to continually rain down from the sky. Worse, the place is littered with otherworldly creatures who all seem to want to manhandle Rose. She teams up with Cybil, the cop who tried to arrest her, and they explore a hotel decorated with apocalyptic paintings that would appear to shed some light on what's happening in Silent Hill. In this place Rose has a hallucination involving Alessa, a creepy little girl who "could be Sharon's twin," and who has a rather notorious history in the town.
In the meantime Rose's husband Christopher searches for her. In the process he discovers more about Alessa, with whom he and Rose have a definite connection.
Back in Silent Hill Rose and Cybil escape into a nearby church. Here Christabella, a severely creepy woman pastor who convinces her congregation that the apocalypse has occurred, holds sway. Christabella leads Rose to a hotel room where the answers to Silent Hill's many secrets are revealed—sort of.
Certainly this film looks good, with top-notch cinematography by Dan Laustsen and production design by David Cronenberg regular Carol Spier. The film's melting walls, giant knives, reverse gravity disintegrations, mutant chorus girls and faceless children would doubtless make Salvador Dali proud, but they're in service of a sluggish script that's filled with lame dialogue (including that moldy horror movie cliché "I have many names"). It doesn't help that much of what we see directly recalls past movies, such as a descending fire cage (a la INDIANA JONES AND THE TEMPLE OF DOOM) and a body pulled apart by strands of sentient barbed wire (a la HELLRAISER).
At 125 minutes the film is vastly overlong, especially given the repetitive narrative, which consists largely of the heroine reacting to various horrors. Ultimately, however, SILENT HILL'S real problem is that Gans doesn't seem nearly as interested in telling a story as he is in the far-too-copious CGI upon which his film overdoses woefully.
That's despite an unusually strong female cast, with THE WALKING DEAD'S Lorie Holden, the terminally underrated Deborah Kara Unger, the always-welcome Alice Krige and TIDELAND'S young Jodelle Ferland all making sizeable impressions. In the lead role, unfortunately, is Radha Mitchell (speaking in an on-again, off-again southern accent), who's mighty easy on the eyes but never particularly compelling or sympathetic.
Vital Statistics
SILENT HILL
Tri-Star Pictures
Director: Christophe Gans
Producers: Samuel Hadida, Don Carmody
Screenplay: Roger Avery
Cinematography: Dan Laustsen
Editing: Sebastien Prangere
Cast: Radha Mitchell, Jodelle Ferland, Sean Bean, Laurie Holden, Deborah Kara Unger, Kim Coates, Tanya Allen, Alice Krige