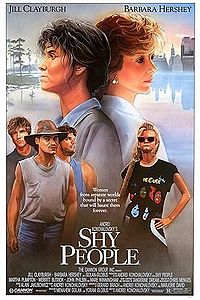 This largely forgotten gothic melodrama appears on its way to becoming a lost film. A shame, really, as it's a haunting and atmospheric work unlike any other movie released during the eighties…or ever.
1987's SHY PEOPLE was severely neglected in its day—it won a Best Actress award at Cannes and a rave from Roger Ebert, but otherwise came and went with barely a ripple—which is likely the fault of the late, not-so-great Cannon Group. This notorious outfit, headlined by the Israeli-born duo of Menahem Golan and Yoram Globus, put out many crappy movies during the mid to late eighties, with SHY PEOPLE being one of Cannon's few stellar releases.
This film was one of several Cannon productions directed by the Russian émigré Andrei Konchalovsky; the others were MARIA'S LOVERS, DUET FOR ONE and HOMER AND EDDIE, all disappointments, and 1985's RUNAWAY TRAIN, a multi-award winner. That film was a rarity in Cannon's cannon in that it was a). a good movie, and b). given decent distribution. SHY PEOPLE'S release, on the other hand, was more typical for Cannon: the film was in and out of theaters within a week or so, and now languishes in distribution limbo.
Prior to his tenure with Cannon, Konchalovsky (the elder brother of the famous Russian filmmaker Nikita Mikhalkov) was known for directing Russian films like UNCLE VANYA (1970) and the epic SIBERIADE (1979), and for his association with the great Andrei Tarkovsky (for whom Konchalovsky co-scripted ANDREI RUBLEV). Later Konchalovsky films include the Sly Stallone crapfest TANGO AND CASH, the costume drama THE INNER CIRCLE, the 1997 miniseries THE ODYSSEY and the comedic HOUSE OF FOOLS (2002). In my view, however, Konchalovsky's finest work remains the one-two punch of RUNAWAY TRAIN and SHY PEOPLE.
Diana Sullivan is a chic New York City-dwelling writer for COSMOPOLITAN. She travels to the Louisiana Bayou to write an article about some distant relatives, together with her promiscuous coke-head daughter Grace and a totally inappropriate wardrobe.
In the Bayou Diana and Grace arrive at a run-down house on the edge of a vast swamp. There Ruth Sullivan lives, a loony middle-aged woman presiding over her three twentyish sons and pregnant city-bred stepdaughter. Ruth runs her household with an iron fist, restricting all contact with the outside world and keeping one of her sons locked up in a shed for his apparent sins. A fourth son has moved away, meaning his name has been blackened and his face rubbed out of family photos.
But there's another presence afoot: the ghost of Ruth's long dead husband Joe. It presides over the household, where Ruth sets a place for Joe at the dinner table each night, and in the neighboring swamp, where it whacks one of Ruth's sons on the head one day. The arrival of Diana and Grace appears to set the ghost on edge even more.
Things come to a head when Diana accompanies Ruth to a nearby town, where the latter causes a ruckus in a strip bar owned by her disgraced son Matthew. Back at the house Grace seduces Ruth's locked-up son and shares her cocaine with the other two. This causes both to go nuts, leading to an attempted rape, a brutal beating, rampaging livestock and a desperate flight into the swamps, where Joe's ghost makes a fateful appearance.
Lensed on location in the Louisiana Bayou, SHY PEOPLE is nothing if not atmospheric. The cinematography by the great Chris Menges is stunning (although in the full screen VHS version, this film's sole home video incarnation, the effect is somewhat lessened), creating a surreal dreamscape of water, mist and strange aquatic vegetation. I'm at odds with the synthesizer score by Tangerine Dream, largely because it simply isn't needed; much of the film unfolds in an eerie silence punctuated only by the natural sounds of the Bayou—birds chirping, water lapping, etc.—which makes all the difference.
Overall SHY PEOPLE is a odd mélange of disparate styles and techniques. The languidness of the early scenes puts one in mind of the Russian-centric cinema of Andrei Konchalovsky's colleague Andrei Tarkovsky, yet the film overall has an oppressiveness that feels quintessentially European (likely due to the fact that one of the screenwriters was Roman Polanski's frequent scripting partner Gerard Brach). And then there's the spooky business involving the spectral patriarch, which occasionally edges the proceedings into NIGHT OF THE HUNTER territory.
Yet Konchalovsky's helming is sure and confident throughout. The story is one he clearly wanted to tell (Konchalovsky has claimed he intended it as a metaphor for pre-Glasnost Russia, with the ghostly Joe representing Stalin), resulting in a deeply absorbing viewing experience. The film also appears mercifully free of the irritating cost cutting that plagued most Cannon productions (Konchalovsky's RUNAWAY TRAIN included), and furthermore boasts a top-notch cast. The acting honors go to Barbara Hershey in an unforgettable let-it-all-hang-out performance, and the underrated Martha Plimpton as the sexy uptown girl who helps unravel Hershey's none-too-placid existence.
Vital Statistics
SHY PEOPLE
The Cannon Group, Inc.
Director: Andrei Konchalovsky
Producers: Menahem Golan, Yoram Globus
Screenplay: Gerard Brach, Andrei Konchalovsky, Marjorie David
Cinematography: Chris Menges
Editing: Alain Jakubowicz
Cast: Barbara Hershey, Jill Clayburgh, Martha Plimpton, Merritt Butrick, John Philbin, Mare Winningham, Pruitt Taylor Vince, Don Swayze, Michael Audley, Brad Leland, Tony Epper, Paul Landry, Warren Battiste, Edward Bunker, Vladimir Bibic