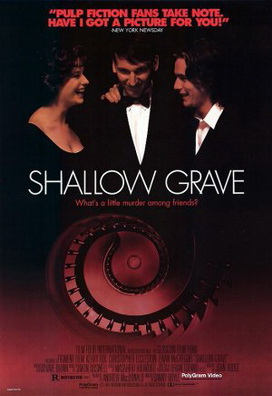 The timeworn concept of normal folks finding a suitcase full of money is given a wicked dose of mid-nineties cynicism in this memorably twisted British import, the directorial debut of Danny Boyle.
It's no accident this 1994 film, co-starring a debuting Ewan McGregor, came from the same year as PULP FICTION (it was actually touted in the US as "the next" PULP). Its gory violence, pitch-dark comedy and overpowering sense of hip fatalism are very much in line with the former film. For that matter, SHALLOW GRAVE fits in nicely with such nineties-era nasties as MAN BITES DOG, NATURAL BORN KILLERS, FREEWAY and TRAINSPOTTING, the follow-up film by Danny Boyle.
SHALLOW GRAVE and TRAINSPOTTING were both quite successful on the independent film circuit, leading to further successes from the eclectic Boyle (28 DAYS LATER, SLUMDOG MILLIONAIRE) and also some failures (A LIFE LESS ORDINARY, THE BEACH).
Juliet, David and Alex share a London flat. The three are quite different in temperament, but share one attribute: they're all obnoxious snobs. Looking for a fourth flat mate, they settle on a shady man, actually a dangerous gangster, who promptly OD's on something and dies—and leaves behind a suitcase full of (stolen) money!
J, D & A aren't especially put out by this development, but rather quite excited by the possibility of spending the dead man's fortune. David ends up with the gruesome job of dismembering and disposing of the cadaver, which changes him irrevocably. Over the following days David grows increasingly withdrawn and obsessive, taking to hanging out in the flat's loft and hoarding the stolen money. He snaps entirely upon coming face-to-face with two of the dead man's underworld pals: David makes fast work of both men, and doesn't waste any time disposing of their remains.
The problem is the hole in which David buries the bodies is too shallow, and it's interred by authorities. This only inflames David's madness, furthering the rift between him and his roommates, and leading to an inevitable three-way fight to the death.
SHALLOW GRAVE'S fast cutting and energetic camerawork are Danny Boyle trademarks, and used here to powerful effect. The annoying techno score dates the film, as does the quintessentially nineties atmosphere of cynical apathy (more than one critic has likened the title to the film's overall worth).
Literally all the characters are jerks, none more so than the three stuck-up protagonists—although the acting by the three leads is quite good (particularly the underrated Kerry Fox as the quietly crafty Juliet). The dearth of likeable characters is a 1990s cinema trademark (remember, it was the "Whatever" decade) and renders SHALLOW GRAVE a definite product of its time.
So with no sympathetic characters of any sort it's up to Boyle's high-spirited direction and John Hodge's furiously inventive script to move things along. Surprisingly, the approach works, as Boyle and Hodge worked overtime to craft a witty and horrific rollercoaster of a film with some macabre surprises. Dated SHALLOW GRAVE may be, but it's also suspenseful and exciting.
Vital Statistics
SHALLOW GRAVE
Film Four International
Director: Danny Boyle
Producer: Andrew MacDonald
Screenplay: John Hodge
Cinematography: Brian Tufano
Editing: Masahiro Hirakubo
Cast: Kerry Fox, Christopher Eccleston, Ewan McGregor, Ken Stott, Keith Allen, Colin McCredie, Victoria Nairn