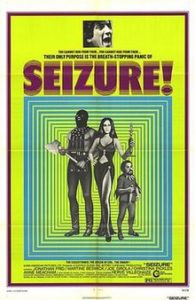 You'd be hard-pressed to find many Oliver Stone trademarks in this, his 1974 debut. It's not a great or even very good film, being amateurish and pretentious—a deadly combination!
SEIZURE, filmed in Canada in order to take advantage of that country's tax shelter financing system (which also benefited the early films of David Cronenberg), contains a noteworthy cast: DARK SHADOWS' Jonathan Frid, former Bond girl Martine Beswick, Mary Woronov, Troy Donohue and FANTASY ISLAND'S late Herve Villechaize.
The film is far removed from the heavily political Oliver Stone we know today, and for that matter from the freaked-out Nam vet he was back in the early seventies. It seems like the sort of thing any marginally talented film student might have turned out.
Yet SEIZURE wasn't entirely uncharacteristic, at least in light of Stone's second directorial effort THE HAND (1980), another straightforward horror film. Yes, for over a decade the man was known as a genre specialist, and I for one would love to see a contemporary Oliver Stone horror movie.
Horror scribe Edmund Blackstone is suffering from disquieting nightmares involving a black executioner, a murderous woman and a malevolent dwarf. These characters, we later learn, are all historical figures: a Russian slave used to scare superstitious peasants known as the Jackal, a sadistic French prince named Spider, and the Hindu goddess Kali, the "Queen of Evil."
Blackstone invites several smarmy acquaintances to his lakeside home for a weekend retreat, unaware that three homicidal maniacs have escaped from a local insane asylum. The gathering is interrupted by the three figures from Blackstone's nightmares, who may or may not be the escaped loonies. The Queen of Evil, in a soliloquy to Blackstone and his guests, lays out their aims thusly: "Our purpose, our only purpose, is death!" These three maniacs commence killing off all Blackstone's guests until only he, his wife and his young son are left alive.
Around this point the action stops and Blackstone wakes up in his bed. Has the preceding been another of his nightmares? No such luck, as the dwarf, executioner and evil queen are still loose in the house. But now Blackstone's wife has been transformed into some kind of avenging angel who's itching to take on the killers—and then Blackstone wakes up again…
SEIZURE looks and feels like a student film in many respects, with loose compositions, pedestrian camera set-ups (which the young Oliver Stone tries to gussy up with fisheye lenses), harsh lighting (further marred by frequent camera shadows), weak characterizations and college-level soliloquies on reality, madness and other "heavy" subjects. The problem is that neither the script or the direction do those concepts justice.
To be fair, there are some effective images here and there, most notably an early shot of Herve Villechaize emerging from a tuft of fog and a climactic fight between the protagonist and a scantily clad Mary Woronov. As in Oliver Stone's later work, the film plays best when it's at its most hyperbolic, as in the aforementioned Frid-Woronov mano-a-mano and the many graphic murder sequences.
Vital Statistics
SEIZURE (a.k.a. QUEEN OF EVIL)
Intercontinental Leisure Industries
Director: Oliver Stone
Producers: Garrard Glenn, Jeffrey Kapelman
Screenplay: Edward Mann, Oliver Stone
Cinematography: Roger Racine
Editing: Nobuko Oganesoff, Oliver Stone
Cast: Jonathan Frid, Martine Beswicke, Joe Sirola, Christina Pickles, Herve Villechaize, Roger De Koven, Mary Woronov, Timothy Ousey, Henry Baker, Troy Donohue