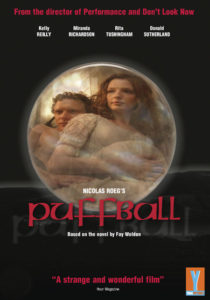 This highly eccentric supernatural drama from 2007 was the first feature directed by the great Nicolas Roeg in over a decade, and so for that reason alone deserves a watch…even though it's clumsy and pretentious in the extreme.
The British cinematographer-turned-genius director Nicolas Roeg made his most memorable films in the 1970s (PERFORMANCE, WALKABOUT, DON'T LOOK NOW) and 80s (BAD TIMING, INSIGNIFICANCE, TRACK 29). However, Roeg's post-1980s films (COLD HEAVEN, FULL BODY MASSAGE, TWO DEATHS) have steadily degenerated in quality.
The Irish-Canadian production PUFFBALL was adapted from a 1980 Fay Weldon novel by the author's son Dan. The film, largely unknown in the U.S. (lucky us!), is yet another depressing chapter in the continuing decline of one of the world's greatest filmmakers.
Liffey, an attractive woman architect, moves to an isolated valley to build a house. She has sex with her New York based boyfriend Richard at the sight of a thousand-year-old rock with a hole through it, and is impregnated (even though Richard wears a condom). After this Richard heads back to New York, leaving Liffey alone in her half-constructed house.
Concurrently, a neighbor woman named Mabs is looking to become impregnated with a boy (to go with her three daughters). Mabs' witch mother, who used to own the land Liffey is building on, performs a succession of fertility spells that she promises will deliver up the desired child. But Mabs fails to become pregnant, and her mom blames Liffey, who she claims is carrying Mabs' intended fetus in her womb.
Liffey has a miscarriage, apparently due to Mabs' ma's witchery. The latter also casts some kind of lustful spell that causes Liffey to become infatuated with Mabs' hubbie Tucker. He and Liffey have torrid sex in a horse stall and she's impregnated once again–or so it seems. She refrains from telling Mabs or Richard about the tryst, deciding to have an abortion. The only thing is, she discovers that her latest pregnancy is actually a surviving twin from her initial impregnation, and so decides against aborting the child. Then Mabs' daughter Audrey informs Liffey of the plot against her, and Richard learns of Liffey's affair with Tucker. And so on.
Curiously, in PUFFBALL the cinematic pyrotechnics that define Nicolas Roeg's other films are quite subdued, even though Roeg's trademarked oft-kilter angles and asynchronous editing would seem to make for an excellent fit with the material.
The film's opening scenes could have been directed by virtually any halfway competent horror specialist. The rural scenery is suitably ominous but otherwise undistinguished, as are the performances of the pretty-but-vapid Kelly Reilly and Oscar Pearce. The more seasoned Miranda Richardson also fails to impress, and not even an extended cameo by Donald Sutherland makes much of an impression. The sole interesting elements of the first half hour are the brief shots of Liffey's fetus forming inside her stomach.
Things pick up a bit in the final two thirds. The details of Mabs' mother's witchery are interesting, presented with a compelling matter-of-factness and accompanied by eerie whispering and screeching on the soundtrack. There's a decent sex scene (though still a far cry from the legendary Donald Sutherland-Julie Christie coupling Roeg oversaw in DON'T LOOK NOW) and Roeg even offers up some innovative filmmaking in his intercutting between the three woman protagonists and their oft-hallucinatory mental states. There are also some decadent touches, notably a close up of the heroine's bloody crotch fading to the thousand year old rock-with-a-hole-in-it and a graphic stabbing of a pregnant woman's belly. Yet Roeg's best efforts are all-but obliterated by a succession of lame English pop tunes and some truly awful CGI. This is one of those movies that seems to end several times before it actually does, and the conclusion, when it finally arrives, is inconclusive and plain inexcusable.
Vital Statistics
PUFFBALL
Amerique Film/Wild Bunch
Director: Nicolas Roeg
Producers: Julie Baines, Paul Donovan, Michael Garland, Peter Measroch, Martin Paul-Hus, Dan Weldon, Ben Woolford
Screenplay: Dan Weldon
(Based on a novel by Fay Weldon)
Cinematography: Nigel Willoughby
Editing: Tony Palmer
Cast: Kelly Reilly, Miranda Richardson, Rita Tushingham, Oscar Pearce, William Houston, Donald Sutherland, Leona Igoe, Tina Kellegher, Pat Deery