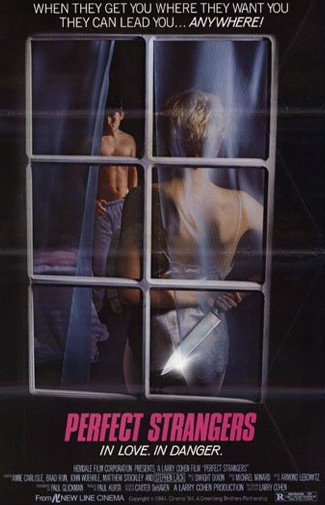 This 1984 suspensor can be viewed as the low budget inverse of the following year's WITNESS, a dark thriller about a kid who witnesses a crime and the tumult that results. The writer-producer-director was the prolific Larry Cohen, and the results are far above average amid Cohen's eighties-era films.
This was the second of two New York City set features Larry Cohen turned out in 1984, both made for the British Hemdale Film Corporation. The first was SPECIAL EFFECTS, starring the NYC underground icons Zoë Tamerlis and Eric Bogosian. PERFECT STRANGERS also features several fringe figures, including Anne Carlisle, star of the cult science fiction freak-out LIQUID SKY (1982), SCANNERS' Stephen Lack, and Ann Magnuson, then known primarily as a singer and performance artist.
Johnny is a small-time hit man who slashes the throat of a rival mobster in an alley one morning. The murder is witnessed by Matthew, a two-year-old boy. Johnny's mob boss encourages him to ingratiate his way into the lives of Matthew and his single mother Sally, a feminist activist, and then kill the boy in a staged accident.
This Johnny sets out to do, becoming Sally's boyfriend and Matthew's surrogate father. Never mind that Matthew's real father Fred is looking to get back with his estranged wife and son. Fred hires a private detective to tail Johnny, which only complicates matters.
Johnny is understandably hesitant about killing Matthew, and his mob superiors are growing impatient. Johnny finally tries to carry through with the execution by pushing Matthew too high on a swing set one day, but is interrupted by Fred. Johnny beats Fred to a pulp, only to be caught by Sally, who, disgusted by Johnny's brutality, promptly dumps him. He responds by kidnapping Matthew in an effort to finally pull off his intended killing.
This film has some problems—frequent bad acting in the supporting roles, distractingly caricatured mob characters (who speak in ultra-thick New York accents while Italian arias play in the background) and the fact that Sally lets Johnny into her life a bit too readily—but overall it's suspenseful and entertaining, with a taut and focused script. It also has a gritty urban feel that its companion-piece SPECIAL EFFECTS lacks, having been filmed in 1980s-era New York City amid real crowds (in one scene Larry Cohen himself appears as an extra, and can actually be seen giving directions).
Anne Carlisle and Brad Rijn are both strong in the lead roles, and Matthew Stockley gives what must be counted as one of the finest performances by a two-year-old in film history. Speaking of memorable appearances, one pivotal scene takes place in plain view of the late World Trade Center, giving it a resonance Cohen couldn't possibly have foreseen.
Vital Statistics
PERFECT STRANGERS
Hemdale Film Corporation
Director/Producer/Screenwriter: Larry Cohen
Cinematography: Paul Glickman
Editing: Armond Lebowitz
Cast: Anne Carlisle, Brad Rijn, John Woehrle, Matthew Stockley, Stephen Lack, Ann Magnuson, Zachary Hains, Otto Von Wernherr, Kitty Summerall